Whether you're planning a trip to New Zealand (got your NZeTA?) or are in the country already, you can't help but look for more ideas, right?
You already know about the best things to do in New Zealand, but want more. You're looking for the activities you haven't read about. The next hidden gem.
And that is why I wrote this post with 250+ short and sharp things to do in New Zealand.
This post doesn't have every single activity in NZ but it will plant seeds of inspiration to help you build your New Zealand itinerary.
I've found in my own travels I like to scroll through dozens of ideas. When I'm scrolling I don't need details. When a seed idea catches my interest I can open a new tab with more info if need be. I hope this method works for you too.
So yea, this list has most of the usual top things to do in New Zealand BUT I hope there are lots of awesome NZ attractions you hadn't considered before.
p.s. For those who are curious, I talk about how this list was put together at the bottom of the post.
---
TABLE OF CONTENTS

1. Things to do in the North Island
2. Things to do in the South Island
3. More Fun things to do in New Zealand
1. Learn how to do the haka at Kohutapu Lodge.
2. Navigate the limestone Patuna Chasm near Martinborough
3. Kayak through the famous Waitomo Caves to see the glowworms (bioluminescence insects). Check out my Black Labyrinth tour review for details and photos.
4. Drive (safely) along Ninety Mile Beach, it's officially a highway.
5. Get your boogie board (or rent one) and surf down the Cape Reinga sand dunes.
6. Stand before the world's largest Kauri tree, a.k.a Lord of the Forest, Tane Mahuta. These New Zealand attractions are just mind blowing.
7. Witness the power of water squeezing into a narrow channel at Huka Falls (give the Huka Falls walkway a go).
8. Dig your own hot pool at Hot Water Beach or at the end of the Tarawera Trail.
9. Walk around Mount Tarawera, the volcano that buried the Pink and White Terraces.
10. Walk to Cathedral Cove's photogenic arch as seen in Narnia.
11. Hike to the North Island's high waterfall, the Wairere Falls near Matamata.
12. Be a token tourist and walk to the top of Mount Maunganui, the photos are worth it.
13. Stroll through the Historic Village on 17th Ave in Tauranga (try and go when there is an event scheduled).
14. Take a detour up Mount Doom via the Tongariro Crossing (make sure you check what the status is of this before going).
15. Aim for a Tiger Woods-esque hole-in-one on Lake Taupo.
naturea
16. Swim in Kerosene Creek where a freshwater stream and a hot spring meet.
17. Visit Piha's black sand beaches and climb Lion Rock.
18. Walk 600 metres along the Tologa Bay Wharf.
19. Hold on as you go down the Rere Rockslide (an actual waterfall). It's one of the must-do New Zealand tourist attractions on the East Cape.
20. Learn how wool makes high-quality products at Sheep World. Maybe this is one of those New Zealand tour ideas you can use to create a themed itinerary.
21. Experience what an earthquake can feel like in Te Papa's Earthquake House. These are my favourite Te Papa attractions.
22. Eat a hangi at one of Tamaki Maori Village.
23. Dine out at Wellington's monthly vegan market.
24. Ride crocodile bikes around the Martinborough vineyards.
25. Walk to Wellington's red rocks and seal colony.
26. Play mini-golf at Carlucci Land, surrounded by incredible sculptures.
27. Do the hobbit thing at Hobbiton. I crowd sourced opinions on whether Hobbiton is worth it and wrote a Hobbiton review.
28. Do your business in Kawakawa's famous toilets. As the most popular thing to do in Kawakawa, it has to be one of the more unusual attractions in New Zealand.
29. Visit Katikati, the small mural town of NZ.
30. View Maori Carvings on NZ's largest lake. I went with Sail Barbary, read my trip report here.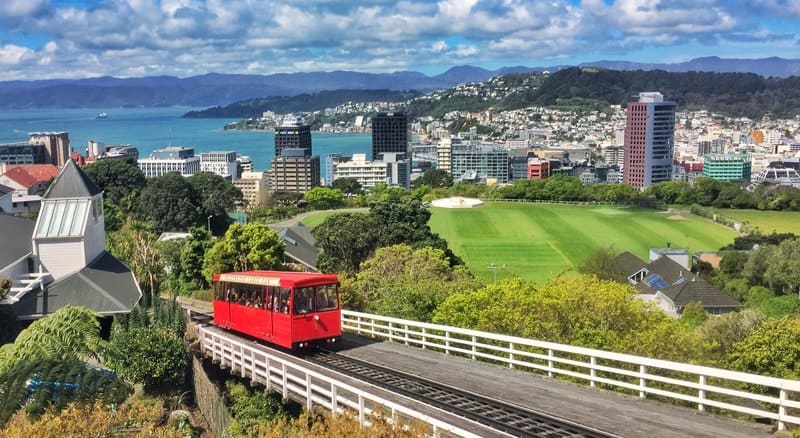 31. Ride NZ's one and only funicular railway (cable car). You can read about other things to do in Wellington here
32. Learn about said cable cars in the dedicated Cable Car Museum.
33. Ride in a rail cart on the Forgotten Highway.
34. Order coffee from Fidel's.
35. Get a birds-eye view over Lake Taupo (a.k.a. book your skydiving adventure).
36. Get a glimpse of space at Space Place.
37. Visit the former quarantine island in Wellington Harbour, Somes Island.
38. Walkthrough the canopy of the Redwood Forest at night on the Rotorua tree walk. You can read more about things to do in Rotorua here.
39. Be the first to see the sunrise at Mount Hikurangi.
40. Walkabout Te Puna Quarry Park, a renovated quarry site.
41. Witness Mokena Geyser, the world's only carbonated geyser is definitely one of the most unique things to see in New Zealand.
42. Take a tour of Napier's Art Deco scene.
43. Celebrate NZ in the Kiwiana Capital.
44. Witness the gannets living at Cape Kidnappers.
WHAT TO READ NEXT: THE BEST THINGS ABOUT LIVING IN NEW ZEALAND
45. Debate the authenticity of Gisborne's James Cook statue.
46. Learn how to surf in Raglan. These are my thoughts on, visiting Raglan.
47. Video the Bucket Fountain on the pedestrian friendly Cuba Street in Wellington.
48. Take a tour of a chocolate factory.
49. Get dizzy rolling down a hill in a zorb.
50. Fly down a hill in a luge.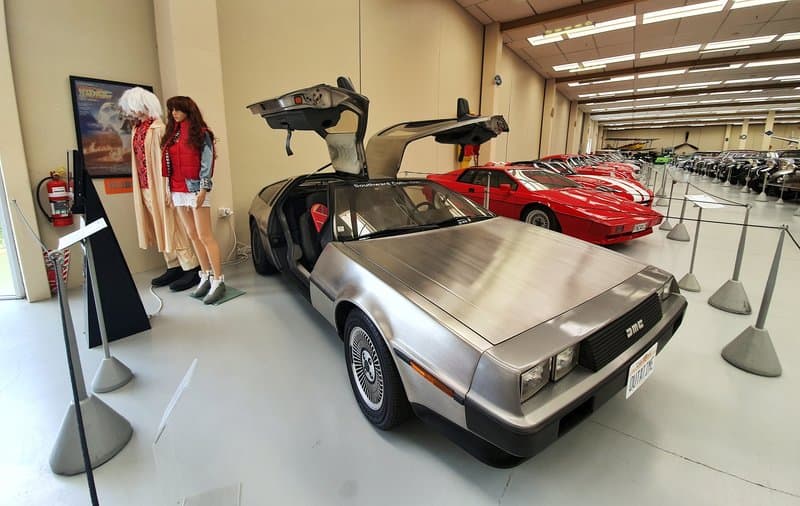 51. Choose your dream car (there are 100's) at Southward Car Museum.
52. Experience Otara's Flea Market (Auckland).
53. Or the French Market in Britomart or Parnell (Auckland).
54. Tour the Chelsea Sugar Factory. This is one of those things to do in New Zealand that's going to be popular in years to come (in my opinion).
55. Sail around the Bay of Islands.
56. Attempt to understand rugby at the NZ Rugby Museum.
57. Watch a movie on a summer night at Silo Park.
58. Witness a blue lake and green lake next to each other in Rotorua.
59. Drive a plane attached to wires, the only kind in the world. It's on the Kapiti Coast and is called the Fly by Wire.
60. Walk New Zealand's stairway to heaven, the Paekakariki Escarpment Track (there's some cool things to do in Paekakariki!).
61. Scale Te Mata Peak, home of several Maori Legend stories.
62. View the world's largest Tesla coil (and other sculptures) in Kaukapakapa.
63. Travel as far east as possible on the North Island to the East Cape Lighthouse (another good spot to watch the sunrise).
64. Visit Taumatawhakatangihangakoauauotamateapokaiwhenuakitanatahu a.k.a. Taumata (that's not a typo).
65. Look at NZ's largest art collection at the Auckland Art Gallery.
66. Learn about Auckland on a free walking tour (a small donation is the norm).
67. Think of more funny puns in Bulls.
68. Forage and make your own kawakawa tea, you'll find the trees in coastal areas of the North Island.
69. Visit the Waitangi Treaty Grounds, where New Zealand was born.
70. Walk from one side of NZ to the other taking in many of Auckland's sites on the Coast to Coast walk.
71. Explore former military tunnels in Devonport.
72. Hop between Waiheke Island wineries and drink all the wine. Why? The wine isn't sold on the mainland.
73. Pray in a church made of trees near Hamilton.
74. Climb Cape Palliser Lighthouse for epic views.
75. Drink a beer with the Tui girls at the Tui Brewery.
76. Walk above the Manawatu Gorge.
77. Take a photo with Pania of the Reef, Pania being a symbol of Napier.
78. Take in Waimangu Volcanic Valley, the world's youngest geothermal system.
79. Learn about glass (or take a workshop) at NZ Glassworks in Whanganui.
80. Plant treets at Tawharanui Open Sanctuary (and see kiwis with an Airbnb experience).
81. Visit Whanganui's Kai Iwi Beach to see the epic clay cliff faces (you can also see them on this walk near Auckland.
82. Forage for food (kai), and learn about Maori traditions.
83. Try another bungy jumping alternative, the Sky Swing, in Rotorua.
84. Drink a beer at Garage Project, one of the countries first craft breweries.
85. Scuba dive in NZ's first marine reserve, Goat Island.
86. View the Sugar Loaf Islands from the summit of Paritutu Rock. It's not just any rock. It's 156 metres high!
87. Visit Zealandia, a world-class conservation project.
88. Hop along New Plymouth's coastal art way.
89. Explore A "Castle" & NZ's largest doll collection.
90. Learn about the sweet potato at the Kumara Box in Northland.
91. Visit the buried village, Te Wairoa. This is another one of NZ's most important historical sites.
92. Walk among the phallic like stones a.k.a. 'Paths of the Dead' filming location in the Wairarapa.
93. Go plane spotting at Wellington Airport. Preferably on a windy day.
94. Be wowed by the colours at Wai-O-Tapu.
95. Eat ice cream in the shape of the colossal squid at Giapo.
96. Sticking with Giapo, go behind the scenes and see how they come up with new innovations.
97. Grasp Wellington's layout from Mount Victoria.
98. Try chocolate salami (among other unusual flavours) at Schoc Chocolates.
99. Boil an egg in a hot spring like this.
100. Head to the predator-free bird haven, Kapiti Island, for an awesome day trip from Wellington.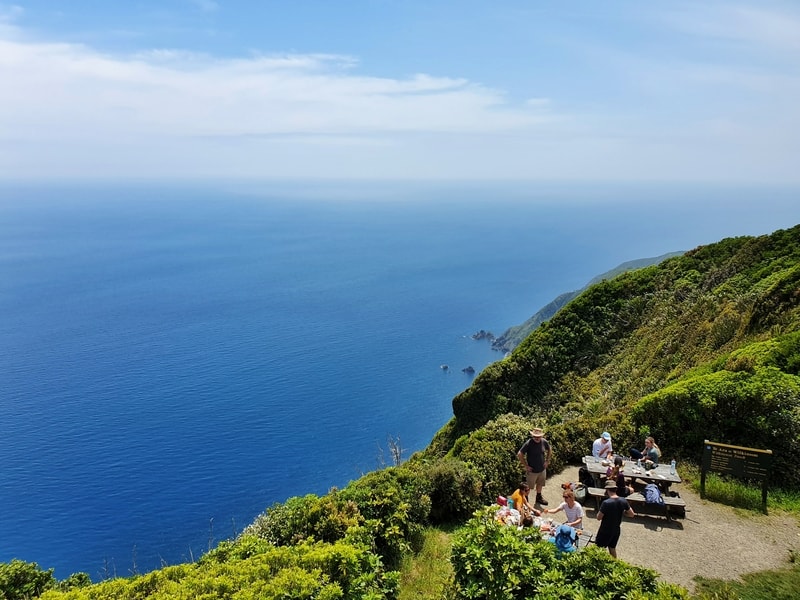 101. Get panoramic views of Auckland from the biggest volcanic cone, Mount Eden.
102. Visit the home of shiny shells and brilliant souvenirs, Paua World.
103. Take a historic walk in Wellington's oldest cemetery.You'll also see the cemetery on the City to Sea walkway.
104. Carve your own NZ-sourced greenstone (a.k.a. Jade).
105. Find artisan gifts at the Underground Market on Wellington's waterfront (looks like it's closed permanently).
106. Drink your way along the Classic New Zealand Wine Trail.
107. Go behind the scenes of NZ's largest stadium, Eden Park.
108. Ride the Remutaka Cycle Trail.
109. Learn Lord of the Rings things etc. at the Weta Workshop Tour.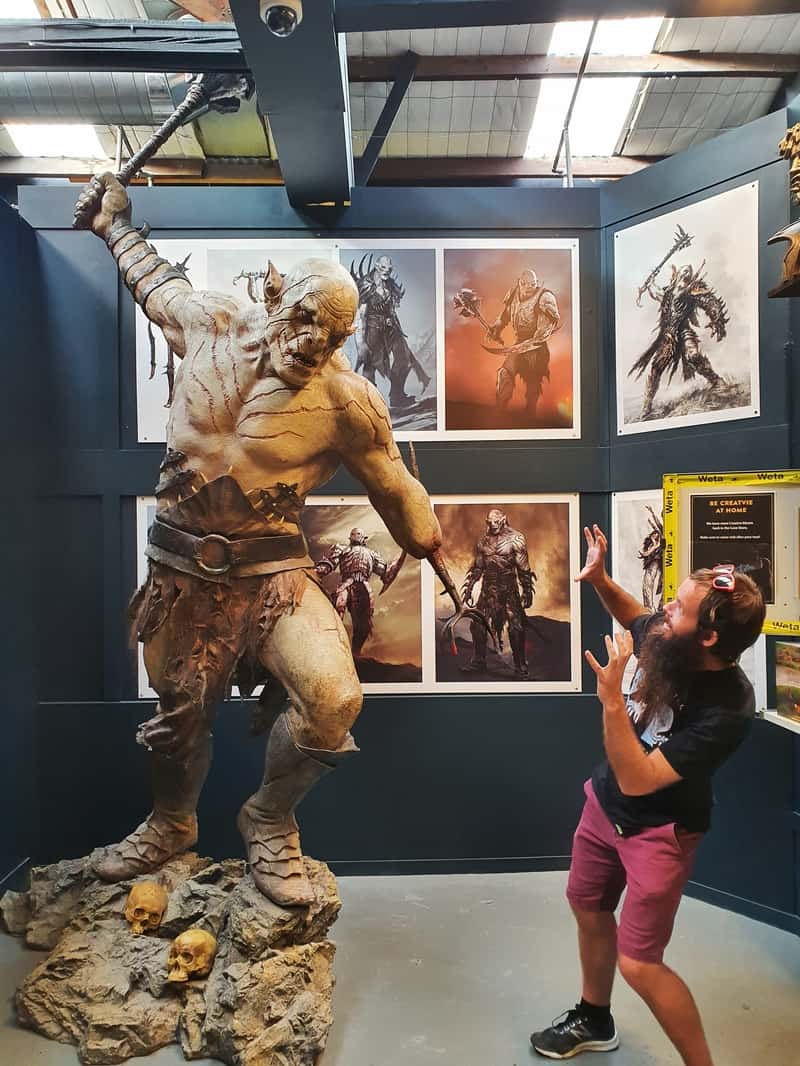 110. Eat the fruit, often considered to be green gold (it's not kiwifruit).
111. But do tour a kiwifruit farm to understand the production cycle.
112. Take the escalator up NZ's highest building, the SkyTower. You could even jump off it.
113. Climb on the Auckland Harbour Bridge.
114. Ride in an America's Cup yacht.
115. Try Mr. Chips Masterton fish and chips, the back-to-back people's choice winner.
116. Watch some cricket at The Basin.
117. Watch a game of netball, NZ's most popular women's sport
118. Take a latte art class to impress your friends the next time they'd like a cuppa (Auckland & Wellington.
119. Replace your toothbrush after visiting the toothbrush fence in Waikato.
120. Fly over White Island, an active marine volcano.
121. Be enchanted playing mini-putt on an international grade course.
122. Swim behind the Whangarei Falls, close to the city centre.
123. Find the Bridge to Nowhere.
124. Get your passport stamped at Whangamomona. Here I discuss is Whangamomona worth visiting.
125. Take in views of the Hen and Chicken Islands from Mount Manaia.
126. Venture inside Taranaki's Hobbit Hole (it's not at Hobbiton).
127. Walk to the Castlepoint Lighthouse, a rugged paradise.
128. Walk the Pouakai Crossing to get that Instagram photo which is one of the top things to see in New Zealand.
129. Visit the town with the highest bulldozer per capita rate in the world, Ngawi.
130. Take a free tour of the beehive and watch politicians debate.
131. See the power of an earthquake at Kupe's Sail.
132. Try your hand at Footgolf. There's plenty of places you can play, but Boulcott near Wellington is as good as any.
133. Pick your own berries at Julian's in Whangarei.
134. Window shop your way down Cuba Street in Wellington.
135. Hop around Wellington's Breweries on your own, or with a guided tour.
136. Walk the Pinnacles Track in the Coromandel.
137. Tiptoe along the top of Auckland's highest sea cliff.
138. Throw a gumboot in Taihape. There's a handful of things to do in Taihape if you're passing through.
139. Jump off the diving board into Wellington Harbour.
140. Hop over to the largest forest of New Zealand Christmas Trees on Rangitoto Island.
141. Utilise the photo frame installed for Waitakere Ranges photos.
142. Swim at wellington cities man-made beach on Oriental Parade.
143. Wander through dozens of vintage cars, a salvager's dream, at Horopito Motor's close to Tongariro National Park.
144. Go and enjoy the All Blacks Experience.
145. Spend 75 minutes walking in the footprints of Kupe.
146. Visit the mammoth Cathedral Caves in the Catlins.
147. Take a tour of the Speight's Brewery.
148. Look deep, deep into the Te Waikoropupu Springs.
149. Swim in Motueka's saltwater baths.
150. Check out the Pancake Rocks on the rugged West Coast.
151. Walk through Dunedin's famous Larnach Castle.
152. Glide around Mount Cook (in a glider).
153. Go kayaking in Milford Sound…the consensus is Milford Sound is worth visiting, and Doubtful Sound even more so.
154. Explore the ruins of an old brewery and a daffodil field next to the Clutha River. This is one of those different must-see places in New Zealand that's totally different!
155. Take over the controls of a stunt plane.
156. Explore Christchurch Botanic Gardens in the Garden City.
157. Sleep in a restored house truck.
158. Spot trout from the swing bridge above the Blue Pools.
159. Walk up to the bronze statues on Dunedin's Signal Hill.
160. Snap a photo of Lake Matheson's epic reflection.
161. Explore one of the largest natural spits in the world, Farewell Spit.
162. Kiwi spotting on Stewart Island.
163. Sleep in a kiwi bach on Taylor's Mistake Beach and then walk around Godley Head.
164. Eat everything at the Cookie Time Factory.
165. Follow in the footsteps of early settlers via the Bridle Path.
166. Go punting on the Avon River.
167. Scare yourself silly at the Fear Factory in Queenstown.
168. Smell good things at the Living Light Candle factory store.
169. Get lost in a natural Labyrinth of pancake rocks.
170. Stay awake for the lesser-known Southern Lights, Aurora Australis (check the Aurora forecast.
171. Visit the outdoor museum a.k.a. Pioneers Village in Gore.
172. Explore the isolated Oparara Arches.
173. Smile at the collection of teapots in a front yard.
174. View the postcard Instagram worthy Nugget Point.
175. Pretend to be a baby chicken at the Moeraki Boulders.
176. Walkthrough a tunnel to Tunnel Beach.
177. Explore the "Spiritual center of the universe." – Dalai Lama.
178. Take a cliche photo of the Wanaka Tree.
179. Line up for a photo at Roys Peak (there's the Wanaka Skyline Track which incorporates peak too).
180. Hike the alternative to Roys Peak, Isthmus Peak.
181. Go heli-hiking on a glacier.
182. Debate how Split Apple Rock came to be via kayak.
183. Visit the Abel Tasman Beach purchased by the public, Awaroa.
184. Appreciate a kiwi legend at the Sir Edmund Hillary Alpine Centre.
185. Find the monument in the center of New Zealand.
186. Join the queue for a world-famous Fergburger, I love it, as do others.
187. Run/crawl up the world's steepest street.
188. Buy fruit from NZ's fruit bowl town, Cromwell. This is a good place to do that.
189. Learn about sheep shearing at Kaikoura's Point Sheep Shearing Show.
190. Stay overnight at another former leper colony, Quail Island.
191. Get an understanding of kiwi ingenuity at the Lost Gypsy Gallery.
192. Go mountain carting down the slopes of Cardrona in Summer.
193. Surf in Porpoise Bay, and if you're lucky, dolphins might join you for a surf.
194. Ride in the HydroAttack's submarine-shark-like machine.
195. If you're travelling to Glenorchy, continue on and visit Paradise.
196. Ride one of the longest flying foxes in the world!
197. Eat the famous Fairlie Pies, in Fairlie.
198. Stop at all the sights along the Glenorchy Scenic Drive.
199. Camp overnight in front of Earnslaw Glacier via the Earnslaw Burn Track.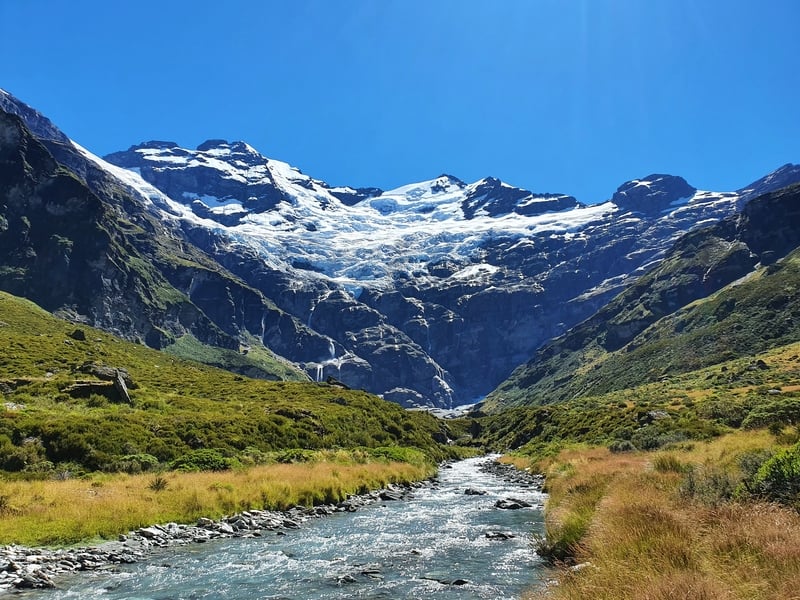 200. Bike along the Port Hills.
201. Walk along the volcanic peninsular near Akaroa.
202. Visit the vegetarian butcher in Nelson.
203. Hold on tight, and jet along the Shotover River.
204. Bungy jump at NZ's first jumping location.
205. Play on the impressive Margaret Mahy Playground.
206. Ride on the TranzAlpine train between Christchurch and Arthur's Pass.
207. Eat Bluff oysters, fresh from the source.
208. Take a tour of the Pic's Peanut Butter Factory.
209. Understand the Christchurch catastrophe at the Quake City museum.
210. Confuse yourself at Puzzle World.
211. Stargaze at Lake Tekapo (in a dark sky reserve), you can walk up via the Mount John Walk.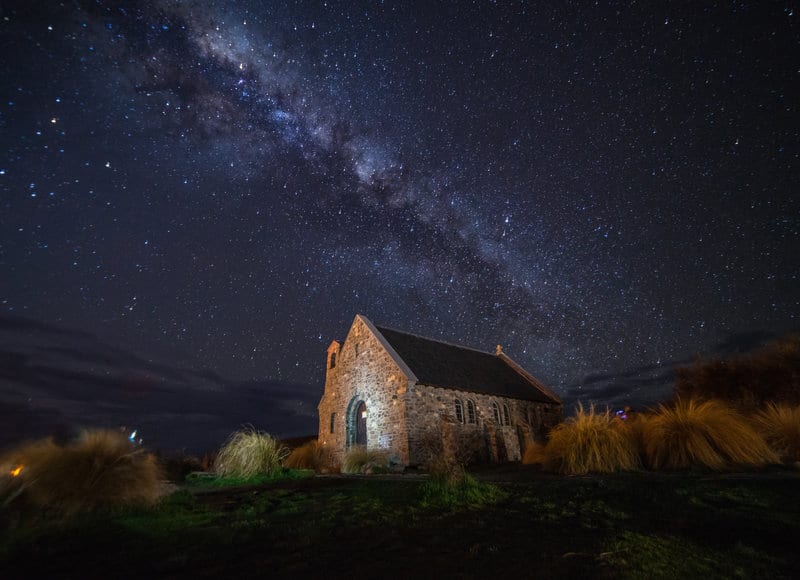 212. Back your odds to see whales in Kaikoura.
213. Visit the eclectic Moonshine Museum.
214. Put your bra on the Cardrona Bra Fence.
215. Visit the massive Lavendar Farm by Lake Pukaki.
216. Avoid avalanches climbing Avalanche Peak.
217. Walk end to end through a pitch-black cave, Cave Stream Scenic Reserve.
218. Visit the creators of The Ring, and buy a replica.
219. Gather your own shellfish for dinner in Marlborough.
220. Hold on at the most southern point of the South Island, Slope Point.
221. Follow the Avon past red zoned houses in Christchurch.
222. Look for jade-pounamu on Hokitika Beach.
223. Visit the wilderness areas of Te Wahipounamu, a UNESCO World Heritage Site.
224. Make your own popcorn at The Bunkhouse Theatre.
225. Wave to the seals while walking the Kaikoura Peninsular Walkway.
226. Descend into Harwoods Hole in Abel Tasman National Park.
227. Explore incredible limestone arches.
228. Wander the steampunk capital of the world.
229. Get up close to a Royal Albatross colony.
230. Explore the clay cliffs (formed by glaciers) of Waitaki Valley.
231. Explore the fun (unofficial) town, Demolition World.
232. Search for gold in a former gold mining mecca, there's plenty of nice walks in Arrowtown too.
233. Visit an aircraft museum in Christchurch.
234. Bike through the wineries in Marlborough, the largest wine-making region in the country.
235. Visit the man-made Rush Pool (you won't be swimming here).
236. Fly in a helicopter over the Milford Sound.
237. Guide yourself through New Zealand's oldest university, Otago University.
238. Catch the gondola for insane views of Queenstown and continue on up onwards to Ben Lomond .
239. Learn stuff at The Antarctic Centre.
240. Go on a scenic cruise of Lake Te Anau.
241. See the remains of a shipwreck at Oban Beach.
242. Visit the cool sculptures at a Giant's House in Akaroa.
243. Watch the worlds rarest penguin come ashore in Curio Bay.
244. Learn about the old egg and spoon races in New Zealand at New Brighton Museum.
245. Ride/walk the Lake Dunstan Trail (opened in 2021).
246. Dine out in Lumsden's American-like cafe and bar on Route 66
247. Be inspired at Dunedin's NZ Sports Hall of Fame.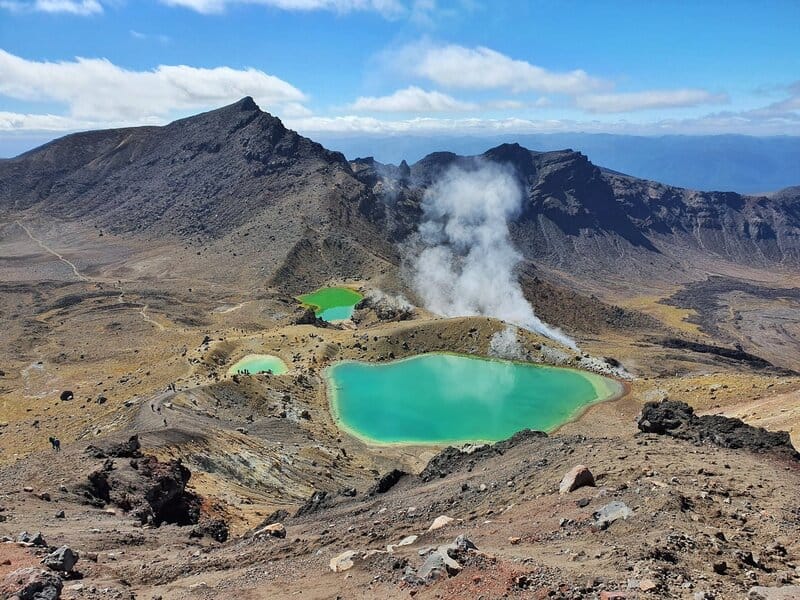 248. Sign up for one of the countries Great Walks.
249. Fly to the Sub-Antarctic Islands, a UNESCO Heritage Site.
250. Dress in black at an All Black's match.
251. Cross the fierce Cook Strait by ferry to/from Picton. I've taken both ferries, this is my Bluebridge Ferry Review and Interislander Review.
252. Comb the beaches on the Chatham Islands.
253. Walk sections of the Te Araroa Trail.
254. Sleep in a DOC hut (or if you're really keen, a Bivvy).
255. Try Cross-country skiing at Snow Farm…a great introduction to snow sports.
---
Well, there you go. 251+ of the best things to do in New Zealand (there aren't too many repeat activities in this post in my opinion). You shouldn't have any problems thinking about what to do in New Zealand anymore!
Leave a comment below with the thing to do that you'd never considered up until now. Let's never run out of stuff to do in New Zealand.
WHAT TO READ NEXT: 13+ AWESOME HIKES IN WELLINGTON
HOW I PUT THIS POST TOGETHER
My initial goal was to write 1000 things to do. But there are only a couple of posts with more than 100 things to do in New Zealand so I figure 200+ ideas would be more than enough inspiration for you (and I was starting to lose the plot).
So even though 1000 things to do in NZ sounds crazy awesome, many of the experiences would be very repetitive. As much as there are lots of unique things to do in New Zealand, it's not a massive country.
Anyway…
Step 1: Compile every New Zealand must see attraction into a word document. I used the following to do this:
Wrote down all the things to do in New Zealand off the top of my head (brain dump).
Scrolled through my photos from my trips around New Zealand for further inspiration.
Went to my other site tikitouringkiwi.com for more inspiration.
Started researching for more ideas on TripAdvisor, Reddit, blogs etc. until I was way over 200 ideas.
Step 2: It's time to start organising the post to give it some structure. I decided to split the things to do in New Zealand by North Island, South Island, and others. There were also a few double-ups in my draft phase I removed, as I did with the worst ideas.
Step 3: I edited up a storm, formatted the post, and made sure it's okay for SEO (helping people find the article in Google).
Step 4: Added images, social images, and the like.
Step 5: PRESS PUBLISH! And start getting this post in front of people.
Step 6: My ask. If you enjoyed this post and the effort put in, I'd appreciate it if you could send this post to a friend you know who is going to New Zealand (or is there already). Or, leave a comment at the bottom of the post.
---
If you want too save this post for later, here are two pins: