Welcome to this post about some awesome Wellington walks in and around the city.
Some of you will call them hikes, but I couldn't determine when a walk becomes a hike. Using walk captures them all.
Another tricky situation I came across was determining what people consider a walk in Wellington. On a map, the Wellington region looks like this:

That's a big area, and I suspect you might be looking for walks in the highlighted area below.
So I'll make it easy and break them into two categories.
1. Walks in Wellington
2. Walks near Wellington
You can see all the walks you're about to read into further on this Wellington walks map 1: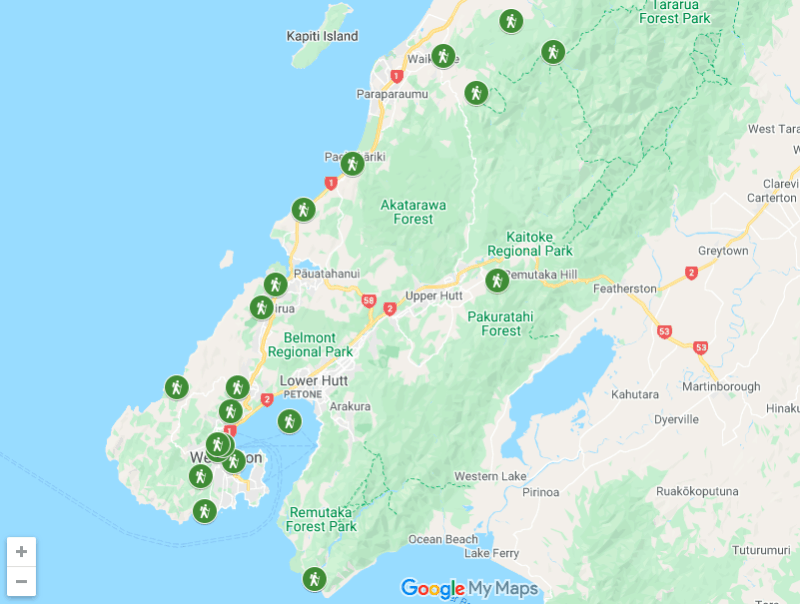 WELLINGTON WALKS
1. Southern Walkway
2. Northern Walkway
3. City to Sea Walkway
4. Red Rocks Walkway
5. Wind Turbine to Red Rocks
6. Mount Victoria Lookout
7. Mount Kaukau
8. Skyline Walkway
9. Somes Island
10. Makara Walkway
11. Te Ahumairangi Loop
WALKS NEAR WELLINGTON
12. Paekakariki Escarpment Track
13. Colonial Knob Walkway
14. Kapakapanui Track
15. Mount Hector Peak
16. Hemi Matenga
17. Mangaone Walkway
18. Wild Coast Track
19. Mount Climie
20. Wairaka Walkway
21. Onepoto Loop Track
---
9 WALKS IN WELLINGTON
1. SOUTHERN WALKWAY

Difficulty: Easy-medium
Distance: ~10.6km
An awesome end-to-end walk with the main trailhead on Oriental Parade. It takes you across the front of Mount Victoria (it's easy enough to make a detour to the lookout), and along the town belt heading towards the southern coast.
The toughest part of the walk is at the beginning on Mount Vic, but after that, the trails are pretty easy going.
Similar to the Northern Walkway below, you'll see some parts of the city you don't normally wouldn't, and you get plenty of views along the way. It's also super simple to get back to the city afterward.
READ THE FULL POST: THE SOUTHERN WALKWAY, WELLINGTON
2. NORTHERN WALKWAY

Difficulty: Medium
Distance: 16km
The end-to-end Northern Walkway starts from the top of the cable car and finishes 16km later at the summit of Mount Kaukau (you'll read about this shortly).
Along the way you'll pass through the Botanic Gardens, Tinakori Hill, Trelissick Park, and some suburban roads in Wadestown and Ngaio. There are views of Wellington to be had, and the walk will take you to some places you normally wouldn't visit while playing tourist.
It's not the most convenient walk given its one way, and the finish at Mount Kaukau means you've got another couple of kilometres of to reach any kind of transport.
But if you've spent plenty of time in Wellington, and have never been to Mount Kaukau, it's a great way to do so.
READ THE FULL POST: THE NORTHERN WALKWAY WELLINGTON
3. CITY TO SEA WALKWAY

Difficulty: Easy-medium
Distance: 12km
The City to Sea Walkway has the same finishing point as the Southern Walkway (above), but you're going through the green areas of the city on the other side of the city and get a few more sites overall. It's 12km, so if you like a big day of walking you could do both.
Don't let the cemeteries put you off, they're both historic and have information boards that were more interesting than I expected.
If I had to choose this or the Southern Walkway? Argh, it's tough. I'll go with the City to Sea Walkway as it's longer.
READ THE FULL POST: THE CITY TO SEA WALKWAY
4. THE WALK TO RED ROCKS

Difficulty: Easy
Distance: 4km
The Red Rocks isn't a case of mistaken identity. There are a bunch of rocks (sidenote: there's no one name for a group of rocks) about 2km from the car park that are very red as you'll see if you look out the photos in the post below.
The walk (okay this one is definitely not a hike) follows the coastline where you'll be fully exposed to any hint of a southerly. It's really wild and fun on a windy day, but ouch, the sand hitting your face can hurt. So it's probably better suited to a calm weather day. They do exist in Wellington!
Make sure you keep an eye out for the red rocks along the water's edge, I've walked straight past them while chatting before. In the distance you'll see the Devil's Staircase, this is worth walking out too as you'll see a seal colony year-round (in various numbers).
READ THE FULL POST: THE RED ROCKS WALK
5. THE WIND TURBINE TO RED ROCKS WALK

Difficulty: Easy-medium
Distance: 8.7km
This is a section of Wellington that is rarely explored by tourists and what I'd call off the beaten path.
If you've got a keen eye you might see the Brooklyn Turbine from the Mount Victoria Lookout. And you can get up close to the turbine by car (or you can walk if you're super keen). From the turbine are a bunch of walking and mountain biking tracks you can explore. You can even make your way down to the Red Rocks which are about 9km away.
It's quite the adventure as you're a decent way above sea level, and there'll be times when you get smashed by the wind. Just think about the views you'll get.
The descent down to the Red Rocks at the end is pretty hectic. It's a bit of an inconvenient walk to get to and from, but definitely off the beaten path.
READ THE FULL POST: WALKING FROM THE WIND TURBINE TO RED ROCKS
6. MOUNT VICTORIA LOOKOUT

Difficulty: Easy
Distance: 3.65km
The walk up to the Mount Victoria Lookout is the most popular route thanks to its proximity to the CBD. It's a short and sharp mission up the hill (mountain?) and those who have slipped up on their fitness are soon reminded as such. Ignore the lazy asses who drive to the summit.
Make sure you go for sunset. It'll be busy, it's stunning. From the viewpoint, you'll understand how Wellington is laid out as you can spot the iconic spots like Te Papa, Basin Reserve, Wellington Airport, and Sky Stadium.
READ THE FULL POST: THE MOUNT VICTORIA LOOKOUT HIKE
7. MOUNT KAUKAU

Difficulty: Easy-medium
Distance: 1.5-2.5km
Compared to Mount Victoria above, Mount Kaukau isn't nearly as popular with tourists (the convenience factor). But people who live nearby will make a regular pilgrimage to the summit for sunset. So that means you probably should too…they'd hate for their spot to get overtouristed I'd imagine.
There are various entry points to the summit, but I suggest you go up from Simla Crescent (my favourite loop is in the post below). Once you're at the summit, there are a few tracks you can tackle starting from there. You could spend hours exploring the surrounding area.
READ THE FULL POST: WALKING AROUND MOUNT KAUKAU
8. SKYLINE WALKWAY

Difficulty: Easy-medium
Distance: 13.4km
The Skyline Walkway is a similar length to the Northern and the City to Sea options. But on the Skyline Walkway, there are no sections where you pass through residential streets, which might make it more favourable to you.
There are lots of views to be had, and while it's a known walk among many locals, you won't see many tourists here. What I do love about this walk is it gives you a real sense of Wellington's size as you look out over the harbour/CBD and over the green pastures on the outside of the city. Let's be stoked housing developments haven't swamped it all.
Including transport time, this will take you at least half a day, so consider that before you begin.
READ THE FULL POST: WALKING THE SKYLINE WALKWAY
9. WALKING AROUND SOMES ISLAND

Difficulty: Easy
Distance: 2-3km
I had to include Matiu Somes Island on here as one of the goals of Chur New Zealand is to encourage people to explore a wider variety of places…let's try not to be like sheep allll the time.
There's a loop track you can do around the outside of the island, and while it's only a few kilometres long, it's got the best wildlife! And then you can explore the rest of the island on foot too…it's not like you have much choice anyway 🙂
This is a great spot to spend half a day or so.
READ MORE: TAKING A TRIP TO SOMES ISLAND
10. THE STUNNING MAKARA WALKWAY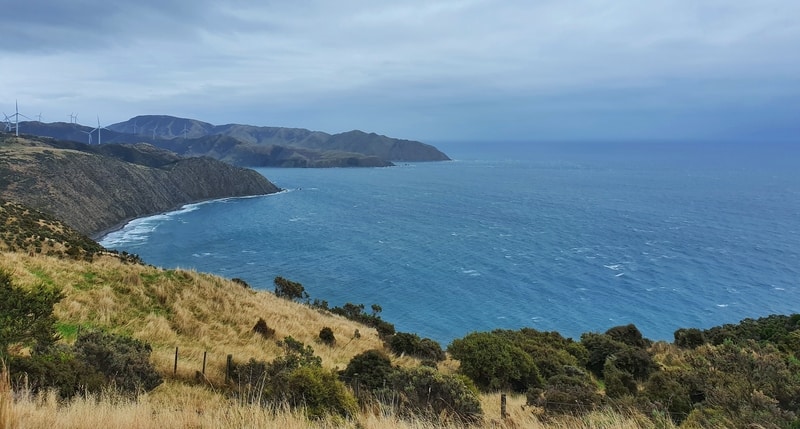 Difficulty: Easy – medium.
Distance: 7-8km
This track starting from Makara Beach takes a little bit of effort to reach (you can only get there by car), but it's so worth it. As you're walking along the coastline you'd never know the capital city of NZ is less than 20km away.
Along the way you'll get lots of views, including the South Island, you'll see gun emplacements, have a chance to get up close to a wind turbine and on a nice day? You can take a swim.
If you're getting a bit claustrophobic from city life, make this walk a priority.
READ MORE: THE MAKARA BEACH WALKWAY
11. A LOOP AROUND TE AHUMAIRANGI HILL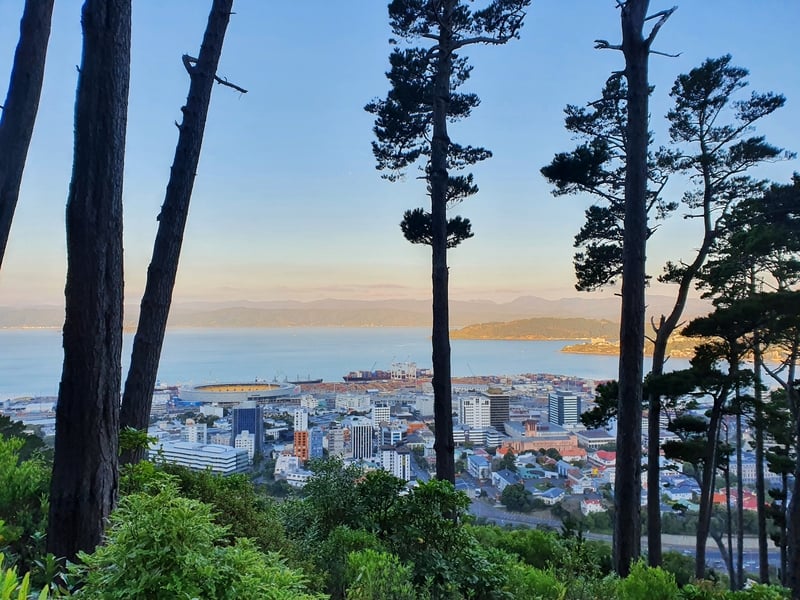 Difficulty: Easy – medium.
Distance: 5-6km
The Te Ahumairangi Hill (it used to be called Tinakori Hill) has lots of tracks you can discover, but if you're looking for a 5-6 km walk, check out the directions for the full loop below.
You'll get to walk through beautiful forests and get lots of different views and perspectives of Wellington and the surrounding hills.
Located across the road from the Botanic Gardens, this is another great example of how Wellington has managed to keep so many green spaces available to the residents.
READ MORE: A LOOP AROUND TE AHUMAIRANGI HILL
---
10 WALKS NEAR WELLINGTON
12. PAEKAKARIKI ESCARPMENT TRACK

Difficulty: Medium-hard.
Distance: 10km
This is one of the best walks in Wellington, well near Wellington, by far. The track is only a few years old to help complete the Te Araroa trail, and we should all be grateful they made this happen.
It's a 10km track between Paekakariki and Pukerua Bay that follows the coastline, on the hill overlooking the coast. You get views all the way out, with Kapiti Island always a great backdrop.
It's certainly not easy with heaps of stairs. But for me, 100% worth it as one of the best trails in Wellington.
And it makes for a good start to a day trip from Wellington to Paekakariki.
READ THE FULL POST: THE PAEKAKARIKI ESCARPMENT TRACK
13. COLONIAL KNOB WALKWAY

Difficulty: Medium-hard.
Distance: 7.6km
This is an off-the-beaten path track that offers epic 360-degree views from the summit. The trickiest part is negotiating the 600+ stairs, but at least you're in the native bush. This is a real gem of a walk and with other tracks in the reserve, you could easily spend a full day exploring everywhere.
READ THE FULL POST ABOUT THE COLONIAL KNOB WALKWAY NEAR PORIRUA & OTHER WALKS IN PORIRUA
14. THE KAPAKAPANUI TRACK

Difficulty: Medium-hard
Distance: ~13km
DOC list Kapakapanui as an advanced tramping track, and that's for good reason. It's a steep climb up the edge of the Tararua Mountains and this is a spot which you can break up into an overnight walk if you'd like.
I don't have it as a hard walk as the total distance is 'only' 13km.
After a flurry of stream crossings to start the walk, it's straight up the mountain that hardly gives you a break. The greens get darker as the forest evolves into a goblin forest with the moss going wild. Close to the summit, you get above the treeline, and weather provided you've got insane views over the Kapiti Coast and deeper into the Tararuas. Then you've got the treacherous mission getting down without being too mean to your knees.
If you're up for a challenge, this walk is for you.
READ THE FULL POST: THE KAPAKAPANUI TRACK
15. MOUNT HECTOR IN THE TARARUAS

Difficulty: Medium-hard
Distance: 24-28km
This is the hardest walk on this list with the elevation and distance combined, and given the nature of the Tararua's should only be attempted if you're experienced and have a good level of fitness.
But if you think you can do it, wow, you're in for a treat. The first section is through the canopy of the forest which gets goblin-like at times. Once you get high enough you'll find yourself above the tree line and you've got 360-degree views for days (unless you're in the clouds in which case you've got sweet fuck all visibility.
The walks in the Tararua Ranges are epic though. You can make this an overnight mission if you want with a couple of huts along the way.
READ THE FULL POST: THE TRACK TO MOUNT HECTOR
16. THE HEMI MATENGA TRAILS

Difficulty: Easy-medium
Distance: ~5.5km
There are a few walks in the Hemi Matenga Scenic Reserve.
But for one of the best views, you need to go up the Parata Track and continue onto the Te Au Track until you reach THAT viewpoint. You'll know when you get there…you get views of Kapiti Island in the distance, and get to look out south down the coastline with the South Island clearly visible on a good day.
In terms of difficulty, it's not super steep, but it's a good mission for those who are looking to challenge themselves. I do wish there were a couple more viewpoints on the way up…the forest is cool, but not freaky freaking looking.
READ THE FULL POST: HEMI MATENGA SCENIC RESERVE
RELATED POST: 5 WALKS IN WAIKANAE
17. THE MANGAONE WALKWAY

Difficulty: Easy
Distance: 7.2km
This is probably my least favourite walk out of the ones listed in this post. It's annoying to get to, you're on a 4WD track most of the way, and there's not much in the way of views as you're stuck in a valley (which is nice…but hey, the standards are high).
I'd definitely prioritize the other walks, but if you really want to tick all the boxes I guess you've got to do these things 'mediocre' walks eh.
READ THE FULL POST: THE MANGAONE WALKWAY
18. THE WILD COAST TRACK

Difficulty: Easy-medium
Distance: 25-29km
This is an epic walk in a place I'd never visited until 2020. It's a part of the Remutaka Cycle Trail, but you can walk it. There are not many undulations to the walk, but it's not easy due to the length and the path isn't always smooth.
For a 45-minute drive from Wellington, you feel a million miles away with little signs of civilisation on the coastline. This is definitely a walk you want to plan for a nice day, otherwise, you'll be miserable battling the wind and rain.
READ THE FULL POST: THE WILD COAST TRACK
19. MOUNT CLIMIE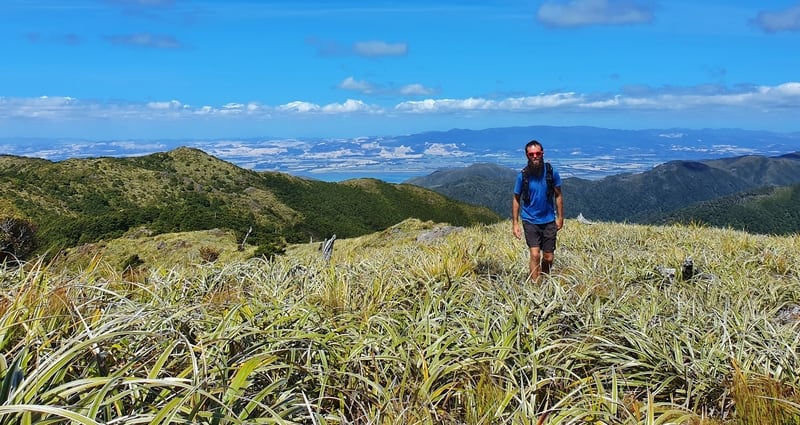 Difficulty: Medium
Distance: 12-13km
Mount Climie is a solid, but not spectacular walk given you're following a 4WD track. That said, if you're not big on bush walks but do want to experience alpine terrain this is a suitable walk for you.
At the summit, you've got views out across Wairarapa and back out towards Wellington. You'll see plenty of different trees on the way to the alpine tops, including beech trees covered in moss.
It's a 45-minute drive from Wellington (15 from Upper Hutt) to the trail.
READ THE FULL POST: HIKING TO THE TOP OF MOUNT CLIMIE
20. WAIRAKA WALKWAY (PUKERUA BAY TO PLIMMERTON)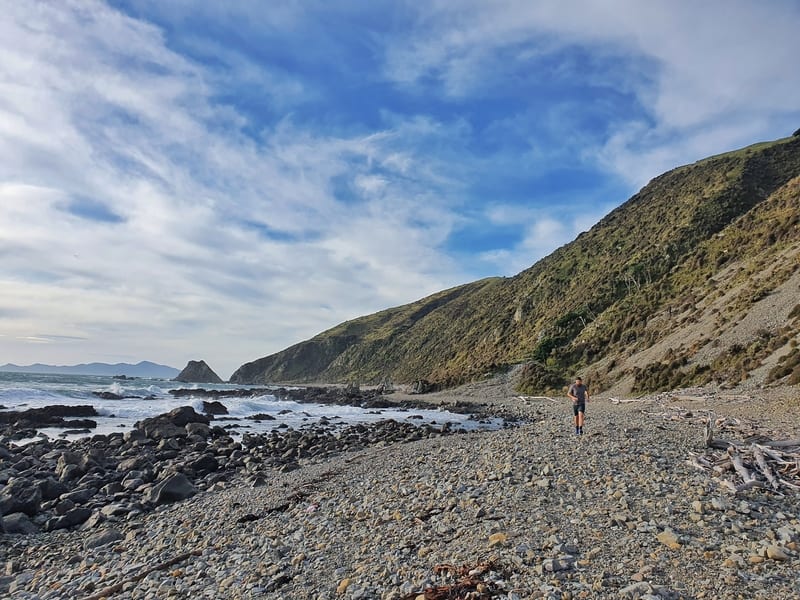 Difficulty: Easy – Medium
Distance: 12km
The Wairaka Walkway can be completed as a 12km end-to-end walk between Pukerua Bay and Plimmerton Train Stations (you could add it onto the Paekak Escarpment Track.
It's pretty awesome to be on the coastline so close to the city, yet you feel a million miles away. It's a bit of a slog through sections of the rocky coastline, but it's not every day you come across a hole in the rock right.
READ THE FULL POST: THE WAIRAKA WALKWAY
21. ONEPOTO LOOP TRACK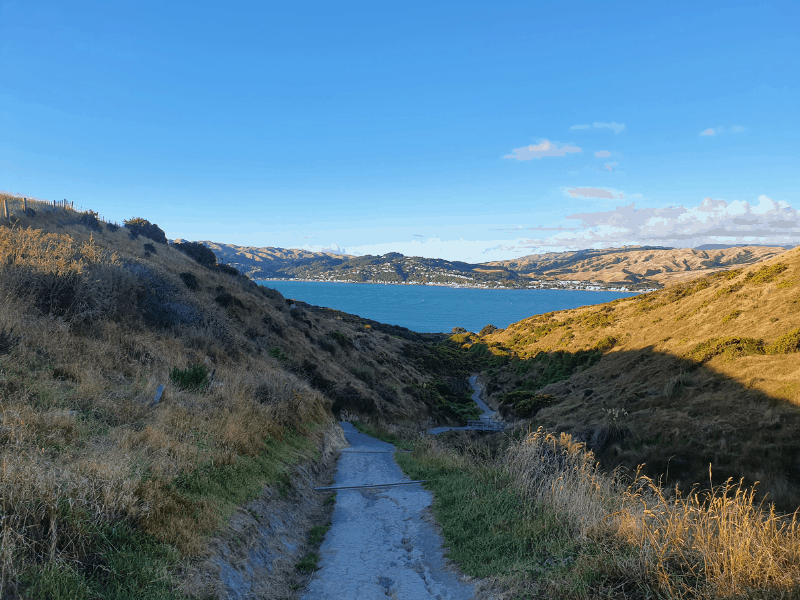 Difficulty: Easy
Distance: 6-7km
The Onepoto Loop Track is a favourite for the locals with coastal views, minimal elevation, and the fact it's a loop track rather than an out-and-back.
It's an easy track to follow, and while it's nothing groundbreaking, makes for a neat family walk.
READ THE FULL POST: THE ONEPOTO LOOP TRACK
---
Happy walking!
If you've got any questions leave a comment below or email me jub@churnewzealand.com (I'd love to hear how your walk went below).
Chur,
Jub
RECOMMENDED READING
As much as I love hiking and encourage you do as many as you can, there's plenty of other stuff to do in NZ.
The Fly by Wire is an incredible experience. It's an adrenaline junkies dream.
It might not be the healthiest option, but a scoop of chips after a nice walk is awesome.