The Wairaka Walkway is a 10km end-to-end walk following the rugged coastline between Pukerua Bay and Plimmerton (add another 1-2km to get to and from the train stations).
The highlight? For me, the hole in the rock.
This post will give you the details about the Wairaka walk, along with some photos so you can get an idea of what to expect.
TABLE OF CONTENTS
1. Wairaka Walkway Details
2. Wairaka Walkway Map
3. How To Get To The Wairaka Walkway
4. My Wairaka Walk Experience
1. DETAILS ABOUT THE WAIRAKA WALKWAY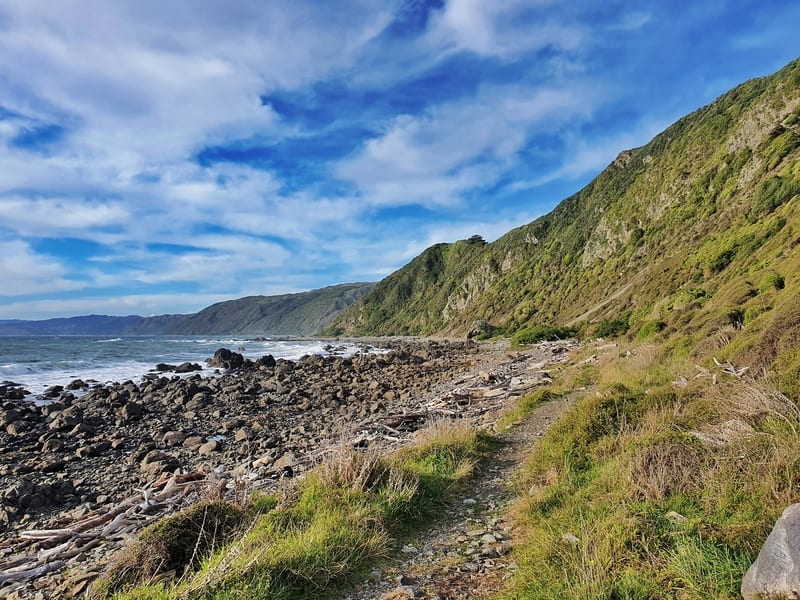 When1: July 2020
Difficulty2: Easy – medium. The constant walking on various shaped stones and pebbles for a few kilometres gets tiring.
Walk Distance3: The actual track itself is about 10km. But there's another kilometre or so to reach both of the train stations/parking at either end so plan to walk about 12km.
Elevation Gain4: If you're walking in the Pukerua Bay to Plimmerton direction, my Strava gave 28 metres of elevation. But if you're walking in the other direction, there's a decent 70-80 metre incline up to Pukerua Bay Station.
Walk Duration: You might think 12km with minimal elevation will only take two hours, but given the terrain, I think most people will be better off scheduling 3 to 4 hours of walking time.
---
2. WAIRAKA WALKWAY MAP
The map above is a GPX file overlaid on a topo map. It doesn't really take rocket science though, you're simply following the coastline 🙂
3. HOW TO GET TO THE START
The Wairaka Walkway is an end-to-end walk that I suggest you start in Pukerua Bay so you don't have to walk up the hill at the end. If you're super keen you could always do the walk return 🙂
The start and finish of the walk are close to the Pukerua Bay and Plimmerton Train Stations. This gives you a few transport options:
You could:
get public transport to and from both ends (see the 1. Kapiti Line Timetable).
2. Drive to Pukerua Bay, then train from Plimmerton to Pukerua Bay afterwards
3. Do a car swap/two car transport mission (you could park at the Pukerua Bay Store or the train station
4. MY WAIRAKA WALK EXPERIENCE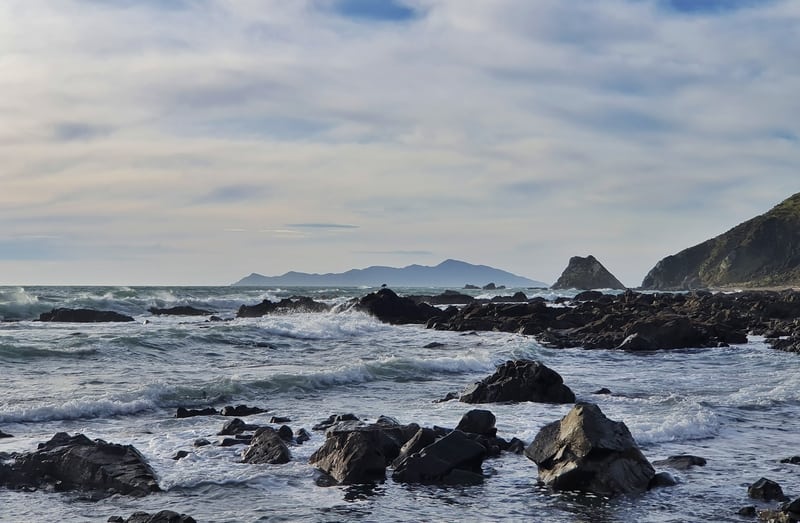 I was pretty excited to explore this section of coastline for the first time in 15+ years. One of my Dad's friends used to live in Pukerua Bay and we'd often head to the coastline to explore.
Having driven to Pukerua Bay to start the hike (we parked next to the Pukerua Bay store) the first kilometre starts off following SH1 (heading north) for 500 metres or so before you turn left onto Pukerua Bay Road to get down to the coast.
Once you're at sea level, turn left onto Ocean Parade to get to the beachside trail. Pukerua Bay is a sleepy, more old school town, especially down at the beachfront so despite walking on the road for the first 1.5km or so, you may find it interesting.
Then we are onto the beach. There's an obvious trail to follow to start with as you walk between some shrubs and whatnot. You're walking on sand and stones at this point more so than all stones.
This continues on for about 1km or so. You'll have some cool views already but the best is yet to come.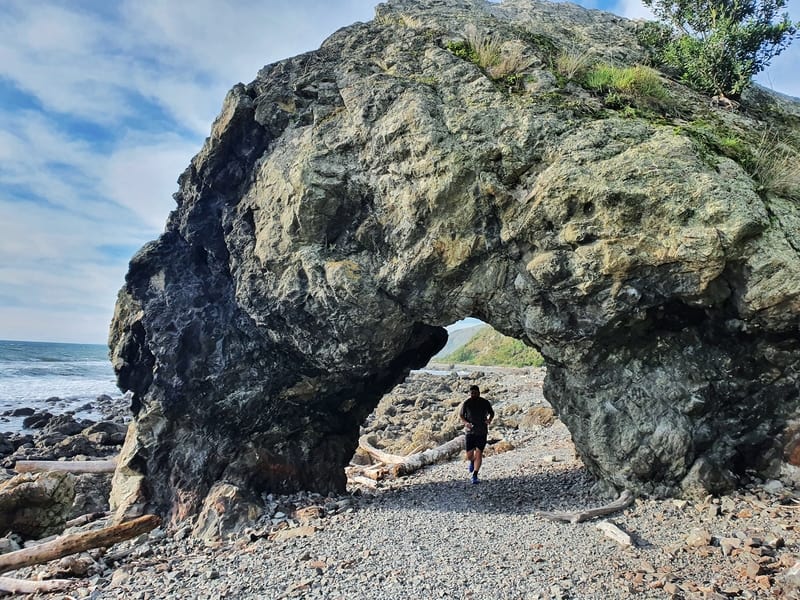 You'll then come across the hole in the rock. It's nothing overly grand, but they're always a fun thing to see and a reminder of how awesome nature can be.
After passing through the rock, the next 3km are a tough slog over rocks/stones/pebbles…whatever you want to call them. There's no path so it's a choose your own adventure style.
You've got the steep hill rising on one side (you might spot some goats scrambling around up there) and the open ocean on the other with the waves, potentially violently, crashing ashore. If the Wellington region turned up the wind dial for the day, it'd be quite hairy.
And you'll see both Mana and Kapiti Island along the way.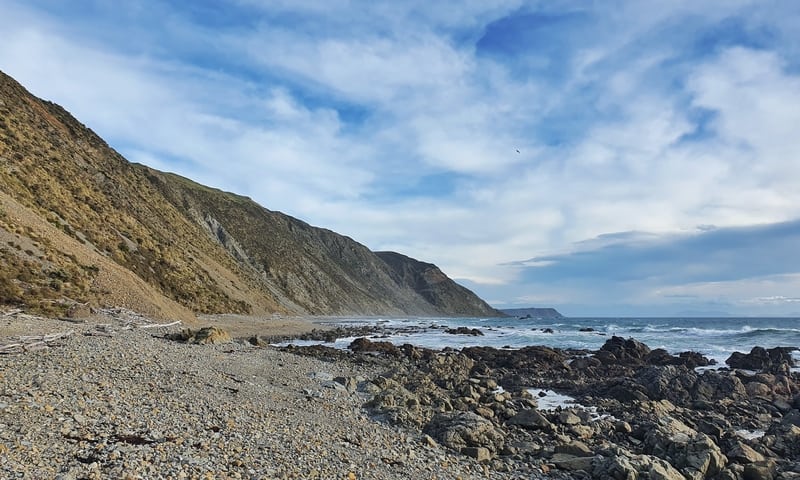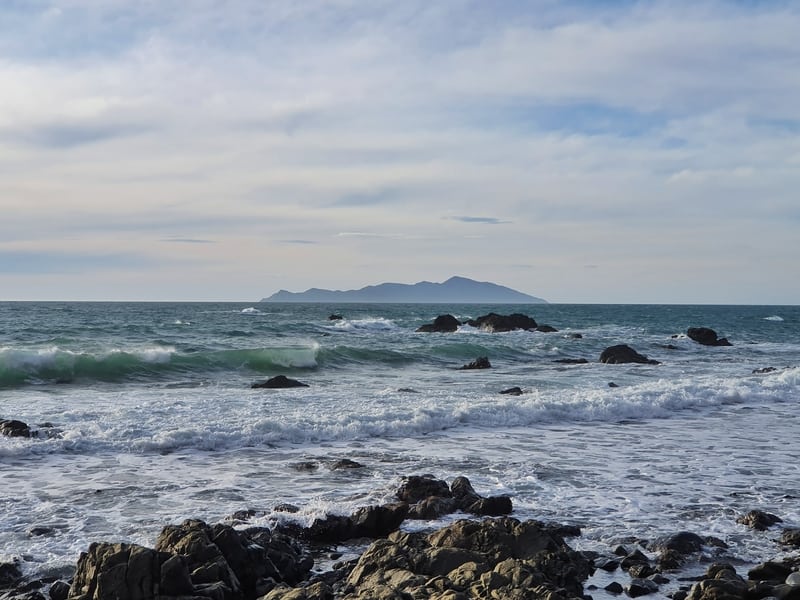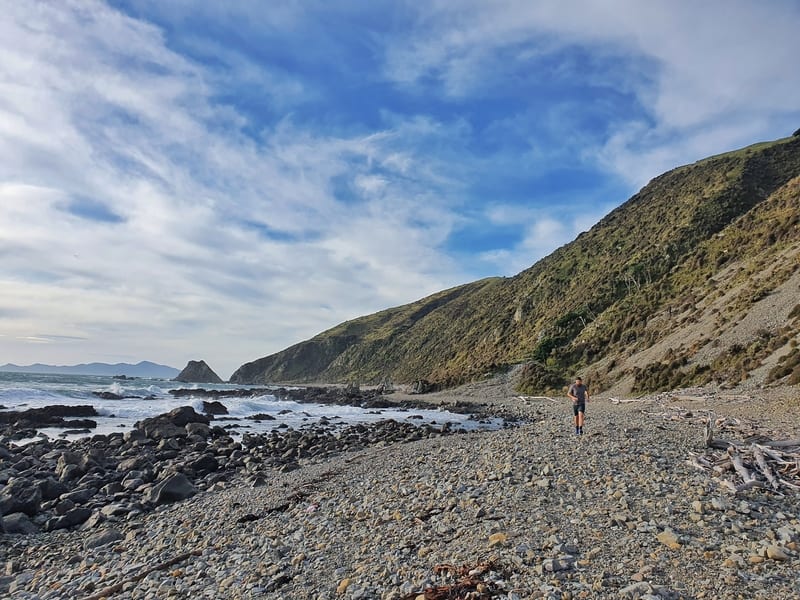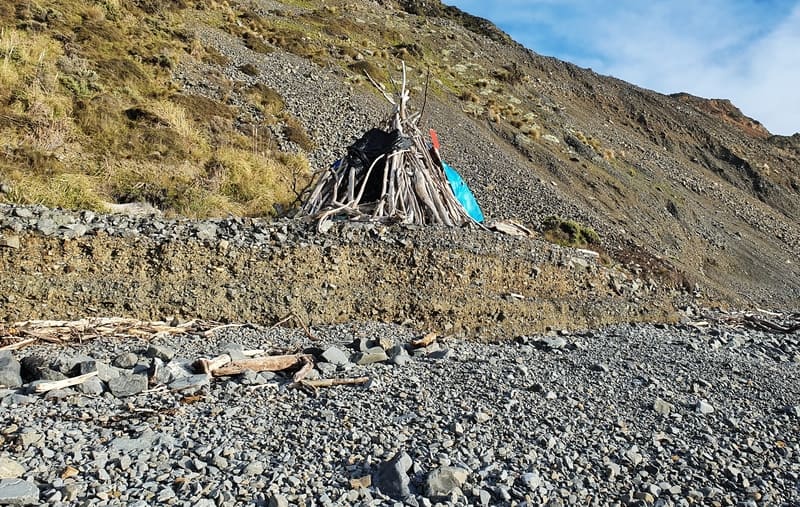 The coastline is dramatic, I love it.
We also saw some cool structures built out of driftwood, and what seemed to be some kind of shelter? It'd be a fun place to spend a long summer evening away from everything (yet being reasonably close to civilization).
After a few kilometres of struggle, you'll come across a 4WD path that continues to track along the coastline. That 3km is a tough workout so it's a bit of a relief to be on somewhat even ground. As you make your way around the edge of the bay you'll start to see signs of human life again.
The view towards some of the walking tracks in Porirua (such as the Onepoto Loop Track) are awesome at sunset here.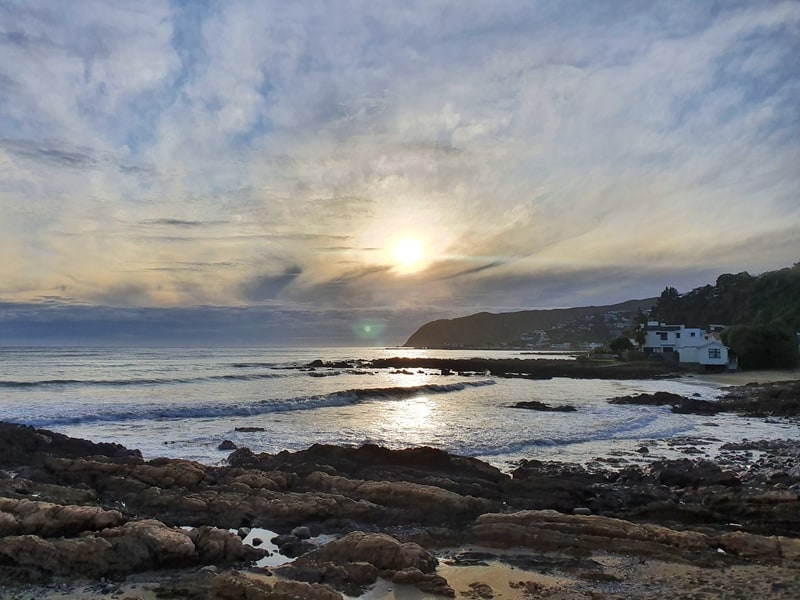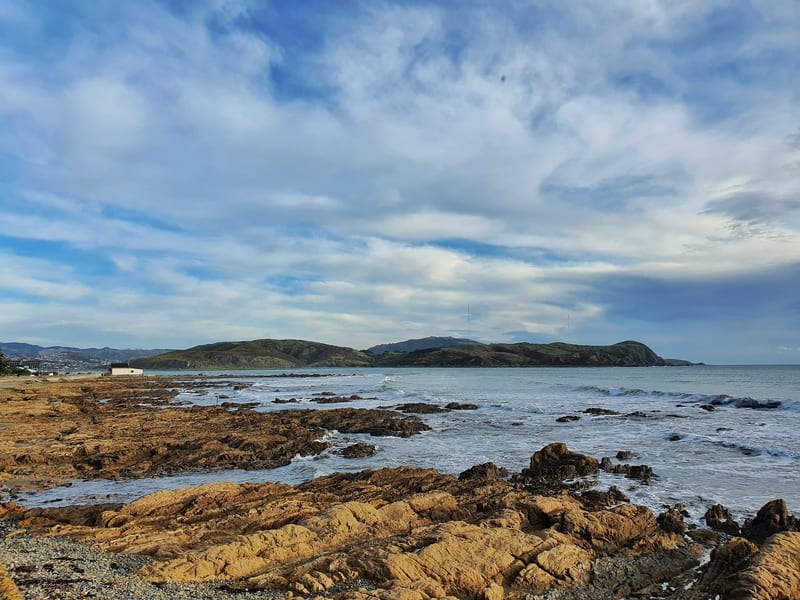 The road you eventually end up on is called Hongoeka Bay Road which follows a rocky coastline. That then becomes Moana Road as you pass the Plimmerton Yacht and Boat Club. The houses along this section do seem quite old, and there's a very local feel. The houses look worn and used, I appreciate this in a world where everyone needs to have the most modern of houses.
From here it's just a cruise back to Plimmerton Station to get the train to Pukerua Bay (don't forget to bring cash). Keep an eye on the time, you might need to pick up the pace to avoid waiting 20 minutes or so for the train. Not that that's the end of the world!
---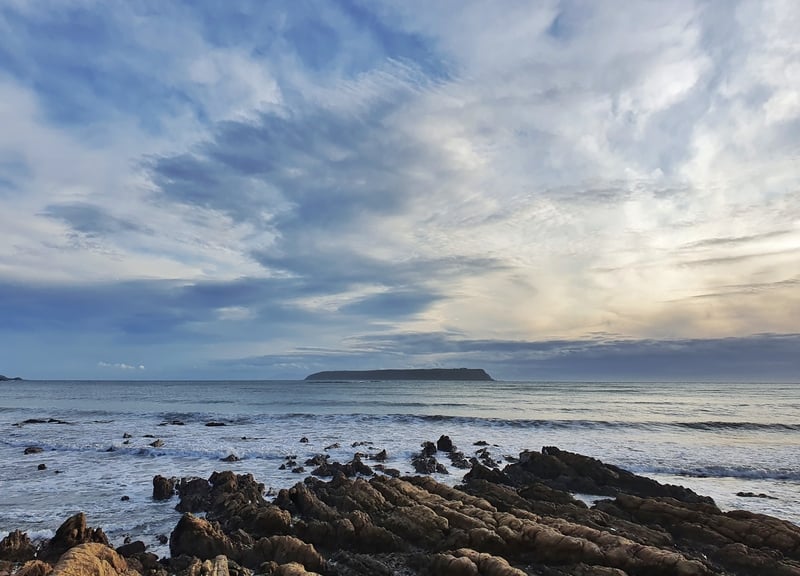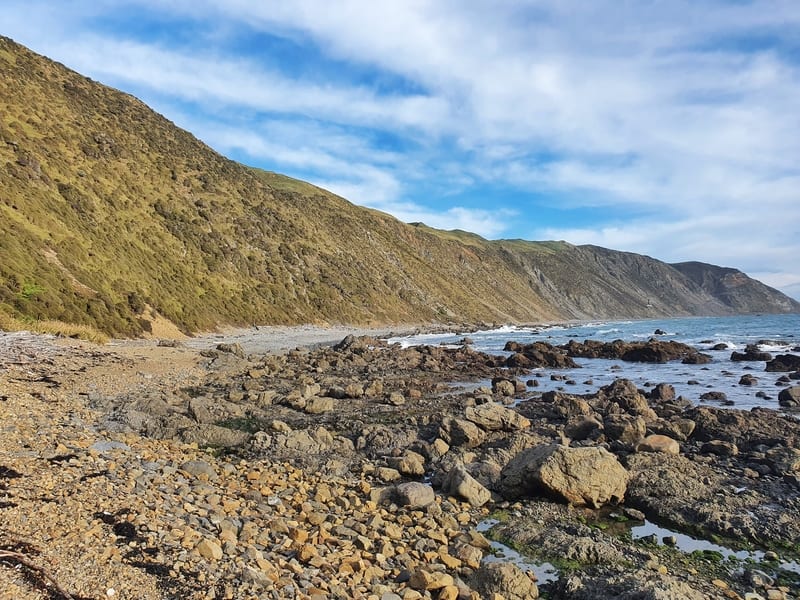 This was a bit of a nostalgic walk for me which made it awesome. That said, if you're a fan of beach walks with a bit of an adventure element thrown in, give this walk a go.
You could even make a big day of it, and do the Paekakariki Escarpment Track which can then link directly to this trail.
Have you given the Wairaka Walkway between Pukerua Bay and Plimmerton a whirl? I'd love to hear your thoughts below in the comments, or email me jub@churnewzealand.com .
RECOMMENDED READING
The ultimate list of inspiration
On the otherside of Porirua, this takes you 400 metres above sea level for epic views
If you're on the Kapiti Coast, check these walks out