The Isthmus Peak hike is a challenging 16km our and back hike with over 1300 metres of elevation gain.
You'll be rewarded with stellar views over Lake Wanaka and Lake Hawea (I've added photos from each time I've hiked up). Continue reading to get all the details about the Isthmus Peak Track.
Let it be known the Isthmus Peak Track is no slouch and doesn't get the recognition it deserves because of its Instagram superstar alternative, Roys Peak. And there are so many wicked cool walks in Wanaka.
That's not necessarily bad news as it means there aren't so many people on the Isthmus Peak Track.
IMPORTANT: The track is closed from November 20th to December 20th for fawning. There are lots of other hikes in the area so it's not the end of the world.
TABLE OF CONTENTS
1. Details About The Isthmus Peak Track
2. Isthmus Peak Track Map
3. How To Get To The Trailhead
4. My Isthmus Peak Hike Experience
1. DETAILS ABOUT THE ISTHMUS PEAK TRACK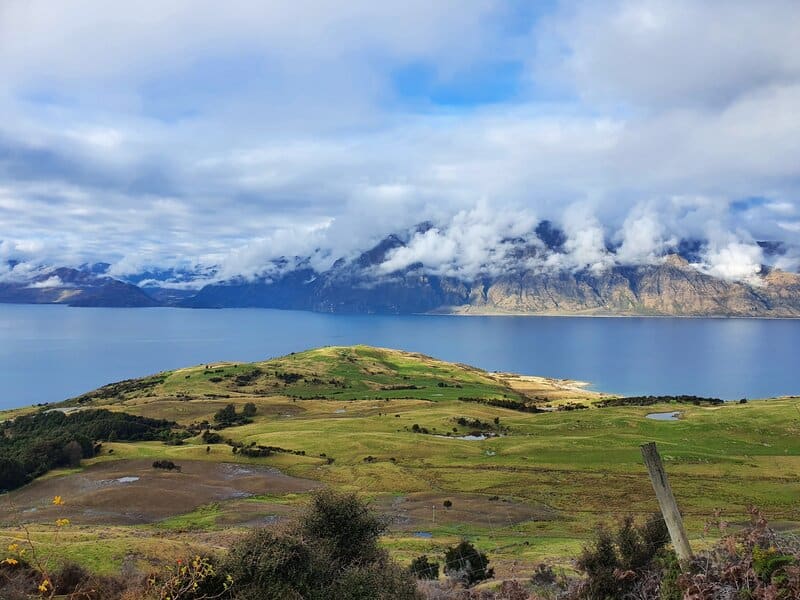 I was stoked with my experience on the Isthmus Peak Track and loved it more than Roys Peak Track I think?
Particularly the views of Lake Hawea. The only reason it doesn't get the full 5-stars from me is because of the lack of public transport access to the trail.
When1: Several times, most recently in 2021.
Hike Distance2:
My Strava recording: 15.8km
Maps.me: 15.6km return
Google Maps: 14km return
DOC website: 16km return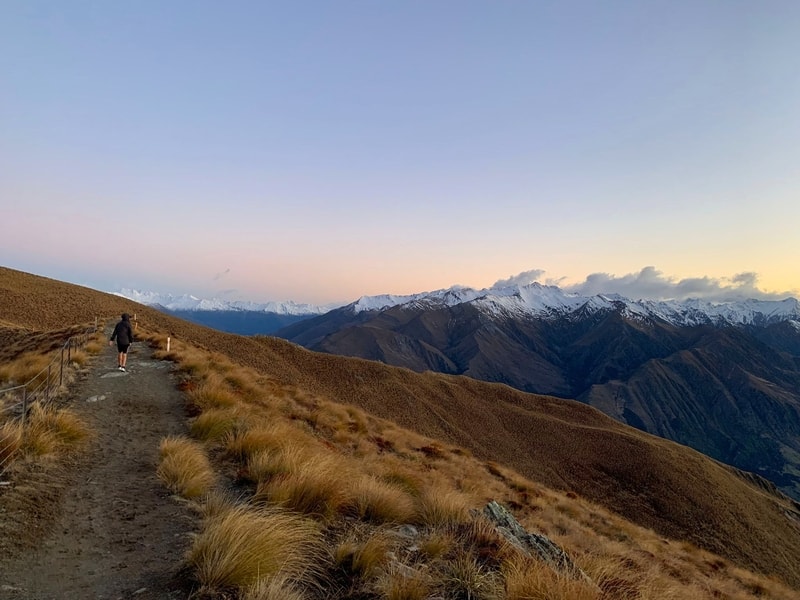 How hard is the Isthmus Peak Track?3: Hard. With over 1200 metres of elevation on the way up the Isthmus Peak walk is not easy. There's about 100 metres more going down.
How high is Isthmus Peak4: Thes Isthmus Peak Summit is 1385 metres above sea level. For reference, Lake Hawea is 348 metres above sea level.
Hike Duration5: 2 hours 20 minutes to reach the summit and about 1 hour 40 minutes to get down. It'll take 2-4 hours for 95%+ people to reach the summit.
2. ISTHMUS PEAK TRACK MAP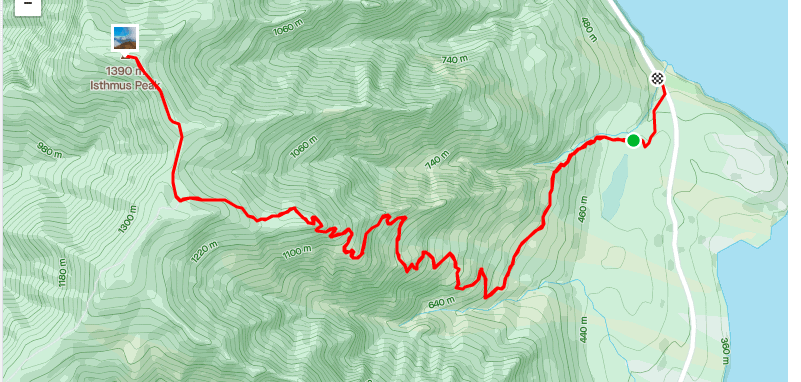 The map above is a topo map you can click on to open in a new window.
Once you're on the trailhead you really can't get lost. But anyway you can see the Google Map here and as expected the trail is on Maps.me.
3. HOW TO GET TO THE TRAILHEAD
The easiest way to get to the Isthmus Peak trailhead is by car with two parking areas right by the trailhead (you can see them here).
While people don't go up Isthmus Peak for the sunrise that often (it's was worth it), go earlier in the morning during the summer to secure a parking spot and avoid the hottest part of the day.
Sunrise at Isthmus Peak: I hiked Isthmus Peak for sunrise on my latest visit. For a ~6.30 am sunrise, we started hiking from the trailhead at 4 am and made it just in time to get the best of the pink/purple colours over the mountains (at about 6.23 am).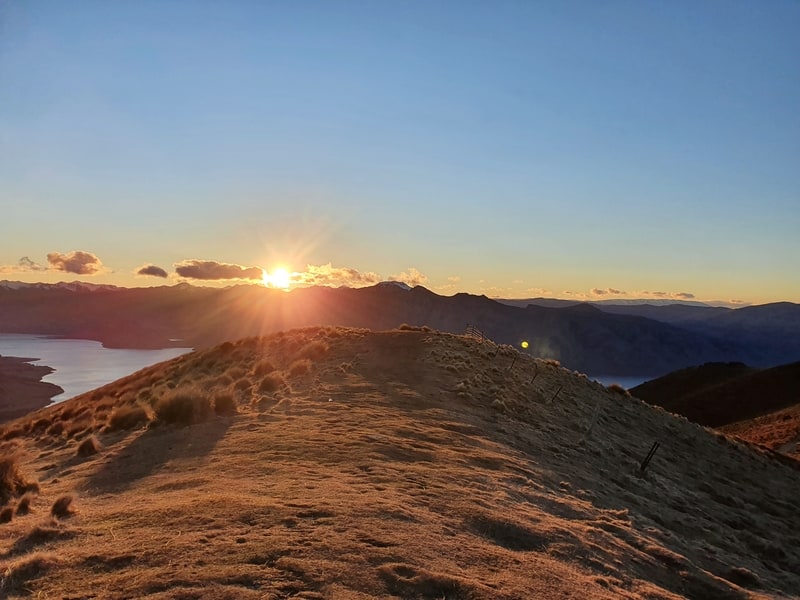 There's no public transport, so your next best option is hitchhiking as the nearest town is Lake Hawea which is nearly 20km away.
Hitchhiking in New Zealand is easy enough in most cases, and have hitched there once from Cromwell.
4. MY ISTHMUS PEAK HIKE EXPERIENCE
Having been dropped off at the trailhead it wasn't long before the calf muscles were put to work. The start of the track takes you along a dirt/rocky track up and into a forested area before you get out into the open where you'll be walking along a wide track most of the way.
The track is wide enough for a car, but it's super rocky so you'll find yourself weaving your way up the constant incline thinking you're nearly there only to encounter another false peak.
Bring sunscreen and lots of water as there's no shade above the tree line. Nor are there any huts to escape the sun temporarily.
The views of Lake Hawea early on are amazing and they'll keep your spirits high as you continue on.
You might come across sheep hanging out on the trail, but they're nothing to worry about and should run away as you approach. Watch out for their poop!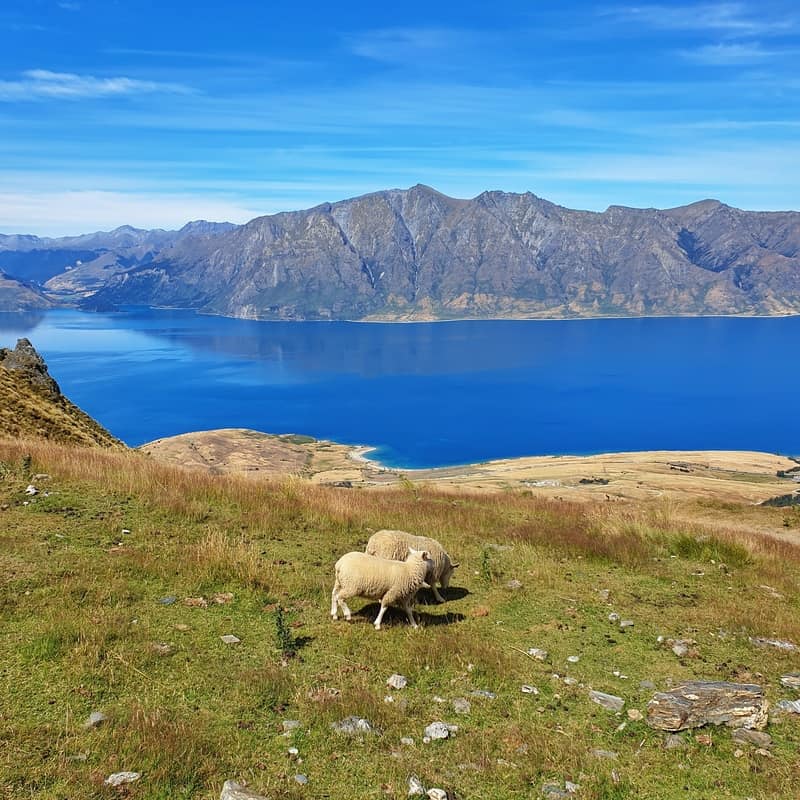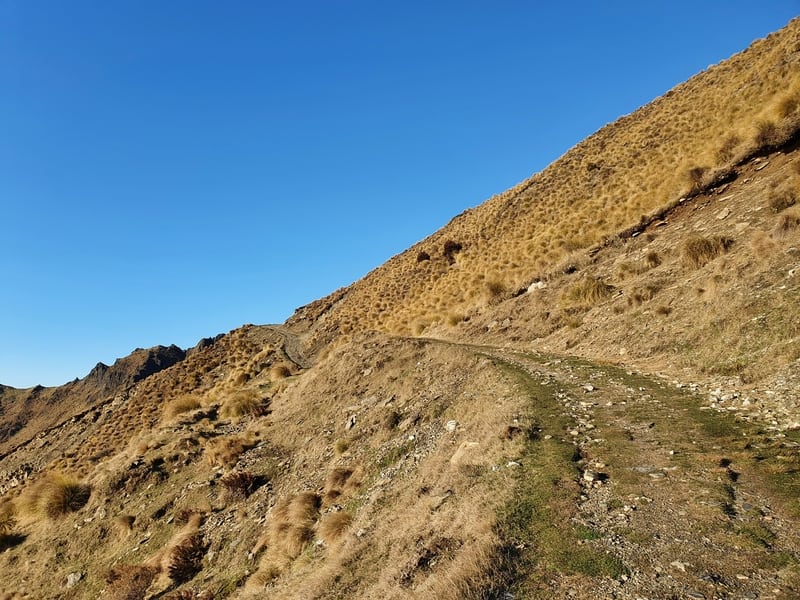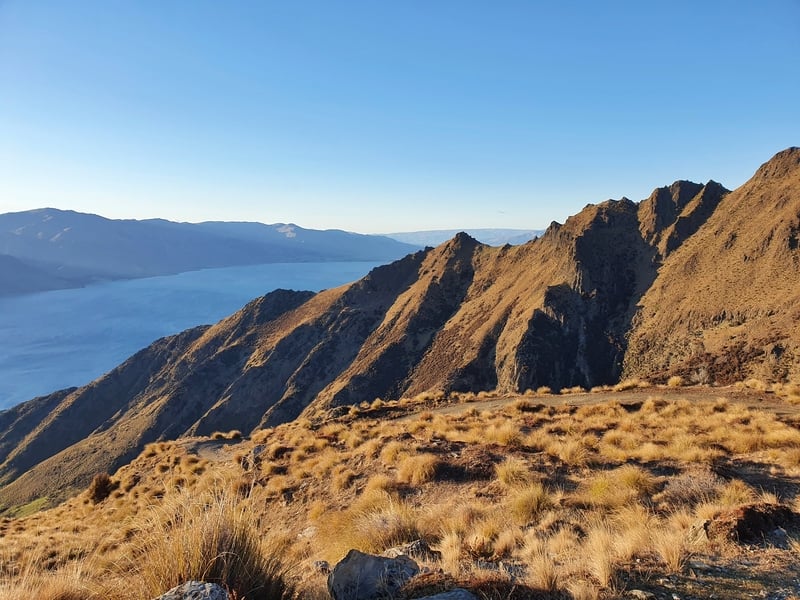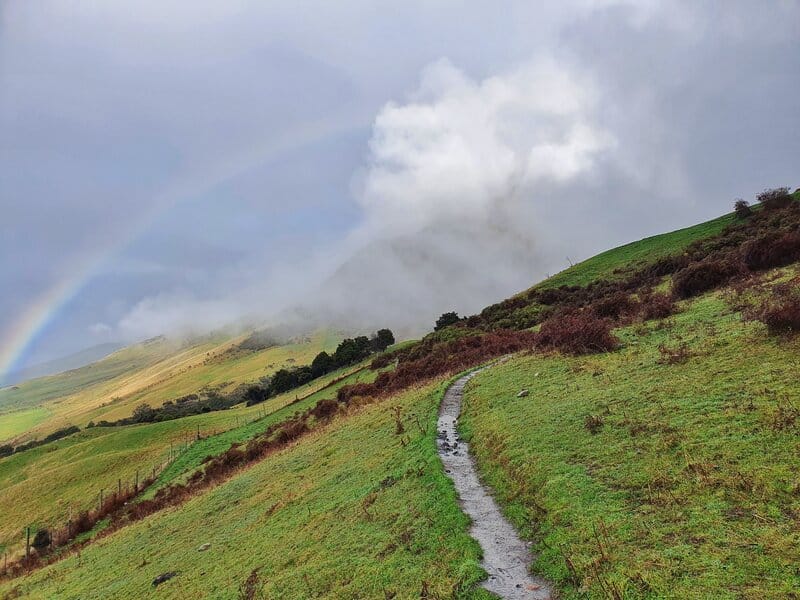 Eventually, you'll come across a junction with a sign pointing right to Isthmus Peak. This is where the incline flattens off and before long you'll finally get to see the amazing panoramic views of Lake Wanaka.
You'll know when you're at the Isthmus Peak summit when you reach the big pole in the photo below. There's a bunch of spots you can sit and take it all in over lunch if that's what you want.
I didn't spend long at the summit (only two others were there) on my first visit and made my way back the way I came to hitchhike back to Cromwell.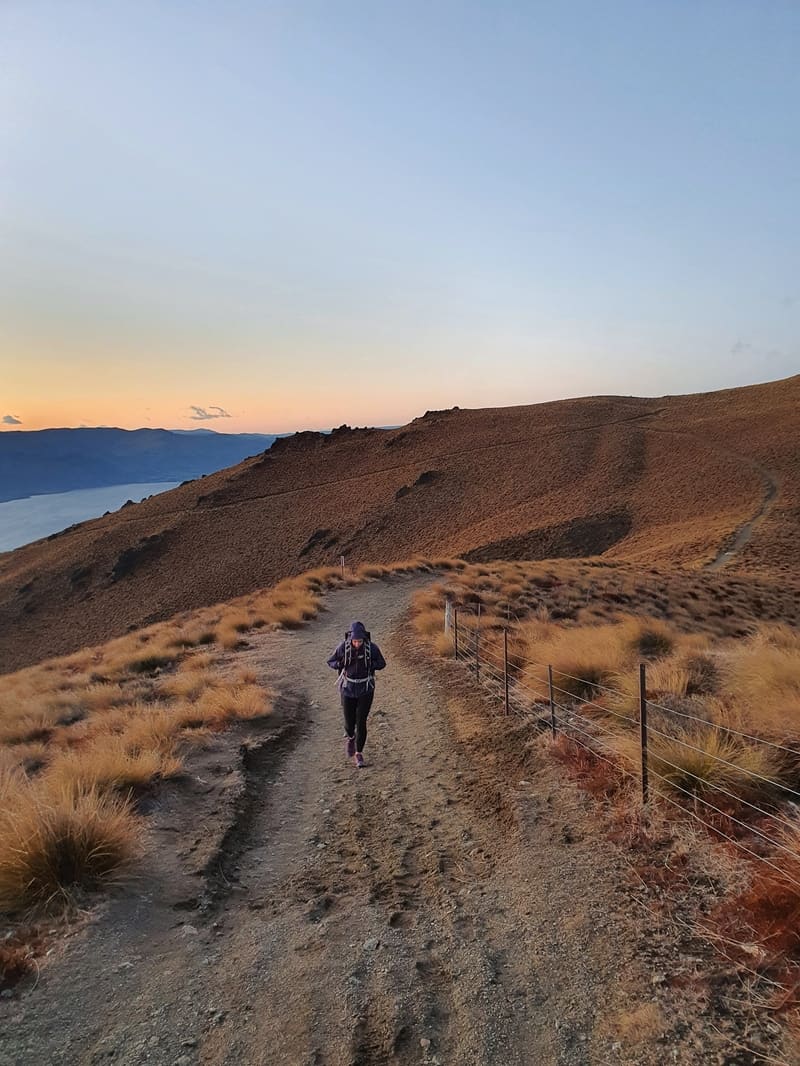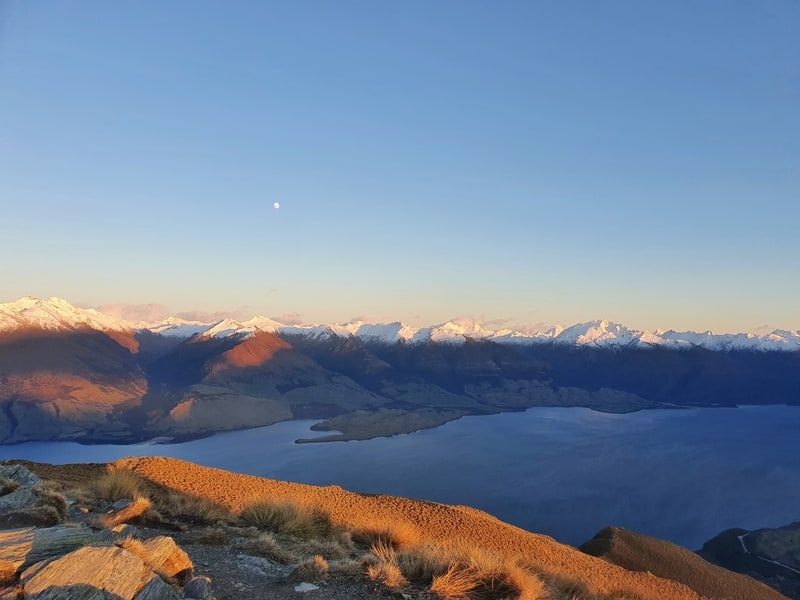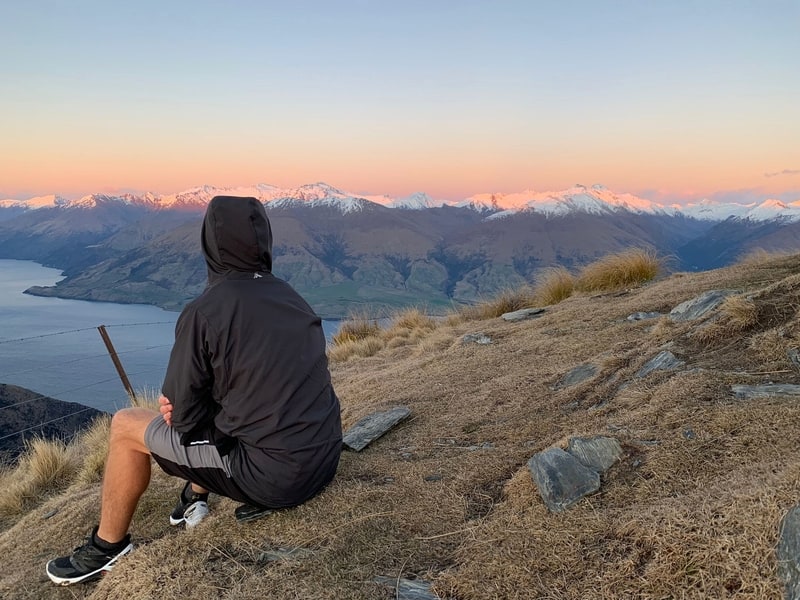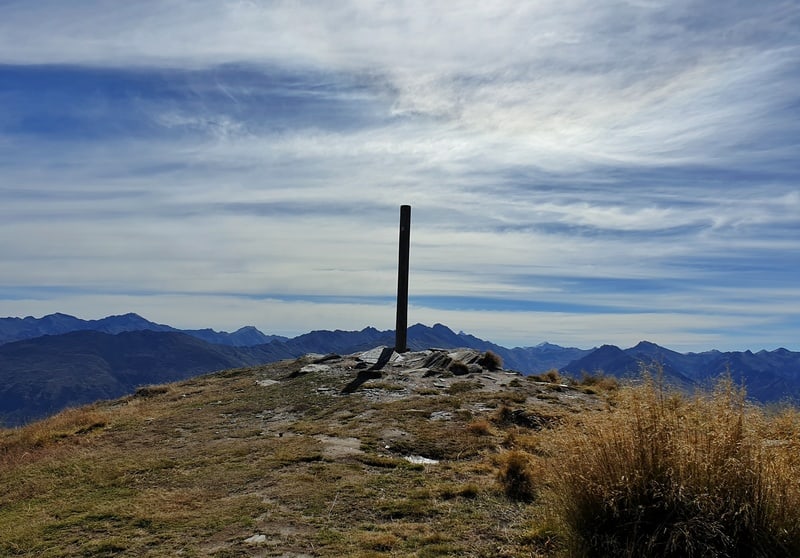 You've made it to the summit![/caption]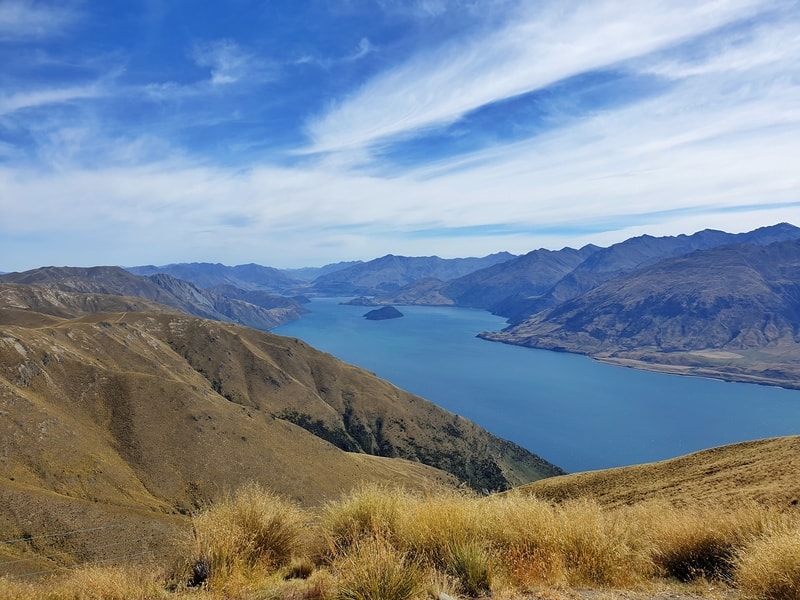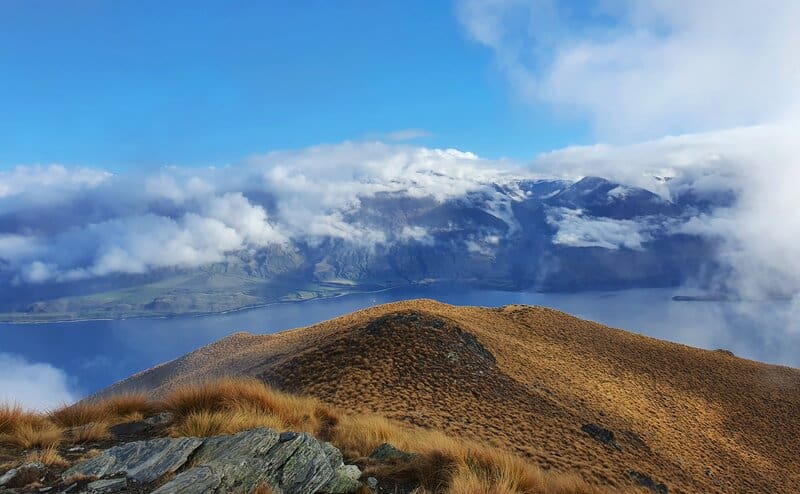 Coming down wasn't so bad as it's not crazy steep most of the way. But if it was wet and windy that'd make things interesting.
Obviously, I got a stunning day for the Isthmus Peak Hike and that makes the climb worth it with the consistently spectacular views (spectacular as in best views in New Zealand quality).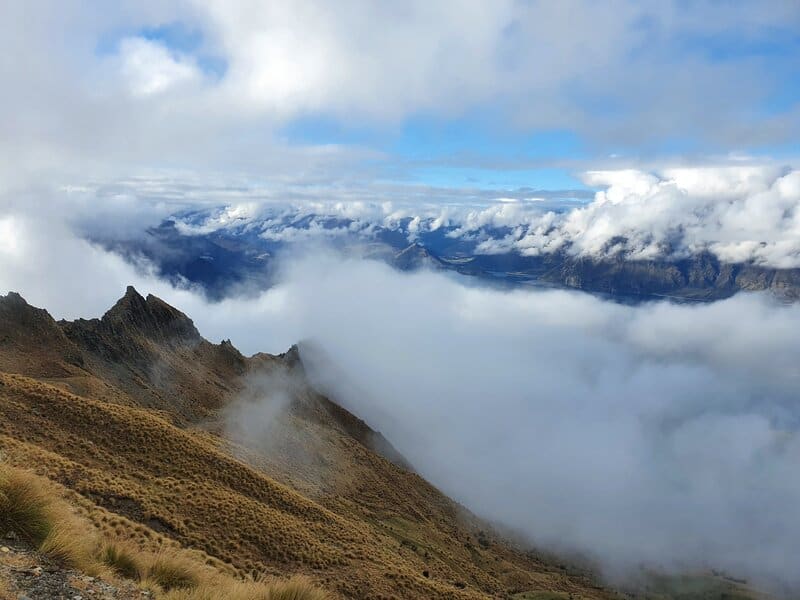 If there's lots of cloud in the forecast, and potentially rain, I'd probably postpone the Isthmus Peak track if an alternative day is possible and do another one of the Wanaka hikes instead.
---
Is the Isthmus Peak hike better than the popular Roy's Peak?
That's too hard to answer in most cases from those who have hiked both. One thing is for sure, Isthmus Peak is a lot less touristy.
If you have any questions, leave a comment below and I'll do my best to help you out (or email jub@churnewzealand.com ).
Alternatively, I would love to hear your thoughts on the Isthmus Peak hike!
What to read next: