A lot of people come to Arrowtown for a wander around town, learn about the town's history, and have a bite to eat before heading back to Queenstown.
But there are some incredible Arrowtown walks which are must-do activities in Arrowtown. Best of all the trailheads are right next to the town.
They might even convince you to spend a night or two in Arrowtown.
These six walks in Arrowtown are varied in their time to complete and difficulty, so there should be one for you.
Note: I haven't added a map of all the tracks as they can all be started from this point in Arrowtown (next to the free car park). For a topo map of each walk, click on the individual post where you'll find the trail embedded on the page.
TABLE OF CONTENTS

1. Arrow River Trail (easy | 1 – 2 hours)
2. Tobins Track + Mount Beetham (medium | 2 – 3 hours)
3. Sawpit Gully Track (easy – medium | 2 – 3 hours)
4. New Chum Gully Track (easy – medium | 1 hour 45 mins – 2.5 hours)
5. Crown Peak (medium | 5.5 – 7.5 hours)
6. Brow Peak Loop (medium – hard | 5.5 – 7.5 hours)
7. Bush Creek (easy – medium | 2.5 – 3.5 hours)
8. More walks near Arrowtown

1. THE ARROW RIVER TRAIL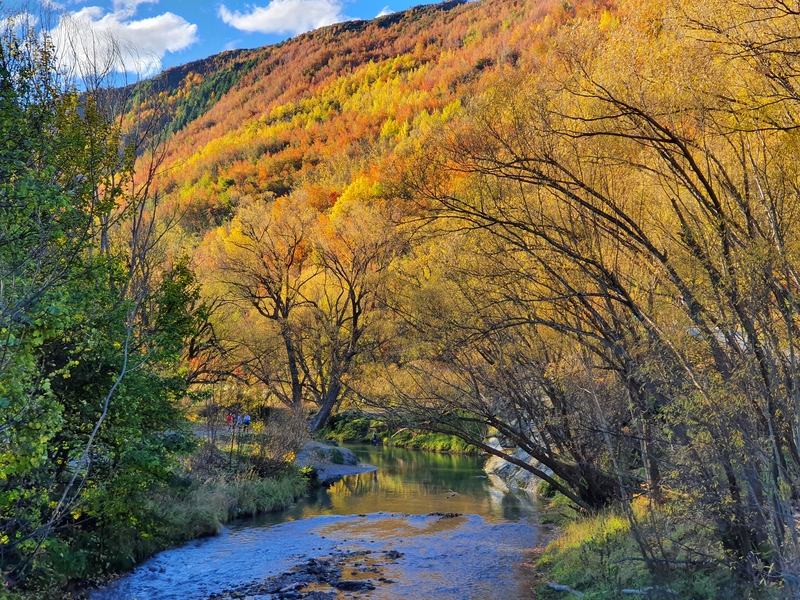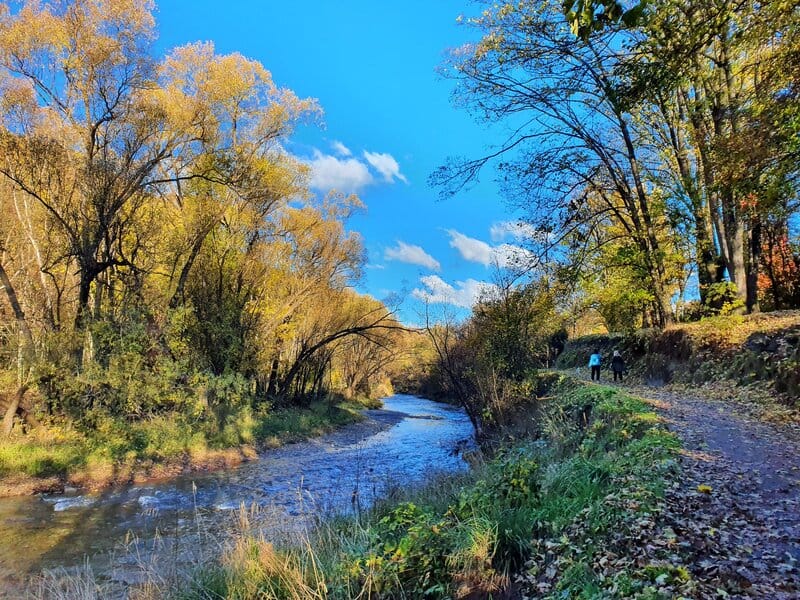 If you're doing any of these Arrowtown walks in autumn, the leaves are amazing and make for one of the best views in the area in my mind.
The Arrow River Trail is the easiest, and most popular of the walks around Arrowtown. There are various routes people call the Arrow River Trail walk but this is what I think you should do.
Starting in front of Patagonia Chocolates, head down to the river. Turn right (east) and follow the river all the way until you get to the bridge about 2.5km in (don't cross the bridge leading to Tobins Track).
Cross the bridge, then walk back down the other side of the river until you reach the Tobins Track bridge. Cross back over the bridge and meander back into town. The track is an easy, mostly gravel, path with gentle undulations suitable for all ages. There's a rope swing along the way too.
And you can always turn around at any point if you're getting tired. It's also a good walk for dogs in Arrowtown.
2. TOBINS TRACK + MOUNT BEETHAM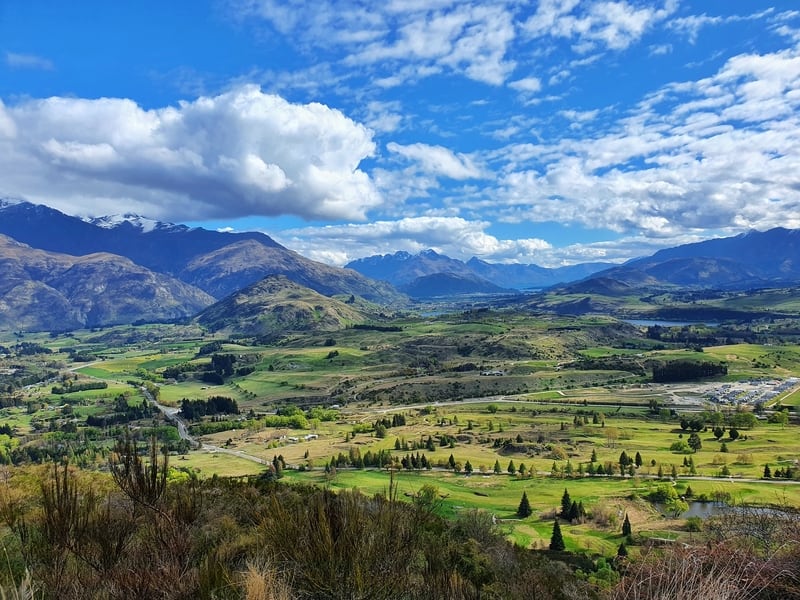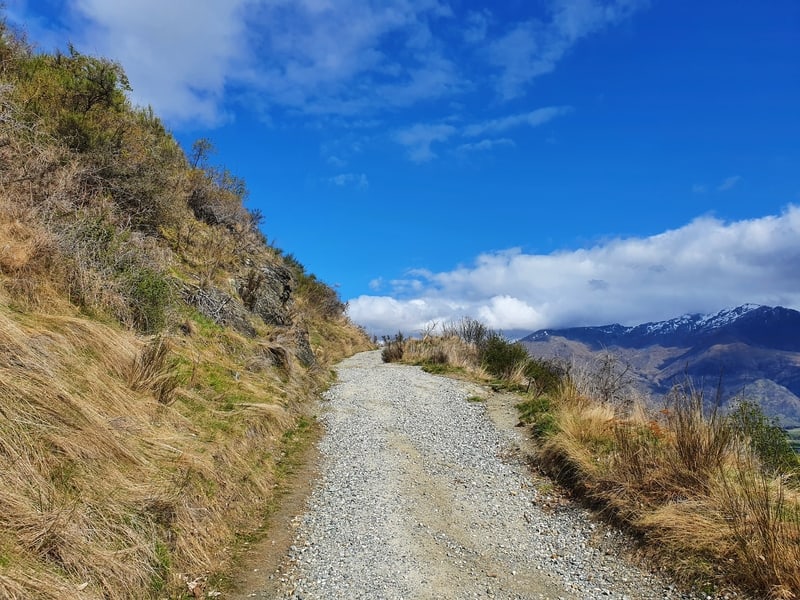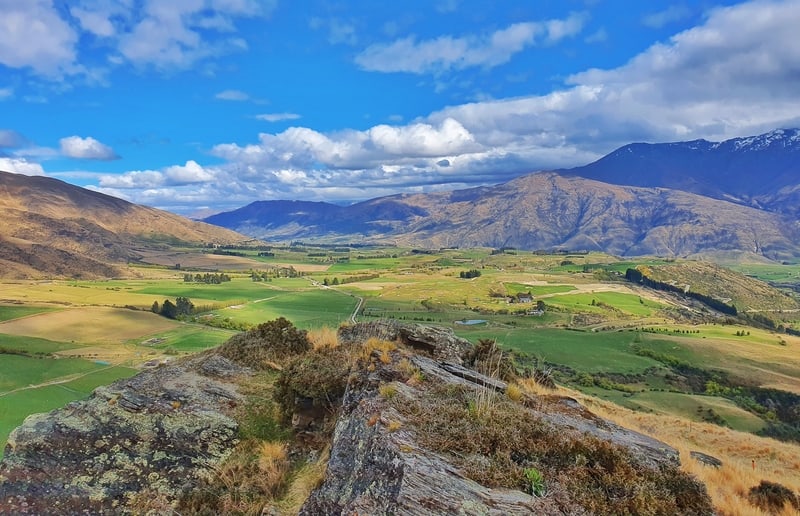 Tobins Track is a popular walk for those who live in Arrowtown, thanks to its length and you get views early on. It also helps that the track follows a 4WD track, so it's not a technical walk.
But if you want to spice the walk up, you can make your way up Mount Beetham at the top of Tobins Track. This is a steep climb and will get your heart rate pumping. You're rewarded with views that are just that much better if you do get up here.
READ THE FULL POST: WALKING TOBINS TRACK UP TO MOUNT BEETHAM
3. SAWPIT GULLY TRACK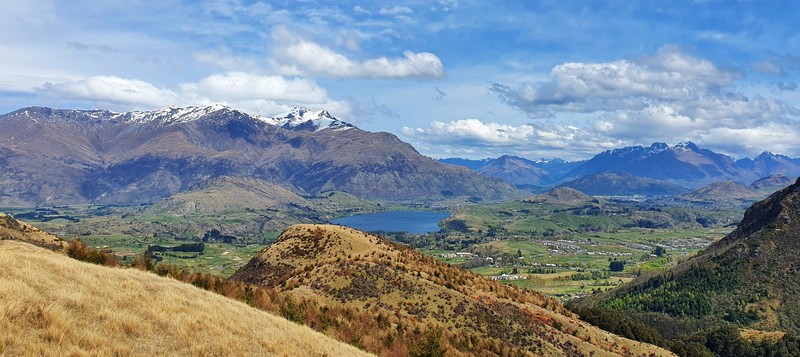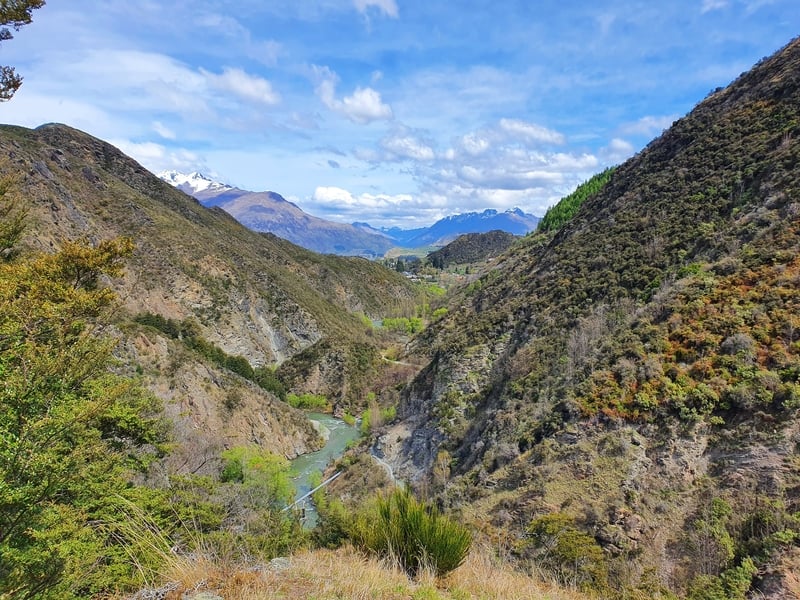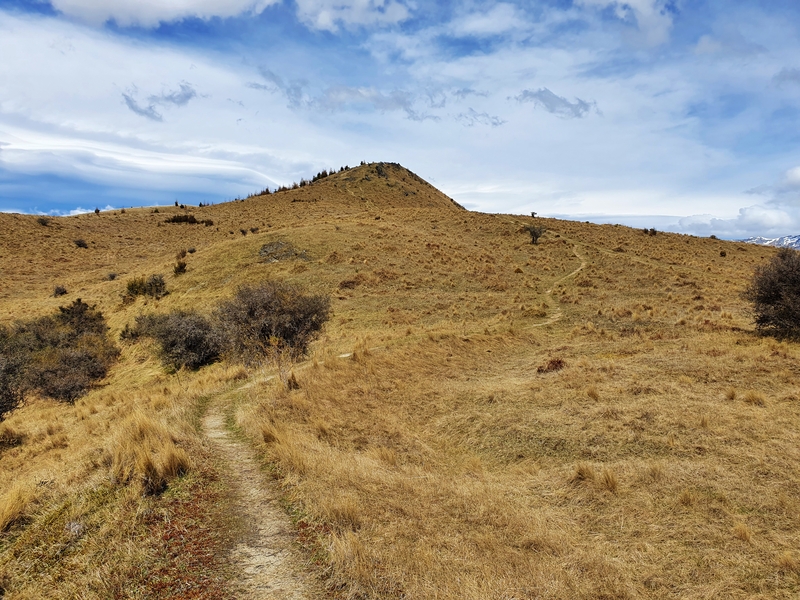 The Sawpit Gully Track is a loop track that follows the Arrow River (and passes a small waterfall), before it begins a steep climb where you'll follow a smaller creek you'll cross over a few times. You're essentially circumnavgiating German Hill which you go get to reach the top of, providing panoramic views.
You then finish the loop with a steady descent back into Arrowtown.
READ THE FULL POST: THE SAWPIT GULLY TRACK
4. NEW CHUM GULLY TRACK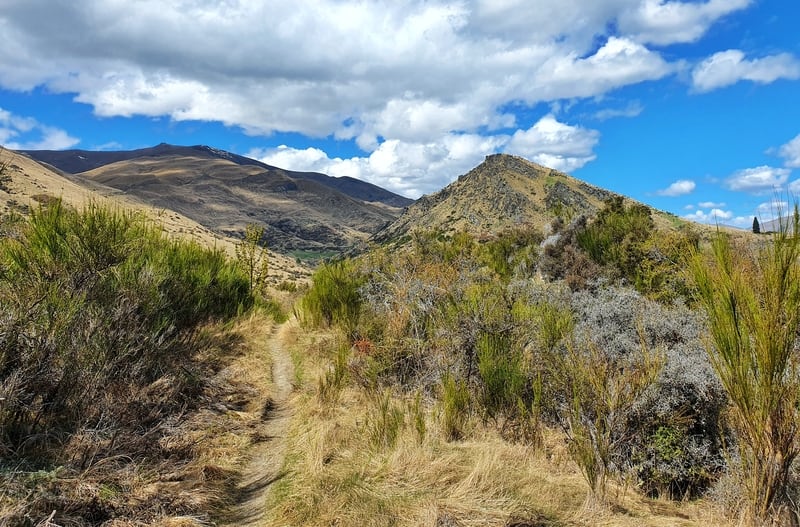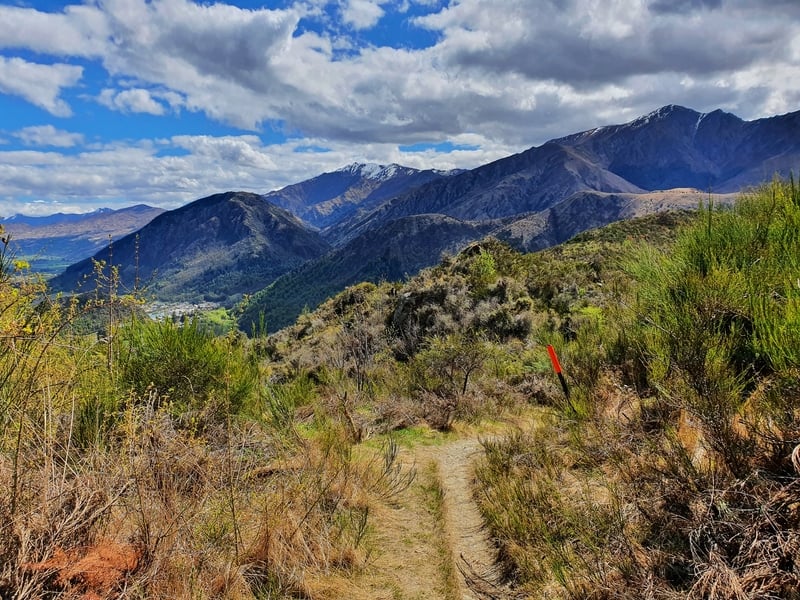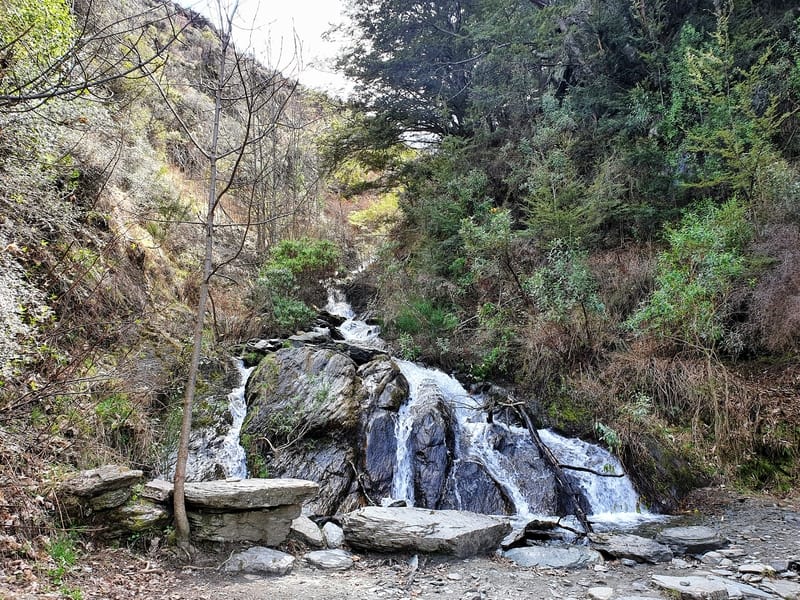 The New Chum Gully Track incorporates parts of Tobins Track and Sawpit Gully Track, with the connecting section the part that's called New Chum Gully Track. But you can't do that track only, you need to combine them into a loop.
The New Chum Gully Track section is a bit more of a technical single trail compared to the other parts which are wider. If it has been raining, it's probably not the best walk to do.
If you like to feel a bit more adventurous, you'll want to do this walk. And you get a couple of nice viewpoints along the way too.
READ THE FULL POST: THE NEW CHUM GULLY TRACK
5. CROWN PEAK HIKE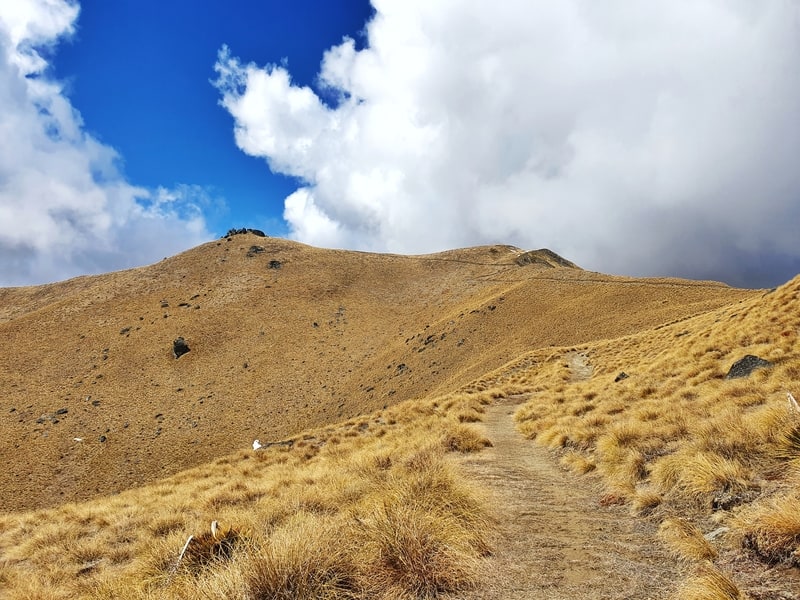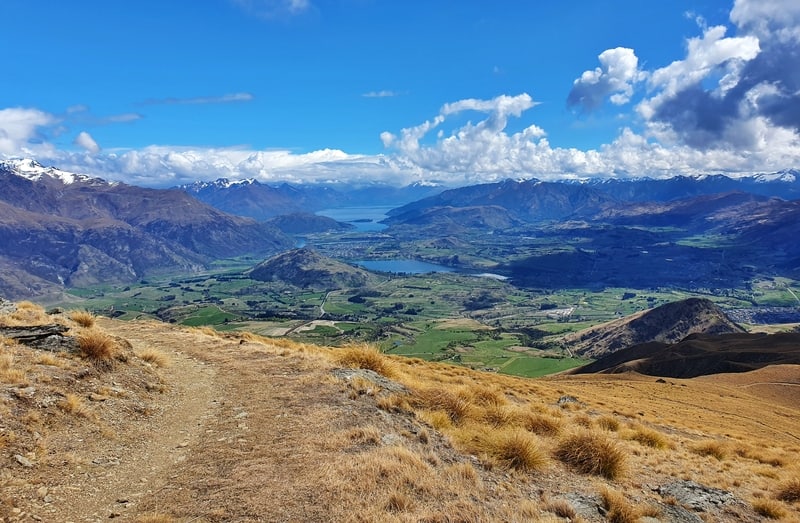 This is a classic long South Island hike. This takes you up to the top of the Crown Range making it one of the best walks in Arrowtown for those who like a big day out walking.
It's not an entirely out-and-backtrack as you can loop all the way around Mount Beetham to break up the walk.
The majority of the walk is on nice and easy terrain that's not overly technical unlike the walk below which is a similar length, but tougher terrain.
The great part about most of the Arrowtown walking tracks, especially this one, is the minimal effort it takes to get above the tree line. That means you get incredible views pretty much all the time. From the summit, you'll see mountains, lakes, and the Wakatipu Basin.
If the photos above don't convince you to do this walk, click on the link below for more.
READ THE FULL POST: HIKING TO CROWN PEAK
6. BROW PEAK LOOP HIKE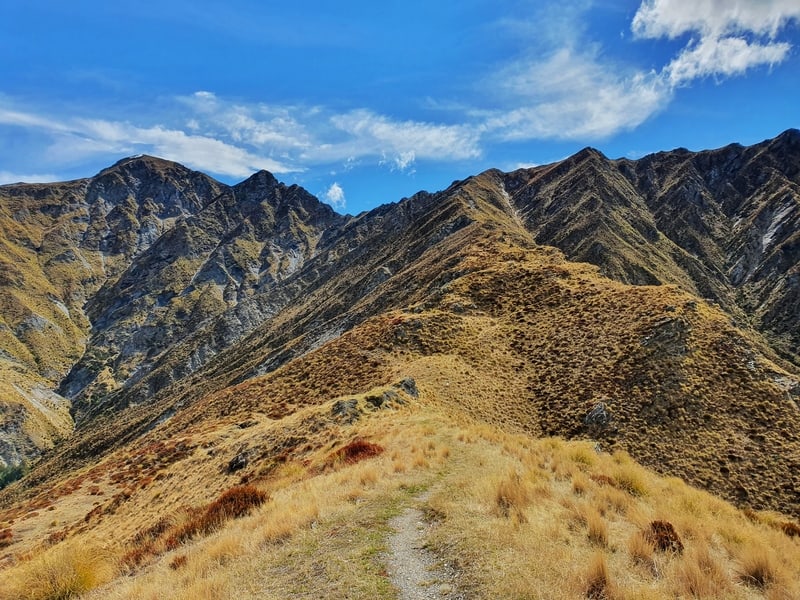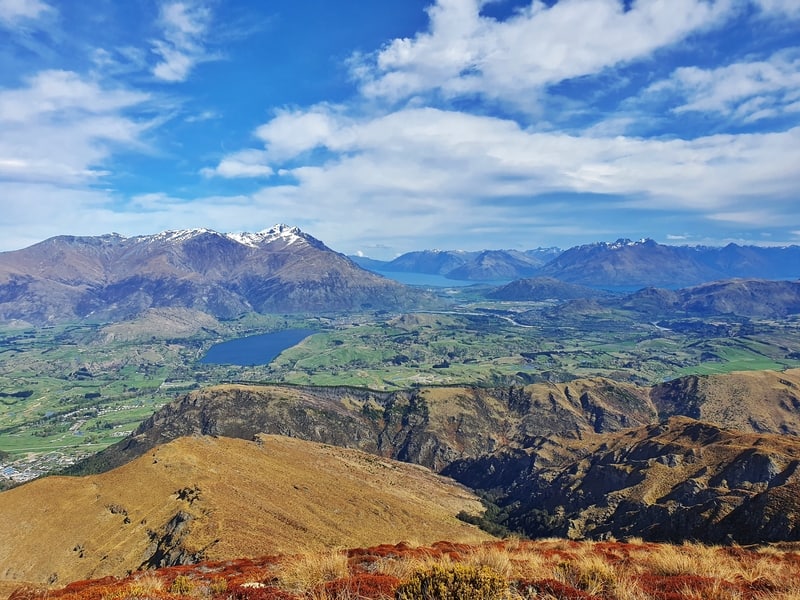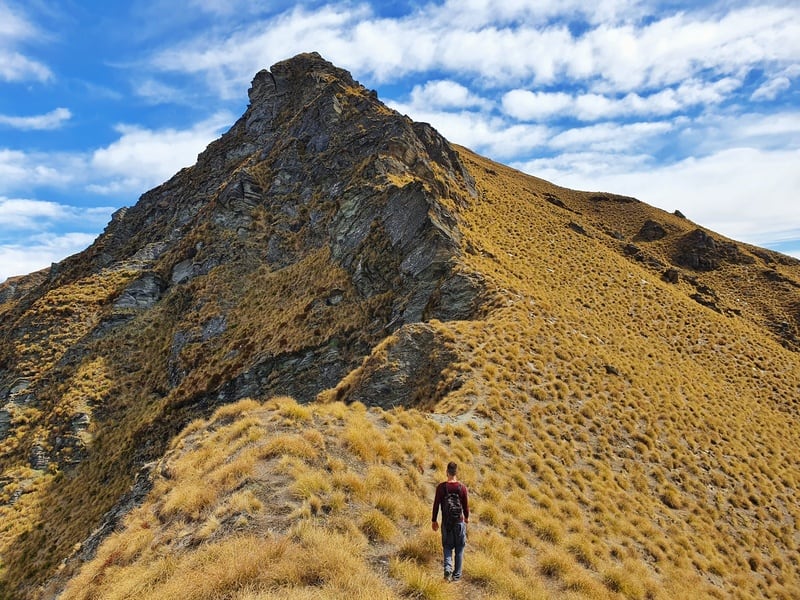 This is a bit of a hidden gem hike in Arrowtown with some of the tracks not even visible on the town hiking maps. With that said, the terrain across the board isn't easy like the hike above. That makes it the toughest of these Arrowtown hikes/walks.
The ridgeline you follow to Brow Peak and onward towards Coronet Peak is insane though. One side of the ridge is wild and intimidating. The other is a steep yet gentle slope full of tussocks, making you feel secure.
The descent down to the top of Bush Creek is pretty gnarly on rutted tracks, but the 6km back along Bush Creek is a pleasant finish with some creek hopping.
READ THE FULL POST: WALKING TO BROW PEAK IN A LOOP
7. BUSH CREEK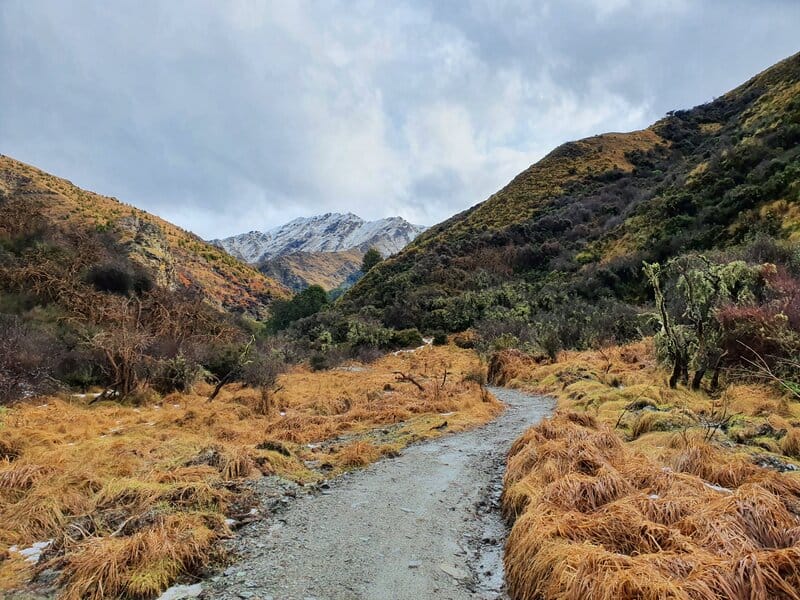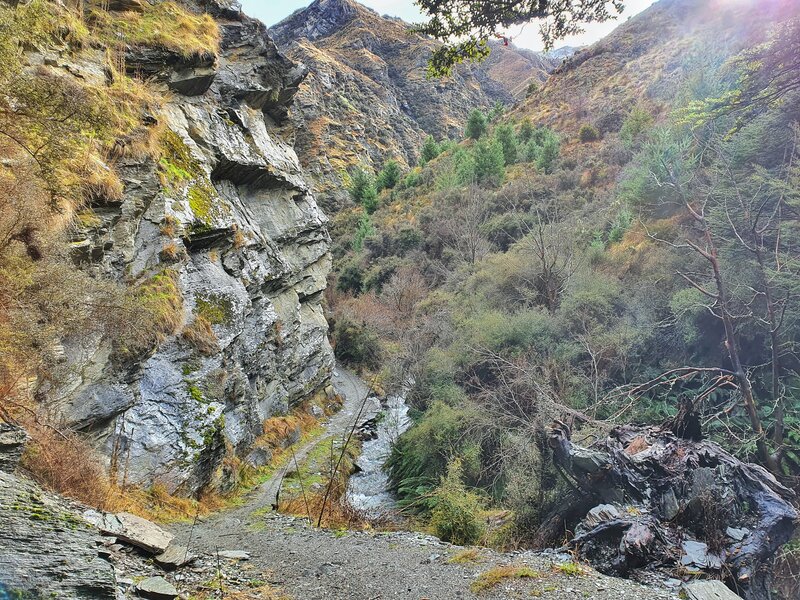 The Bush Creek is sneaky good! It's an out and backtrack from the main car park that you can make up to 12km return if you reach the viewpoint where the trail splits off.
As of August 2021 the track is under construction with the trail being rerouted so it's more suited to casual riders and walkers. They're placing more bridges in, though it looks like there's still going to be a couple of small creek crossings.
This is a solid walk-up valley, with views of Queenstown when you get to the top. But I'd stick to doing the Sawpit Gully Track if you're only in Arrowtown town for a short time.
That said, this is another great addition to the Arrowtown walks network.
8. WALKS NEAR ARROWTOWN
Note: these walks are all featured on Chur New Zealand.
Isthmus Peak Track near Wanaka
---
If you have any questions or comments about the Arrowtown walks, feel free to drop a comment below or email jub@churnewzealand.com and I'll be happy to help.
Go Arrowtown!