The New Chum Gully Track is a 7-8km loop track starting in Arrowtown.
With views of Arrow River and Arrowtown this walk can be completed in two hours. Or it could be combined with the Sawpit Gully Track and Tobins Track for a longer walk.
This post will give you all the info you need to know about the New Chum Gully Track (along with plenty of photos).
TABLE OF CONTENTS
DETAILS ABOUT THE NEW CHUM TRACK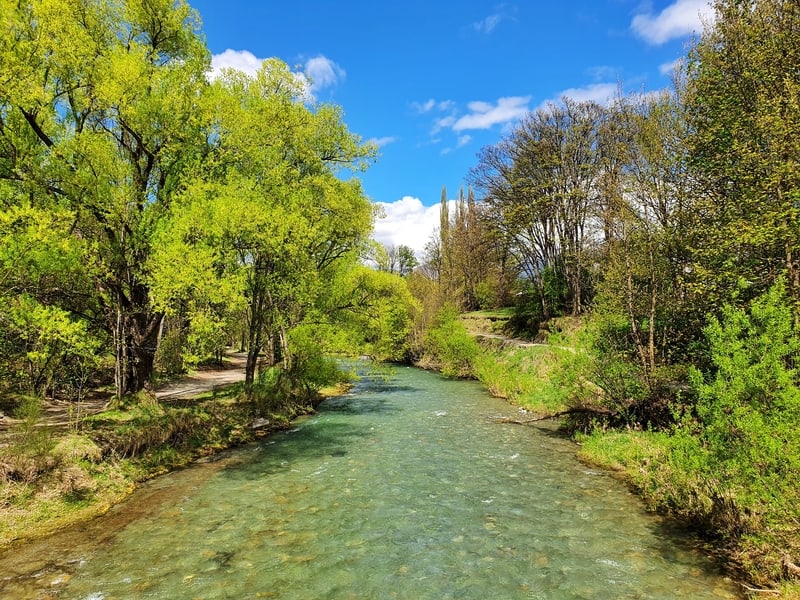 When1: October 2020
Difficulty2: Easy – Medium. It's not a long walk, but some of the sections on the descent to the Norman Smith Bridge aren't what I'd classify as easy.
Hike Distance3: My Strava recording came in at 7.45km which feels about spot on.
Incline4: Strava recorded 324 metres of elevation gain which feels about right. The majority of this is in the first 3.3km of the walk (going in the anti-clockwise direction).
Hike Duration5: It took me 1 hour and 45 minutes to complete the walk. That's a decent speed, and other than stopping for photos briefly, I took no extended breaks. I feel like most people will comfortably finish this hike in 1 hour 45 minutes to 2 hours 30 minutes.
---
NEW CHUM GULLY TRACK MAP
The above is the GPX file from Strava overlaid on a topo map. Click on the map to zoom in and out in a new tab.
When I was walking the New Chum Gully Track I was using the Maps.me app to make sure I was on track. You can't really get lost though.
p.s. the full loop is not on Google Maps.
HOW TO GET THERE
Given the track starts right in Arrowtown, as long as you've made it to Arrowtown you'll have no issues getting to the trailhead.
You can reach Arrowtown by bus from Queenstown which is $2 each way with a Bee Card (timetable here).
If you're driving from Queenstown, Wanaka, or Cromwell (or beyond), there's free parking here, where the walk starts.
MY NEW CHUM GULLY TRACK EXPERIENCE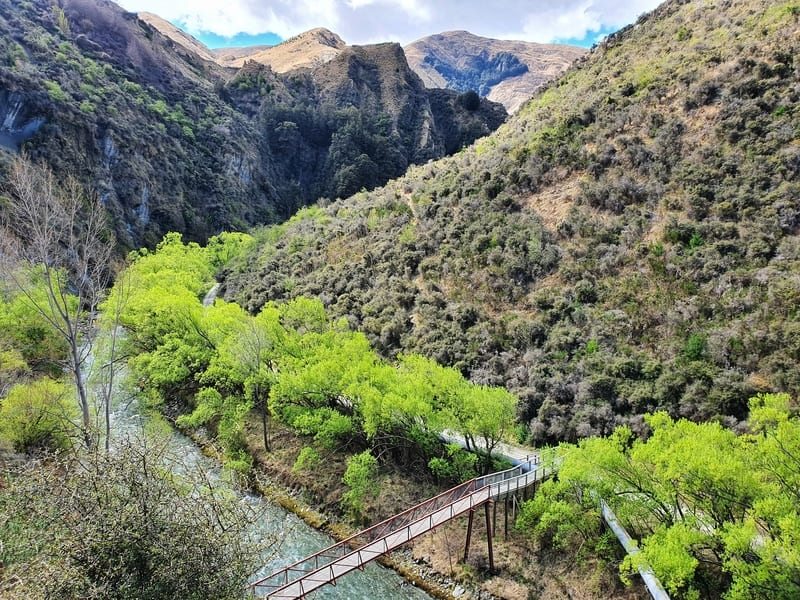 Having completed Tobins Track and Sawpit Gully Track previously, there was only one section of this hike that was new to me.
Quick Notes:
You can walk the loop in either direction, but heading anti-clockwise seems to be the norm, so that's what I did.

There's no official trailhead, but at this X Marks the Spot in the car park is my official unofficial starting point.
Facing the river, turn right and for the first kilometre follow the flat trail along the river. There's a canopy of trees, and it's a nice little start to the walk where you might see some tourists panning for gold.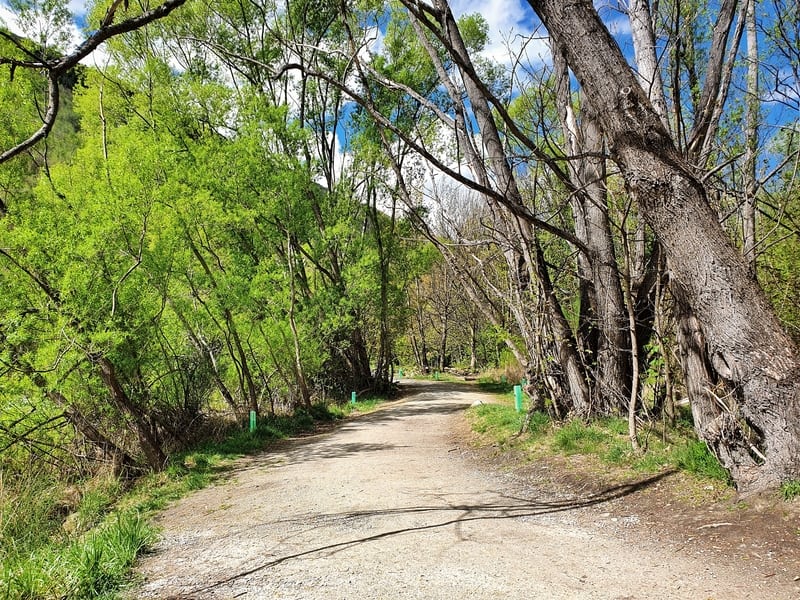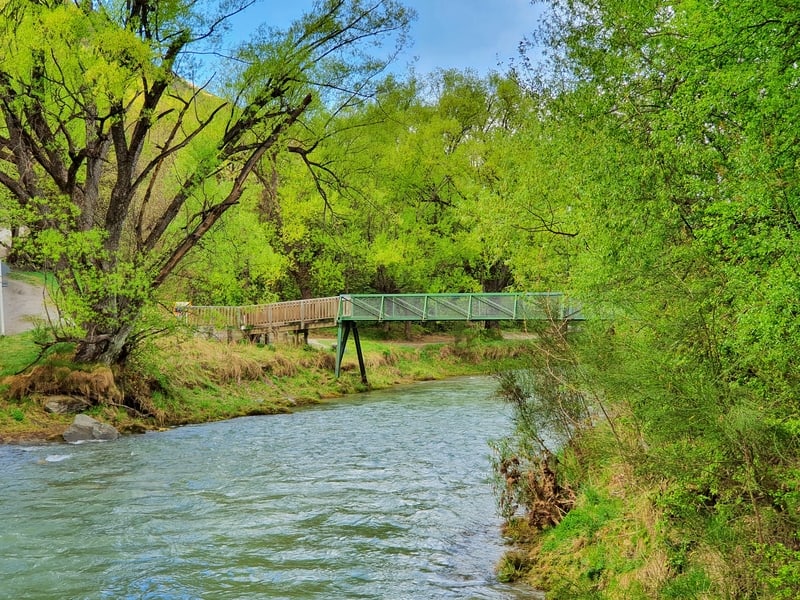 When you see the footbridge over the river, cross that and follow the signs for Tobins Track that goes up the 4WD track (turning right after crossing the river).
The 4WD track is easy to walk on with it's a gentle but noticeable incline. Rather than sharing the track with vehicles, you'll see others walking and maybe a biker. It won't take long until you start getting views of Arrowtown and beyond on the right.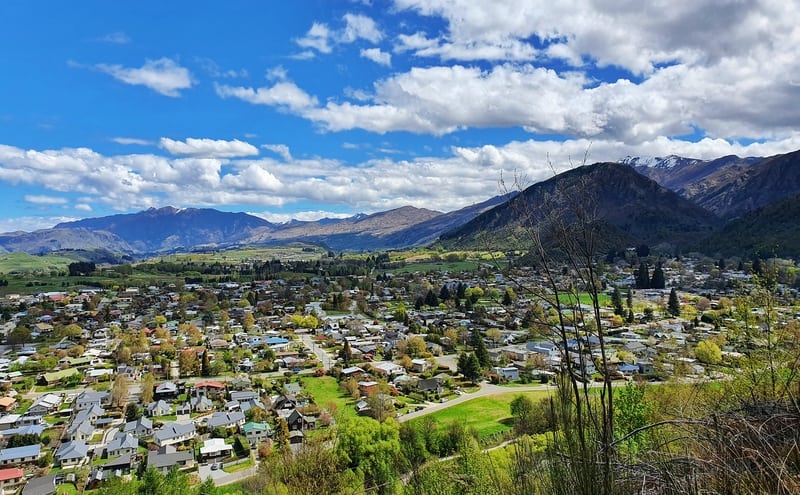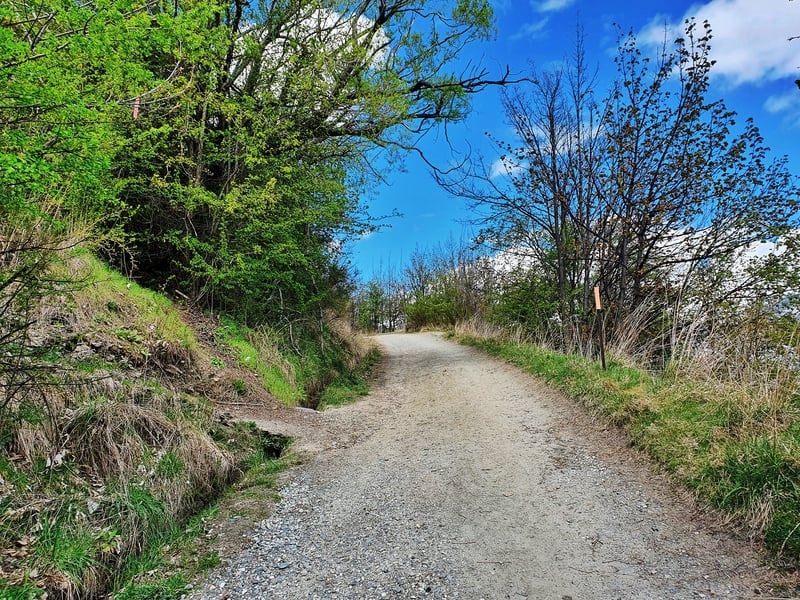 Now, I've spotted the turn-off point every time without any problems, but I can imagine if you were zoned out listening to music you could miss it. It'll look like the above, there's a post with an orange marker on it. You'll be about 2km into the walk at this point.
Turn left.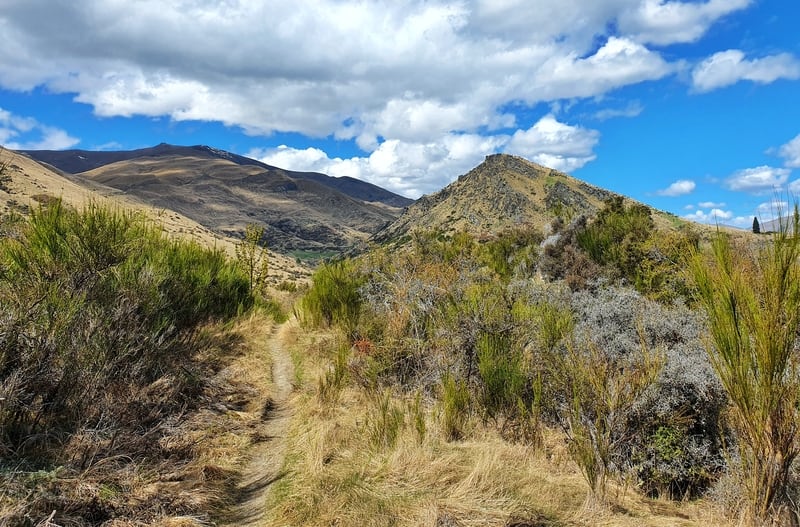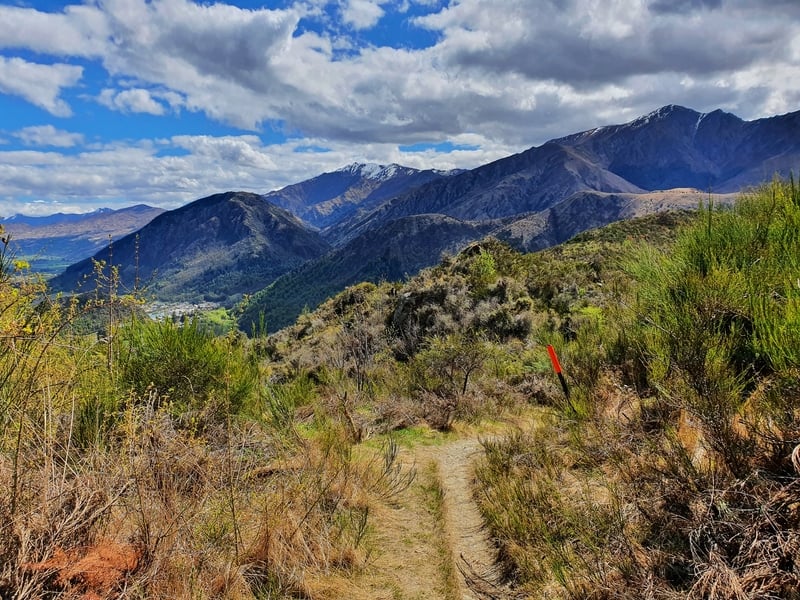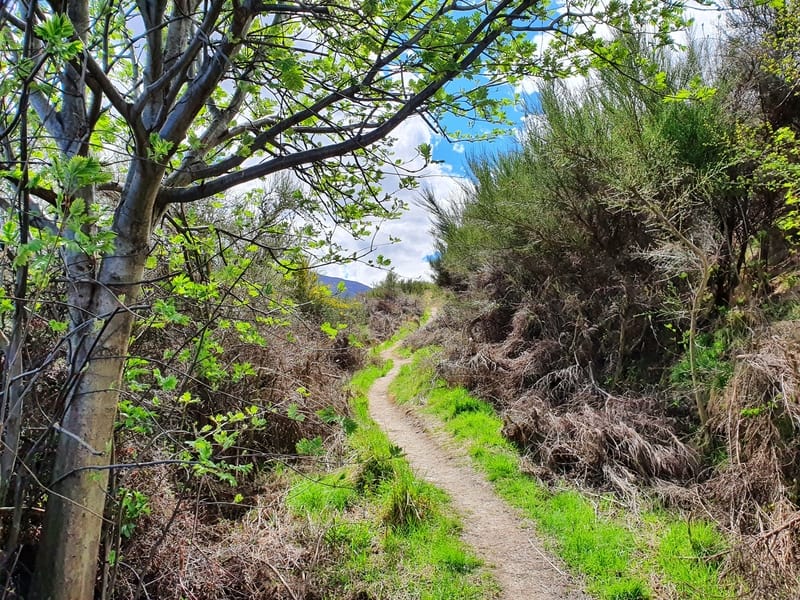 Now the track becomes a single trail rather than a 4WD track. The first few hundred metres are steep, but once you get closer to the top of the hill, it begins to flatten out. The track is super easy to follow, and you'll still have views along the way, this time including Brow Peak, German Hill, Coronet Peak, etc.
Along this section, you'll come to one junction. There's a sign with a map of the trails if you're unsure but we continue walking straight on the New Chum Gully Track.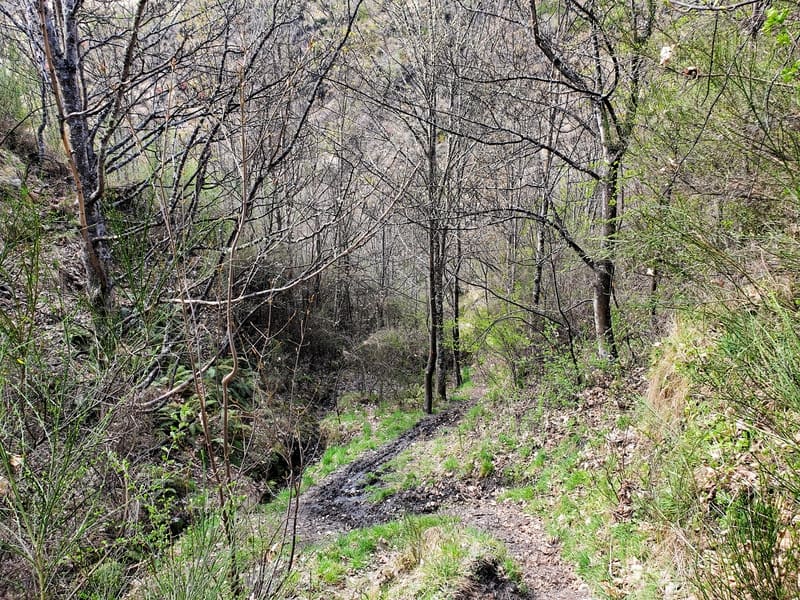 And once you begin the descent 3.4km or so into your walk, it doesn't mess around. In the winter the track could get a little slippery in points, but I feel like the area is dry enough that you won't have any real problems. In about 500 metres you'll drop 130 metres in elevation.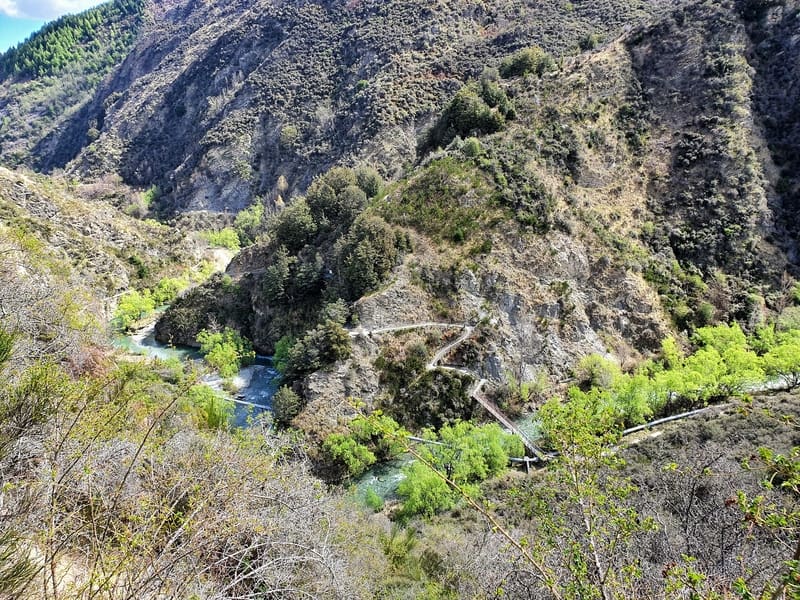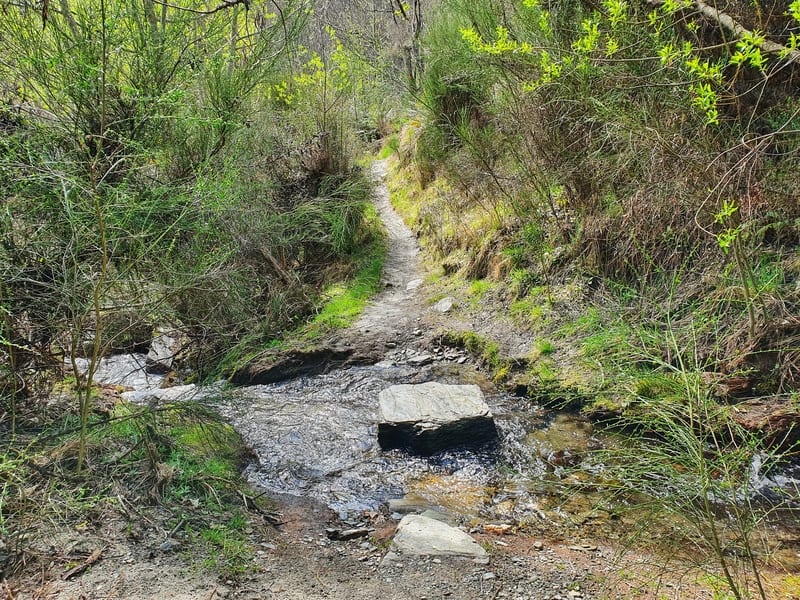 From here you'll have a view of the gully on your right the majority of the time (there's a little stream crossing), and you go through some flatter sections with a couple of ups and downs to disrupt your flow. This leads to the final descent down to Arrow River.
You get some nice views on this descent but on a windy day, I can imagine you'll be busy making sure you don't fall off the track.
Once you get down to the river level we're basically on the home stretch.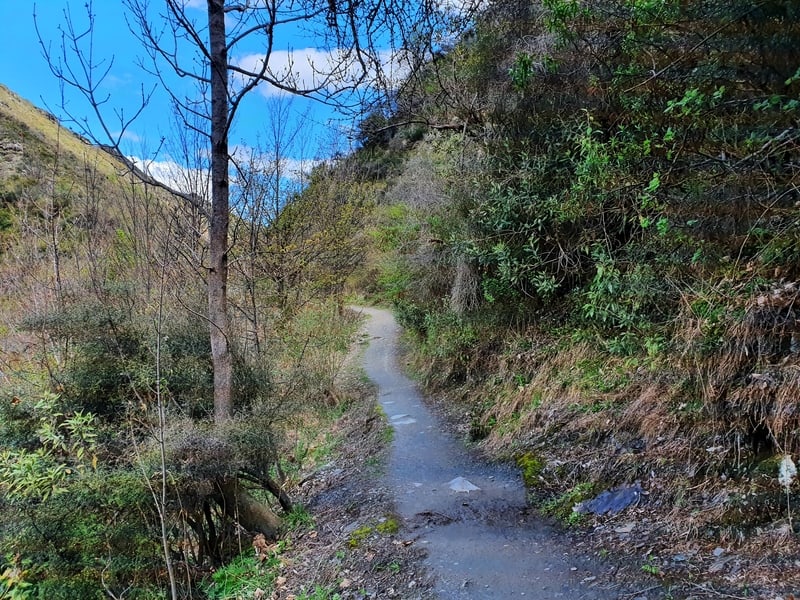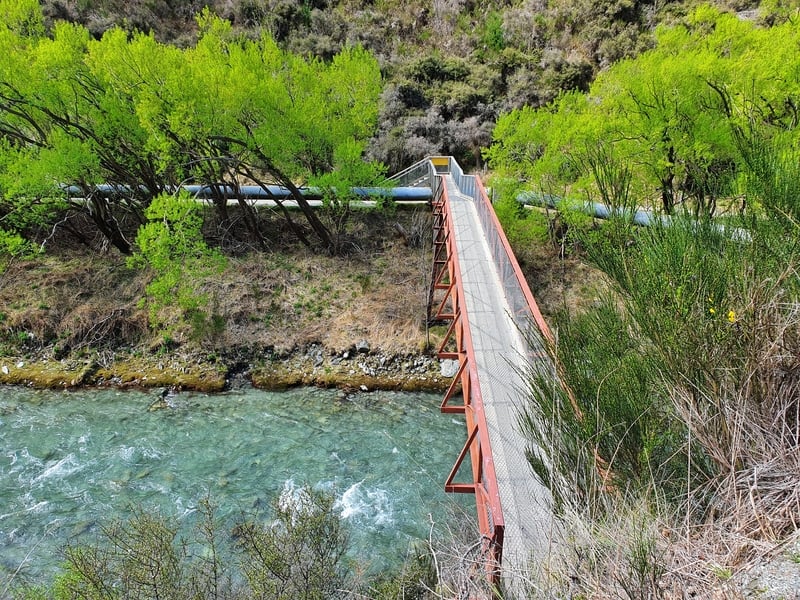 Crossing over the Norman Smith Bridge you get a couple of nice views again. A couple of minutes after the bridge you get to a junction where you could turn right if you wanted to take the long way back via German Hill.
But to complete the New Chum Gully Track, stick to following the river on the relatively flat trail back to Arrowtown (you'll need to spot the small footbridge to cross the stream back over to Arrowtown).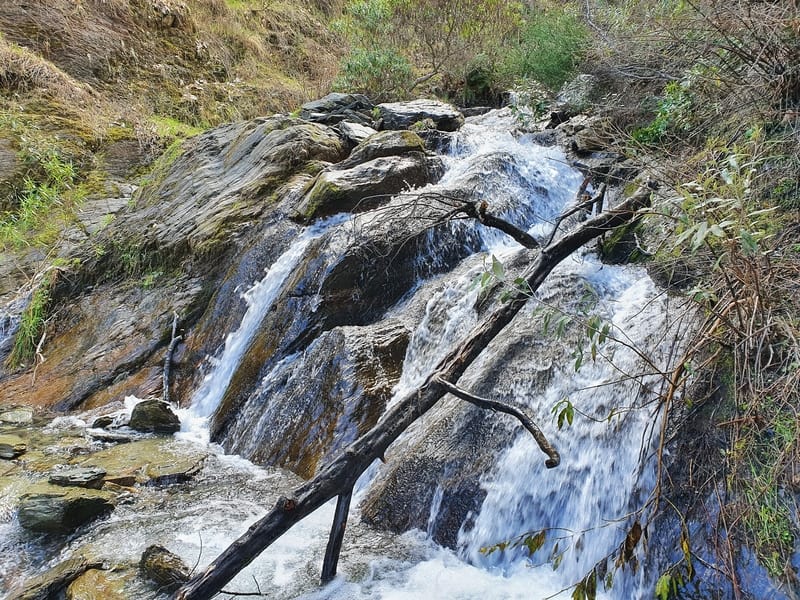 ---
The New Chum Gully Track is never going to make a list of the best hikes in the South Island, but if you're looking for things to do in Arrowtown, it's a great way to compliment a day here.
And you get a taste of a couple of Arrowtown walks too.
RECOMMENDED READING
You can never say you're bored in New Zealand
One of the many great walks in Queenstown
I add tips to this post as I learn more and more about travelling the country