This post is a list of all the nifty New Zealand travel tips, tricks, and advice I can think of.
I love a good bullet-point list and hopefully as you read on you'll get practical takeaways for your trip to NZ.
If you have any questions (or nice words) leave a comment or email me jub@churnewzealand.com
NZ travel tips, here we go.
72 NEW ZEALAND TRAVEL TIPS

1. Tipping is not expected in New Zealand.
2. Yes, we do speak English, but you might take a couple of days to adjust to the accent. It's sexy as.
3. Maori is an official language in New Zealand.
4. The hongi is the traditional Maori greeting. A hongi involves the pressing of noses together.
5. The tap water is (almost always) drinkable but you'll find it tastes a little different around the country.
6. RefillNZ.org.nz lists all the places that'll fill your drink bottle. No purchases required.
7. Get some skin in the game to care for New Zealand and make your Tiaki Promise.
8. Libraries are a good place for free, fast wi-fi.
9. iSites (a.k.a. visitor centres) are found in most tourist towns and are helpful with travel advice for that area.
10. If you're getting a sim card, I recommend going with Skinny (here's why) for the cheapest and most transparent provider.
11. The emergency number is 111 for police, ambulance, and fire.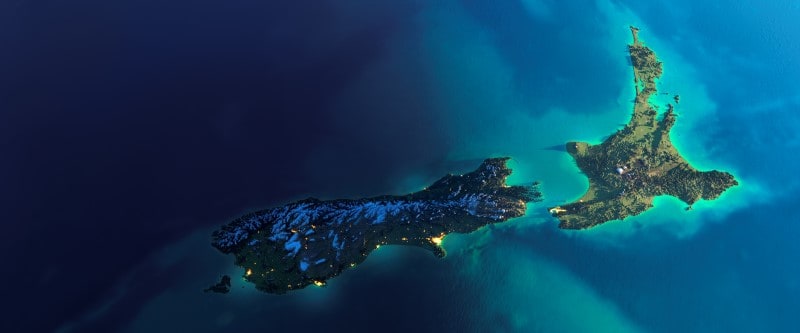 12. You need proof of an onward flight before you enter the country. You can be sneaky using these techniques.
13. You're allowed to buy a campervan/car etc. as a traveller (campervan buying tips here) and the change of ownership procedure is quick and easy.
14. If you're planning on renting a car, research relocation vehicles, they're often got great deals (e.g. TransferCar.co.nz).
15. If you're hiking in the winter, keep your phone warn so the battery doesn't drain.
16. Taxis are crazy expensive in New Zealand, so if you need one make sure to use/compare Zoomy (locally owned), Uber, or Ola apps.
17. There's accommodation to suit everyone from camping, 5-star resorts, unique Airbnb listings and everything in between.
18. The South Island is the more touristy of the two main islands. But consider visiting Stewart Island too.
19. Check your insurance policy, many of the extreme activities in New Zealand might not be covered in your policy like SafetyWing.
20. For those in the Northern Hemisphere, our seasons are the opposite to what you're used to (so summer months are December/January/February).
21. The summer months are also a popular time for domestic travel with lots of workplaces closing down over the Christmas and New Year period. Places will book out in advance at this time of year.

22. New Zealand is an expensive place to travel. (These supermarket prices might give you an idea.
23. Websites like BookMe.co.nz, Groupon.co.nz, and GrabOne.co.nz offer great discounts on some of the most popular attractions in New Zealand.
24. The NZ equivalent of eBay is TradeMe.co.nz. But local FB Groups are also a popular place to buy and sell things.
25. You can get fuel discount vouchers at supermarkets.
26. Supermarkets are open seven days a week (I'm looking at you Germany).
27. When you hear the word kiwi that could refer to the bird, the fruit, and/or someone from New Zealand.
28. If you're coming here for a holiday, you'll probably need an NZeTA visa.
29. The currency is called New Zealand Dollars. There are both notes and coins, with coins being the smaller denominations.
30. Most locals pay for everything with cards, but everywhere (exceptions) will accept cash.
31. If you have someone asking you to pay by EFTPOS, they'll be referring to your debit or credit card.
32. Most kiwis can't do an impromptu haka for you (unless they're drunk, in which case they'll probably try).

33. If you're planning to bring food and stuff into the country, make sure it's allowed. The penalties are high.
34. We drive on the left-hand side of the road.
35. It'll take longer than you think to drive places. This is usually because the drives involve lots of windy roads.
36. To drive in NZ you can use the same license you have from home for up to 12 months. If the license is not in English, you'll need to get it translated.
We're about halfway through all of these New Zealand travel tips!
37. The sun is brutal, even on a cloudy day you can get burnt in under 15 minutes. Sunscreen is recommended.
38. We use the metric system (kilograms/grams/metres/kilometres).
39. Bargaining in shops is rare. But if you go to a garage sale, go for it.
40. If you're planning on buying booze, you'll need your passport as proof of ID (unless you have a Access Card or NZ drivers license).
41. The legal drinking age is 18 across the board (overseas visitors will need to bring their passports if you get checked regularly).

42. But you need to be 20 to enter casinos.
43. You'll hear a lot of unique NZ slang when talking to kiwis.
44. When shopping, any taxes are included in the listed price.
45. Rugby is our national sport. Try and learn some of the lingo if you're heading to a pub to watch a match.
46. Cricket is the game of choice in the summer. If you see a game on the beach, people will be happy for you to join in.
47. You don't need to worry about any vaccinations before arriving (this may change in 2021 I guess…).
48. None of the annoying poisonous animals in Australia are found in New Zealand.
49. If you want to talk about politics with locals, feel free to do so. Be aware most people are not going to be as passionate about it as say America though.
50. Grab one of the Welcome to NZ magazines when you arrive at Auckland Airport. There's plenty of discount coupons inside.

51. The craft beer craze has hit NZ. Beervana in Wellington is the big NZ beer fest).
52. If you see BYO on a restaurant door, this means you can Bring Your Own wine, there'll usually be a small corkage fee.
53. I find it tough to describe the humour (this article may help), but it's very casual and sarcastic in my opinion.
54. If you're planning on a hike, it's almost guaranteed to be free.
55. The same goes for visiting waterfalls, there'll be no entrance fees in most cases.
56. Tell someone about your hiking plan before you leave (and hire/buy a PLB). People regularly get lost on NZ trails.
57. If you're planning on staying overnight hikes, you might need to pay for the huts you want to stay in (you can book them online). But you might want to buy a Backcountry Hut Pass too.
58. When ordering a standard coffee, it's usually a double shot.
59. Bring your own music for road trips. NZ radio reception can be sketchy when driving in the mountain/remote regions.
60. Not all railway crossings are controlled, so take it easy when you're approaching these and make sure you aren't playing car vs. train.

61. The culture around hitchhiking in New Zealand is awesome for the most part.
62. You can freedom camp throughout the country, but it's a touchy subject so make sure you're following the rules of the region.
Only 10 more tips for travelling to New Zealand to go!
63. Wellington is a genuinely windy city. Ladies, don't assume a sunny day equates to dress weather.
64. Be prepared for four seasons in one-day type weather. Dress appropriately.
65. While the Met Service is the default weather service used across the country, for backcountry adventures YR.no is used by many, and considered superior.
66. The North Island is generally warmer throughout the year.
67. You'll always be close to the ocean. The furthest you'll ever be from the coast is 128km.
68. Bring insect repellent. If you're uncovered and sandflies find you, you'll hate life.
69. We use daylight savings time.
70. With a sparse population, public transport isn't crazy great in New Zealand in terms of frequency (depending on where you're from).
71. The waters around NZ are full of rips. Be on the cautious side when you go swimming.
72. There's no train from Australia to New Zealand. Yes, I have been asked this.
73. We use this kind of power socket(called a Type I outlet). I've travelled with this one successfully for years (though there's no USB port).
I left this one until last as it's one of the must-know travel tips for New Zealand, but many readers scroll halfway through to the bottom of the list 🙂
---
Yay! There you go. That's 72 travel tips for New Zealand, bullet-point style. I hope a few made you do something like:
smile
nod your head
make your brain tick
message your travel buddy with your new-found wisdom.
Ideally, all of the above.
But I'm sure there are some NZ travel tips that I've missed.
After your trip, it'd be awesome if you remembered to come back to this post and drop your own tips for travelling to New Zealand!
NOW THAT YOU'VE GOT ALL THE TIPS, START SCOURING THE MAP IN THIS TRAVEL GUIDE AND PLAN YOUR ADVENTURES