Welcome to the Chur New Zealand Travel Guide.
As you work your way down the page, you'll learn what you need to know before travelling the country (I trust you can work out the basics like what currency we use).
Are there any questions you'd love answered here? Email jub@churnewzealand.com and I'll get back to you via email, and/or turn your questions into a blog post.
EXPLORE OUR MAP OF NEW ZEALAND
THERE'S SOMETHING FOR EVERYONE IN NZ
200+ THINGS TO DO IN NEW ZEALAND
I'm slowly working my way through that list.
In the map below, you'll see all of the different activities/tours/destinations and more featured on Chur New Zealand. Key:

NEW ZEALAND TRAVEL GUIDE: FAQ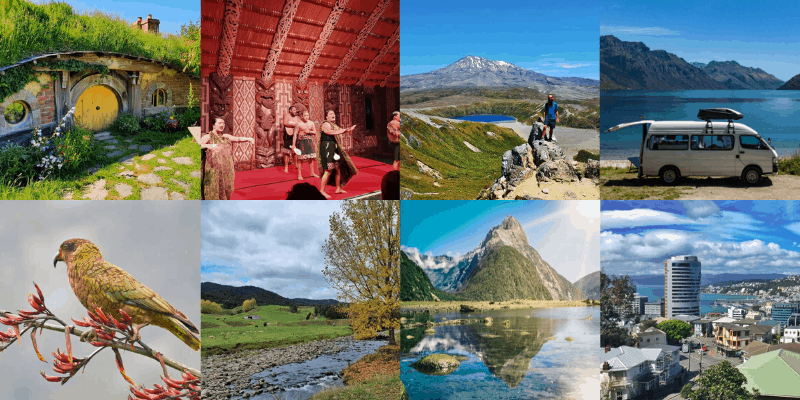 Before exploring New Zealand, you could spend dozens of hours planning your trip. Or zero. There's no right or wrong way to plan a trip.
With the said, here are some posts that you may find useful, Q&A style:
What should I know before visiting?
This could be a never ending list, but here are 70 NZ travel tips to get you started. Bullet point style.
Do I need a VPN?
Not really, but a VPN might be right for you if you're going to be connecting to public wi-fi often, and logging into financially sensitive info.
What is the best sim card for tourists?
I recommend and use Skinny Mobile as it's super easy to set up, cheap, and it's flexible for the pay as you go plans. I detail how I use Skinny here. Use code NBLTK5M and get 4GB of free data when you buy a 4-weekly roller plan).
What's the story with the accent?
Yeap, there are endless stories about people arriving who feel like they've got a good grasp of English as a non-native speaker only to arrive at the airport and get 100% thrown by the accent. Most people say they adjust to the accent after a few days.
Rather than worrying about your English, try and learn some of the New Zealand slang words 🙂 We have some goodies!
Can anyone buy a campervan?
Yeap, as soon as you land in the country you're able to buy a vehicle which is super cool. My buddy Nina tells us how to buy a campervan, and what she learned during the process.
Do I need to apply for a visa as a tourist?
You probably do need a NZeTA. No doubt these regulations will change a lot as NZ opens up post-COVID, so be sure to verify all visa information before you book your flights.
Any apps you'd recommend for NZ specifically?
Yea, there's a few I always have on my phone in NZ. Most of them are specific to NZ travel. And if you're into hiking, these apps are great to make your hike life better.
I want to learn more about NZ before I visit…books, facts, history…all of the things.
You've probably got too many tabs open already, but here's a post on some NZ books and here are some general NZ facts. Check out the Tiaki Promise before you arrive to, they're some good values to uphold.
Why do I need proof of onward travel?
Because the law said so which makes sense given NZ is so isolated and expensive to get to and from. There are workarounds though. But please don't overstay.
How do I send money to NZ?
If you're only here for a little while, this probably isn't relevant to most of you. Two of the best cheapest options are Currency Fair and TransferWise which I discuss in this post.
Should I get travel insurance?
The answer is almost yes when it comes to travel insurance. There are dozens of insurance providers, but I personally use Safety Wing when travelling (not that I need it when in New Zealand). In this post I look into whether Safety Wing is any good for travel in NZ.
Is there Uber in NZ?
Yeap, as is Ola and Zoomy. Zoomy is competitive with Uber in regards to pricing, but as is locally owned and operated you might want to go with them when possible. You can take a look at this comparison post to see the differences in more detail.
What's the deal with supermarkets in NZ?
My Dad will disagree, but Pak'n'Save is the cheapest supermarket in NZ based on my research. With that said, shop seasonally for fresh fruit and veg to save money. Or you could just live off fish and chip dinners :p
In fairness, they're usually locally owned and operated which is a good way to support local when you travel.
Is hitchhiking safe in NZ?
Is anything safe? This is an awkward question to ask as I don't want to tell anyone to 100% go hitchhiking, but I've caught dozens of rides around New Zealand. As a bearded male, usually solo, I get picked up within 20 minutes most of the time.
Here are my tips for hitchhiking in New Zealand.
---
WRAPPING UP THIS NEW ZEALAND TRAVEL GUIDE
As you'll have seen on the map above, there are lots of walks and hikes featured on Chur New Zealand. Whether you consider yourself a hiker or not, I highly recommend you try a couple in the National Parks and see how you go.
p.s. when you are hiking/walking in NZ follow good hiking etiquette and the Department of Conservation will be happy 🙂
Other than that, don't forget to plan what souvenirs you'll buy if need be. And some of these ideas for your travel memories is pretty cool I say!
Feel free to email me jub@churnewzealand.com if you have any questions.
Thanks for reading this New Zealand travel guide.
Chur.