The following are books about New Zealand you should consider reading before travelling the country.
I've personally read each book, and they talk about New Zealand from a variety of different angles in different genres.
Where practical, I include:
an introduction to the book about New Zealand
why you should read the book
some of my favourite quotes
TABLE OF CONTENTS
1. Legacy by James Kerr
2. The Real McCaw: The Autobiography by Richie McCaw
3. Once Were Warriors by Alan Duff
4. Wild Pork and Watercress by Barry Crump
5. The Meaning of Trees by Robert Vennell
6. Dictionary of Slang in New Zealand by Noel Kelly

6 BOOKS ABOUT NEW ZEALAND
1. LEGACY BY JAMES KERR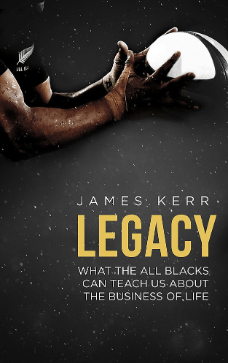 James Kerr wrote this book in an attempt to understand how the All Blacks have experienced sustained success over a long period of time and what principles he (and us) can apply to our own lives and business. As a byproduct, you get to learn about the NZ culture too.
James distilled his learnings into 15 chapters:
Character, Adapt, Purpose, Responsibility, Learn, Whanau, Expectations, Preparation, Pressure, Authenticity, Sacrifice, Language, Ritual, Whakapapa, and Legacy.
WHY READ THIS BOOK?
It's a super easy read considering academic books on this topic can be a tough slog.
Knowing something about the All Blacks will help you connect with Kiwis.
The book references Maori culture and the haka throughout.
5 OF MY FAVOURITE QUOTES
"The haka reminds us of the inherent fragility of all life. How little time is given to each of us. And how much we still have to do. It reminds us: This is our time."
'The history of All Blacks rugby has been so successful that the expectation in New Zealand is that we win every Test,' says Graham Henry, 'and I think that is good for the team. If you didn't have that expectation, I'm sure we wouldn't reach the standards we do.'
For a whānau to function, everyone must move towards the same point.
No one person has all the answers, but asking questions challenges the status quo, helps connect with core values and beliefs and is a catalyst for individual improvement. After all, the better the questions we ask, the better the answers we get.
'…"You don't own the jersey, you're just the body in the jersey at the time." It's your job to continue the legacy and add to it when you get your opportunity. The current All Blacks team is playing for the guys that have played in the jersey before. That's hugely important to the current guys.'
BUY ON AMAZON HERE
RELATED POST: VISIT THE NEW ZEALAND RUGBY MUSEUM
2. THE REAL MCCAW: THE AUTOBIOGRAPHY BY RICHIE MCCAW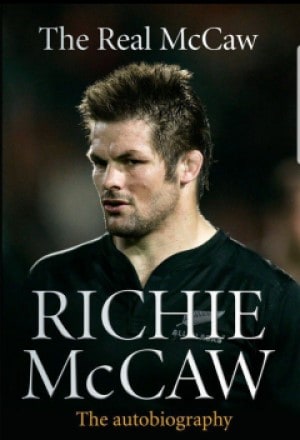 What makes this book more intriguing is that All Blacks went onto win the 2015 Rugby World Cup, a few months after this was published. In doing so Richie cemented his legacy of one of the greats, if not the greatest.
The book avoids any gossip and instead focuses on Richie himself. It starts way back in his home growing up in Canterbury and provides many insights into how his family influenced him as he became one of the countries most famous people (but doesn't love the limelight).
You get a real insight into how Richie developed as a person, in a career that has provided so many highlights, he doesn't ignore the lowlights and goes into how he addresses them.
WHY READ THIS BOOK?
The book starts from when Richie was a child, letting you get some insight into what it's like growing up in New Zealand.
Richie is one of the greatest rugby players of all time, with one of the most important roles in New Zealand (All Blacks Captain).
Richie provides insight into his goal-setting and preparation, with practical takeaways you can use.
5 OF MY FAVOURITE QUOTES
In RWC knockout, it's binary: two columns, win or loss; the classic zero-sum equation: for every winner, there has to be a loser. If winning was pro forma, victory wouldn't be worth striving for. Victory is only sweet because you always risk losing.
'If you learn from your own mistakes you pick up experience, if you learn from someone else's mistakes you pick up wisdom.'
Gratification doesn't have to be instant. The further I get from that final whistle on 23 October 2011, the more I enjoy it.
I tell myself that if it's like that for this week, I'm sweet. I can get through. If you're ever going to be a bit tough, if ever you're going to grit your teeth and get on with it, this is the time.
When you look at that black jersey with the silver fern, yes it's unique, but it's just a piece of cloth sitting there. It only becomes something special when it's filled by men who have the right to wear it, men who are prepared to do things that others aren't prepared to do.
BUY ON AMAZON HERE
3. ONCE WERE WARRIORS BY ALAN DUFF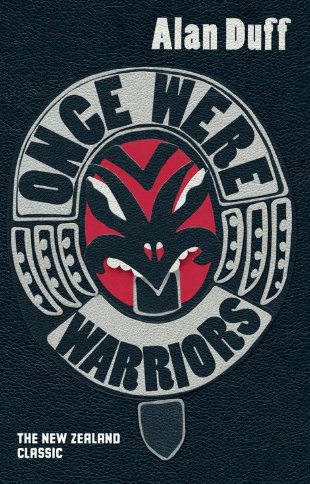 Once Were Warriors is a book that was also made into a movie. And the movie was a popular one that teachers loved us to study for English. I haven't watched the movie for 10 years or so, so reading the book (for the first time) in 2019 was super interesting as I wasn't expecting the different endings.
In short, the plot focuses on Maori culture and domestic violence, which, unfortunately, depicts a scene that hasn't changed for a lot of families despite being written over 25 years ago.
It's a brutal read, but one that touches on the not-so-perfect aspects of New Zealand. You'll pick up some slang along the way too.
WHY READ THIS BOOK?
Kiwis are known to shorten/combine multiple words…this book has a lot of examples!
It's a story that'll get you emotionally.
It's not a feel good story and must have been hard to write, which is even more reason to read it.
BUY ON AMAZON HERE
4. WILD PORK AND WATERCRESS BY BARRY CRUMP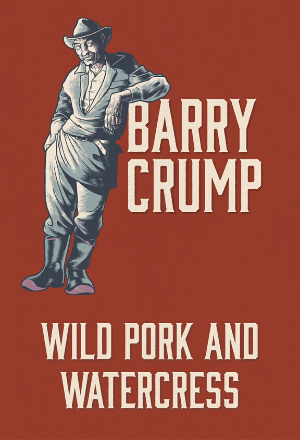 Wild Pork and Watercress was published in 1986 with well-known New Zealander Barry Crump. Known as a bloody good bloke, this book was what the 2016 movie Hunt for the Wilderpeople was based off. The book goes into more depth than the movie but does manage to retain its comedy value throughout.
The story focuses on two main characters. Ricky is a misfit of a kid who had started going down the wrong road in life but ends up living with his Aunty Bella and Uncle Hec. Unfortunate events see Uncle Hec and Ricky off to the bush where the majority of the story is told.
They have their ups and downs, but the best part of the book is you can really picture them in the bush! It's incredible, and an easy read for people of all ages.
WHY READ THIS BOOK?
Hunt for the Wilderpeople was released 30 years after the book. Loved the movie? You'll love the book.
It's an fun easy read, but you'll get an insight into some struggles NZ families go through (it's a relatable story for many early on).
You might find yourself hiking in Urewera National Park where the story is based.
BUY ON AMAZON HERE
5. THE MEANING OF TREES BY ROBERT VENNELL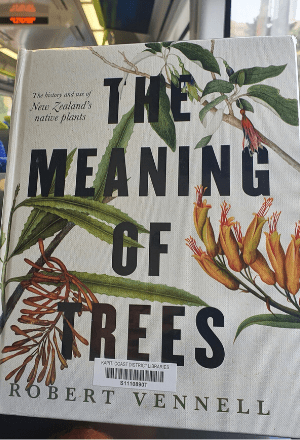 What an awesome book! If you'd asked me to read a book about trees growing up, I would have laughed at you. But I really enjoyed this book all about New Zealand's native trees. I'm mostly gutted I didn't get it until the week before I was flying out of NZ again, so I'll have to wait until my return trip to apply and reaffirm everything I learned in this book.
For a book on trees, Robert makes this a surprisingly easy read. There are a couple of scientific bits which are unavoidable, but for the most part, the book is written in a conversational tone and has plenty of stories (including Maori legends regarding various trees) making it enjoyable throughout.
WHY READ THIS BOOK?
You'll love being able to identify some of the trees and their properties when you go hiking.
You can save money by learning what trees you can eat 😀
The Maori legends told in the book are super interesting!
3 THINGS I LEARNED
Maori parents have been known to put a sprig of kawakawa under the bed during sex for good luck when trying to get pregnant You can make your own kawakawa tea easily.
Bracken roots were regularly eaten in the early days by Maori, unfortunately, it has constipation effects…which meant it was often used to treat diarrhea…it's also now known as a carcinogen.
The leaves of the Rangiora tree make good toilet paper as they've got a soft-paper-like feel. Collect them when you see them!
BUY ON AMAZON HERE
6. DICTIONARY OF SLANG IN NEW ZEALAND BOOK BY NOEL KELLY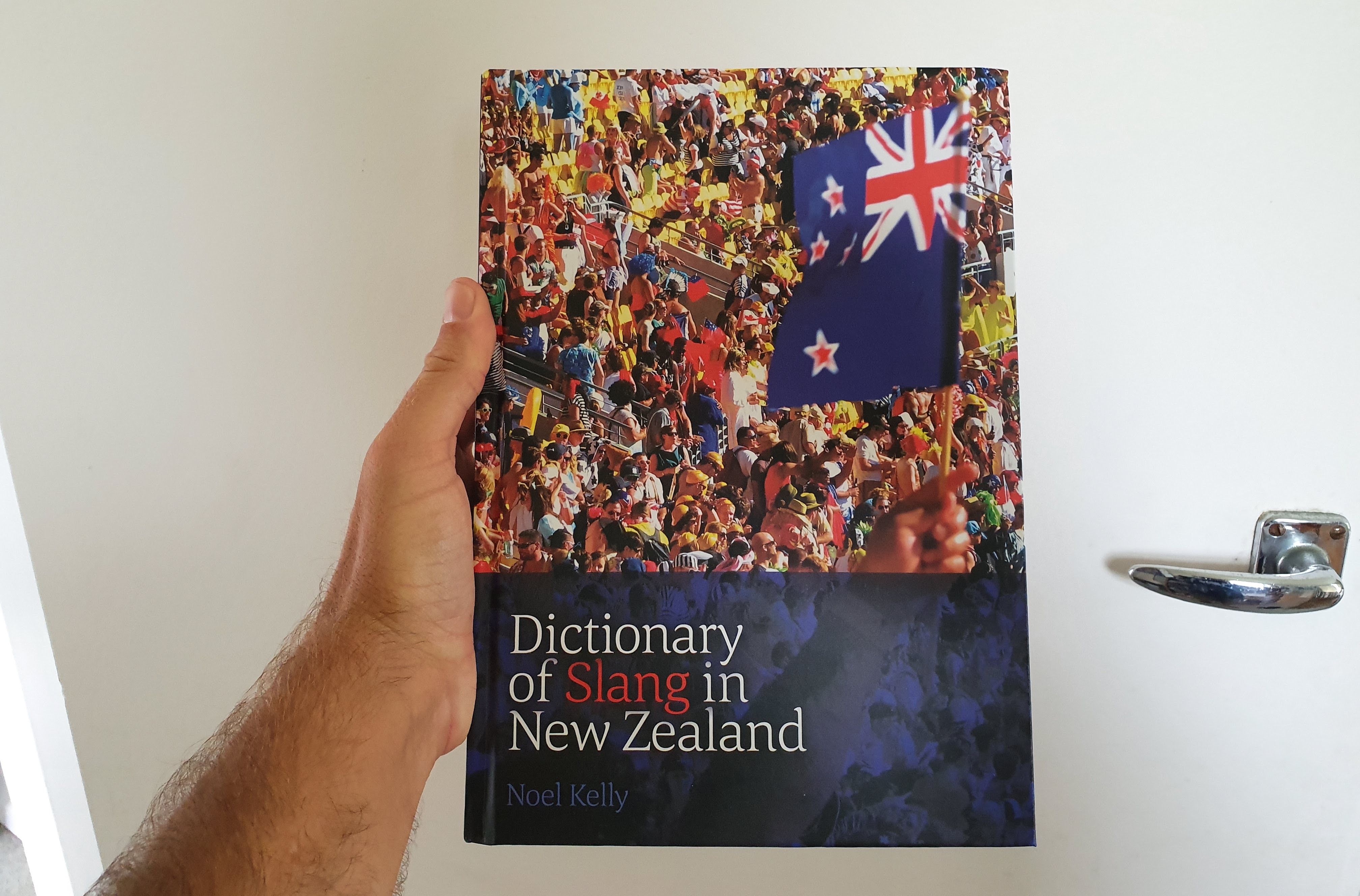 The New Zealand accent is hard enough for many to understand, but add in New Zealand slang and many are left wondering if we're speaking English at all.
There are a few books on the countries slang, but this book is comprehensive and includes every possible word, even if the origin of the words is debatable. It's great for a laugh, although like any dictionary you won't be reading it from start to finish. It's a coffee table/conversation starter material.
WHY READ THIS BOOK?
It's good for a laugh.
Learning the local lingo/slang is a great way to connect with people.
It's a great conversation starter for the coffee table.
5 FUN SLANG DEFINITIONS
Sure beats shovelling shit! an exclamation of muted acceptance of a so-so job/opportunity/situation.
Hit it off to have a good relationship with someone.
Pig Island the South Island for North Islanders.
Piece of piss an easy task, a simple activity, a very easy result.
Mabes maybe (abbreviation)
You can't buy the book on Amazon.
You can contact the author on Twitter here. Send him a private message to arrange payment and the shipping of the book (he can send the book overseas).
---
What do you think are the best books about New Zealand?
If you'd like to share your own suggestion, leave a comment below or email jub@churnewzealand.com .
RECOMMENDED READING