Do you want to learn some unique facts about New Zealand that haven't been scraped off other websites?
Read on!
I love a good fact (most of which I forget), but the generic posts with New Zealand facts on the internet are similar, all rehashing the same facts, right?
So I set out to do something different and find New Zealand facts you (touch wood) haven't heard of before.
If you'd like to know more about how this post came to be click here. Otherwise, enjoy!
FACTS ABOUT NEW ZEALAND
I list the sources of each fact at the bottom of the post (or click here).
1. When you visit Huka Falls near Taupo, you'll notice the crazy blue water. This is formed from the reflecting blue light, and the colour is intensified from the presence of air bubbles. Huka is Maori for sugar or foam.1
2. The Kiwi is the only bird in the world to have its nostrils at the top of its bill.2
3. Tuataras, an endemic New Zealand reptile, don't drink water, instead, they absorb water through their skins and via food.3
4. The first telegraph line to be successfully laid between the South and North Island happened on August 26th, 1866. This allowed news, economic updates, and political developments to be communicated nationwide.4
5. As a result of the telegraph line above, New Zealand became the first country in the world to implement a single time zone for the whole country so that all telegraph offices opened and closed at the same time. This occurred on November 2nd, 1868 so while the GMT time zone was put into practice by British Railways in the 1840s, it wasn't until 1884 that GMT became Britain's timezone.5
6.In the 1950's Sir Len Howard gained headlines throughout Australasia for his speedboat championship win in "Redhead". On February 22nd, 1953 he crossed Wellington Harbour with Redhead, becoming the first person to travel over 160 km/h (100 miles/hour) on the water in Australasia.6
7. New Zealand has a DeLorean (from Back to the Future fame) on public display at Southwards Car Museum. There are less than 50 on public display worldwide.7
8. The first cricket game (the countries national summer sport) in New Zealand was played in 1832 on the beach in Pahia.8
9. The first game of rugby played in New Zealand at Nelson Botanical Gardens on May 14th, 1870. The winner was Nelson Football Club who defeated Nelson College 2 goals to nil in front of 200 people.9
10. NZ sports journalist, William Atak, came up with the idea of referees using a dog whistle during rugby games instead of shouting which was tiring.10
11. Any member of the public is able to watch parliament debates (where MPs ask questions, vote of legislation, and debate) from the gallery at the Beehive. You can also take a guided tour of the Beehive.11
12. When Captain Cook arrived in New Zealand, he renamed many places. Sometimes the names stuck but other times the Maori name continued to be used. For example, Mercury Bay was named by Cook because he observed Mercury (planet) from there. Mercury Bay was previously known as Whanganui-O-Hei.12
13. The New Brighton Pier, a Christchurch icon, is the longest pier in Australasia. The first pier was demolished in 1965 and after years of public petitioning and fundraising the new pier was opened in 1997 measuring 300 metres.13
14. At Te Papa you can see the world's only Colossal Squid on display (there are two others stored at Te Papa). The species was a bycatch and was unable to be safely returned to sea, and as a result, become very valuable to science and continues to intrigue the public.14
15. The Cookie Time Cookie which you'll see in supermarkets throughout New Zealand was initially made with a bacon slicer (for chunky chocolate), ice cream scoops (to measure the cookie dough), and paint scrapers (to take the cookies off the tray).15
16. The 380g Pic's Peanut Butter jars have hidden messages, vouchers, and poems on the back of the labels. If you're eating heaps of Pic's Peanut Butter, you can even turn the labels into prizes (Picster's will know what I mean 😉 ).16
17. When Eastern Polynesia settlers first arrived in New Zealand, they used argillite, basalt, and pounamu to build houses.17
18. The woman in the Ngāti Porou iwi are unique in that they're allowed to stand and speak in the pōwhiri (welcoming ceremony) alongside men. If you visit NZ, there are many Maori cultural experiences you can take have.18
19. The kereru (New Zealand pigeon) has been protected since 1922. But as it's sacred to Maori (they eat them), people will illegally poach kereru (even to this day) and when rangers catch poachers violence can occur.19
20. The age of Kauri gum can be measured, with coal formed from Kauri gum indicating they've been around for at least 43 million years. What is Kauri gum? It's the resin from the Kauri tree when the bark is broken/damaged. To seal the damage, preventing rot and/or water from getting in, a resin will bleed from the tree and solidify.20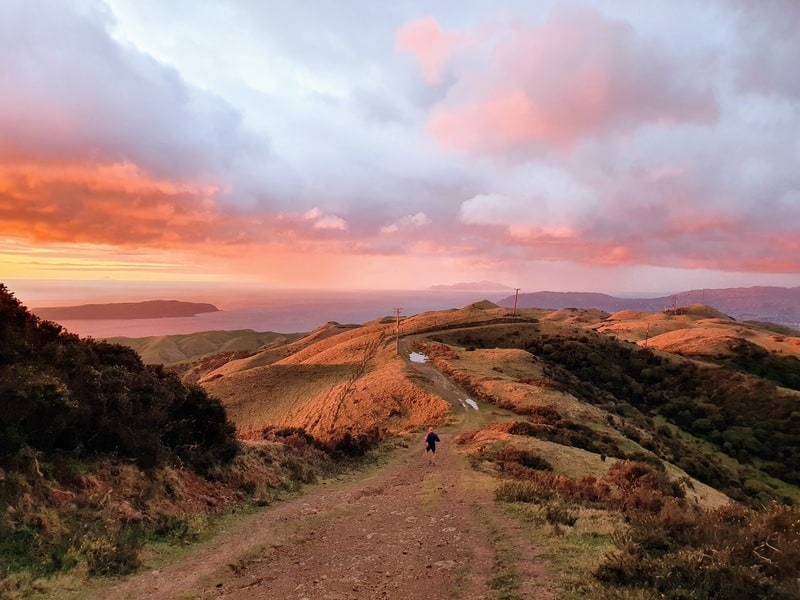 21. The Waikato River holds the unique distinction as the only river in the country with water that flows north as well as being the only river with water that leaves the lake.21
22. Geothermal power has become more and more popular in New Zealand as it's renewable energy and a more reliable form of generating electricity compared to hydro and wind power which is influenced by the weather. In 2001, 6% of New Zealand's power supply was geothermal, rising to 13% in 2011, and will be close to 20% in the early 2020s.22
23. The native New Zealand bush is one of the biggest drawcards for tourists in New Zealand but it might not have been that way if it wasn't for conservationist Stephen King. In 1978 he led a successful tree-sitting campaign in Pureora Forest Park to stop native logging. That played a part in the cutting down of native trees now being illegal in New Zealand.23
24. In 1974 the Queen voyaged on Ngātokimatawhaorua for her visit to Waitangi. Weighing 6 tonnes, and measuring 37.5 metres in length it's the largest ceremonial war canoe in the world. Afterward, she dubbed it 'Her Majesty's Ship' so it's technically a part of the Royal Navy.24
25. The Maori carvings on Lake Taupo took four years to create by five carvers who spent their summers working away in budgie smugglers.25
26. 20 million native birds are killed by non-native animals a year (this number is 25 million according to DOC) such as rats, possums, and stoats.26
27. 40,000 tonnes of raw sugar arrives via ship to the Chelsea Sugar Factory every eight weeks, of which 10,000 tonnes is then exported. That's a shitload of sugar.27
28. The Mokena Geyser is the worlds' only soda water geyser.28
29. Many places around New Zealand are returning to the original Maori name. For example, what used to be Tinakori Hill is once again known as Te Ahumairangi Hill.29
30. The town belt around Wellington dates back to 1839 with the intention that few public buildings would be built on it.30
31. The 62 turbines on the West Wind Farm next to the Makara Walkway generate enough power for 70,000+ homes.31
32. There's a species of rhododendron (the rhododendron chrysodoron seedling) that's known as the Lovelock Rhododendron in honour of Olympian Jack Lovelock.32
33. The Taniwha is a supernatural creature in Maori tradition. For the Rangitane people, the taniwha was a pet.33
34. The kawakawa tree is an important tree to the Maori. It was believed that placing a sprig of kawakawa under the bed would increase the fertility rate of a couple.34
35. The Bluebridge ferry didn't operate as a passenger ferry until 2002. The company was founded in 1992 after Jim Barker needed a way to get his livestock between the islands reliably. By having his own ship he could do this.35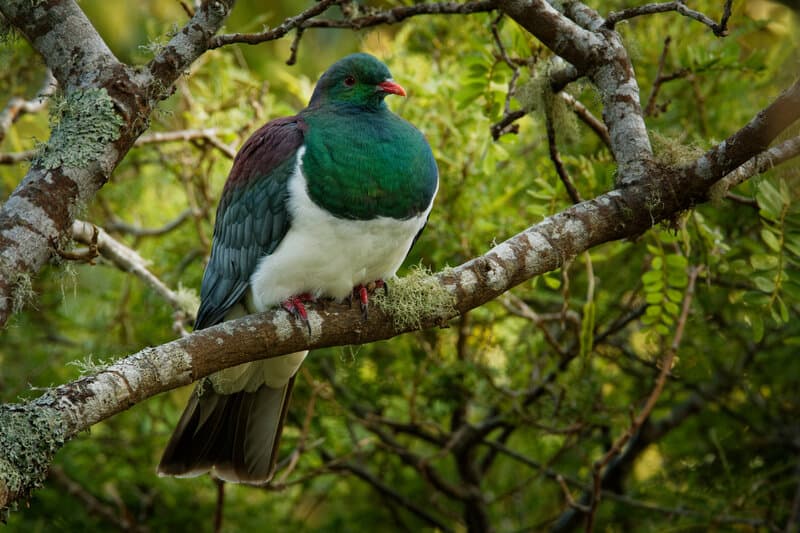 36. New Zealand had three native pigeon species, but two are now extnict. The remaining survivor, the New Zealand pigeon, is the Kereru which has a cool appearence (see photo above).36
37. Naseby is the Curling Capital of NZ, and is home to the only dedicated ice rink in the Southern Hemisphere. 37
38. The first successful mission to the top of Aoraki/Mount Cook was in 1894. The successful mountaineers were Tom Fyfe, John Michael (Jack) Clarke and George Graham. 38
39. The kiwifruit was originally known as the Chinese Gooseberry. But in the 1960s, NZ growers started calling them kiwifruit as a marketing ploy. This was then adopted commercially in the 1970s and has paid off well for NZ. If you love kiwifruit, check out these kiwifruit facts.
40. The most expensive road in New Zealand to build is the Wilmot Pass Road which gets you to Doubtful Sound. The road isn't connected to any other, making it unique and contributes to the cost that was approximated to be $80/square metre to build (source).
---
HOW THIS POST CAME TO BE
I wanted to make this post different to the other NZ facts posts on the internet. It needed to contain facts that you and I can trust. If I could get these two things right, I'd be on track with making a post you'd want to read.
After a bit of thinking I came up with two ways to get interesting facts about New Zealand, you can trust.
1. From museum staff, who would send me facts you can learn when you're in the museum (I emailed a lot of museums as for facts to be sent).
2. Facts I learned from visits to places in New Zealand myself, or facts that I've learned from guides on tours and experiences around the country.
3. Facts about New Zealand that I knew already, but was able to verify the information via official sources on the internet.
---
I hope these New Zealand facts will make you feel a little bit more knowledgeable!
Do you have any interesting facts about New Zealand you'd like to share? Leave them in the comments below.