When you're planning to cross the Cook Strait from Wellington to Picton (& vice-versa), you've got two ferry options. The Bluebridge and Interislander.
This post is my Bluebridge Ferry review based on my Wellington to Picton sailing in July 2020.
After reading this post, you'll learn:
How much it cost (plus the discount code I used)
What the timings were versus expected
What happened during the crossing
What I liked and disliked on the crossing
BOOKING A TICKET ON THE BLUEBRIDGE WEBSITE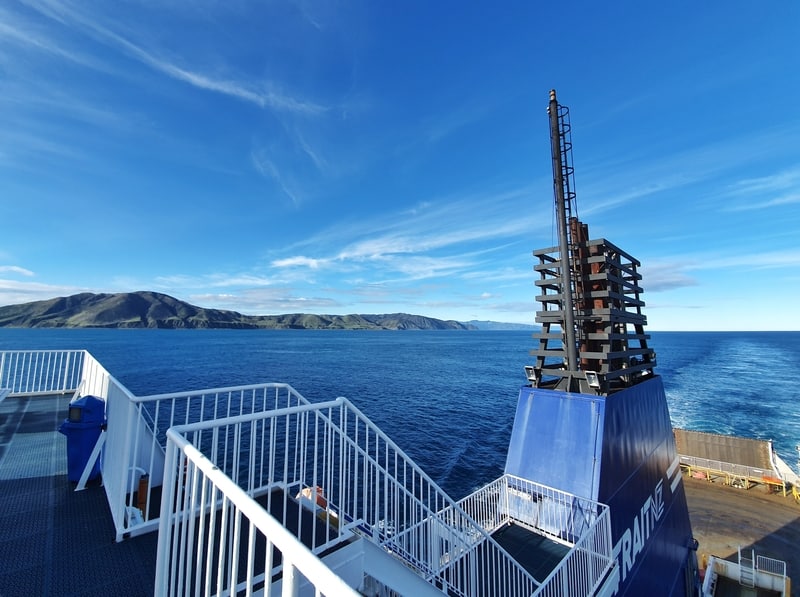 The Bluebridge website and mobile app are really easy to use. It's not perfect, but it's logical.
The Bluebridge is known as the more basic ship with fewer amenities, with truckies using them more so than the Interislander.
Make sure to check out the deals page first to see if any apply to you at the time of booking. Or you can try the code FERRY10 for 10% off.
This gave me a ticket for $48.60 instead of $54.00. That's for a walk-on passenger, (including checked luggage).
I got this code after looking at the booking page, then seeing the promotion on my Facebook newsfeed.
Once you've booked and paid for your ticket, you'll get an email with the booking reference. Two important notes:
You don't need to print the ticket, you just need the reference number
Check what time you need to check in by at the latest
CHECKING IN & BOARDING
Continuing on, I didn't really take a look at the email and saw it mentioned 12:30 pm on the email for the 1:30 pm sailing. I thought that would be when check-in opened. Wrong.
12:30 was the final check-in time. I received a phone call at 12:39 pm from Bluebridge asking where I was. Fortunately, I was just a few minutes away and they were able to check me in still. They had every right not to.
One of the benefits of the Bluebridge Terminal is that it's across the road from the Wellington Railway Station.
In the waiting room there were about 20 other walk-on passengers. At 12:50 pm we were told to proceed to board and by 1.05 pm I was sitting in my seat on board.
You enter on the level 3 deck and are guided to the stairwell leading to level 6, the main passenger sitting floor. You can view two ships maps here and here.
Sidenote: If you've got a dog, he'll be popped in a cage on level 3 for the journey. I asked a guy if his dog seemed okay when we arrived in Picton and he said he was happy as and Bluebridge was great.
Most of those who had vehicles were already on board before we got on so all of the window seats were taken. Doh!
I managed to find myself a seating area to myself, with comfy leather seating being the norm. At 1:15 pm the cabin crew went through a few messages and mentioned that the movie is free to watch in the cinema room.
And I guess because everyone was on time, we took off early as by the time I looked up from my book again at 1:25 pm we were already starting to make our way out of Wellington Harbour. That was a nice surprise.
CROSSING THE STRAIT + WHAT'S INCLUDED
We had a superb day for sailing and for those landscape photographers, get outside early in the journey.
On the Bluebridge we were able to climb the stairwell up to level 9 (top deck) for better views. You'll see a different perspective of the CBD, and you'll get a closer view of parts of the city you perhaps don't usually go to see like Pencarrow Lighthouse.
Once you're out of the harbour, you pass the Wellington Airport, all the Southern Bays and the Red Rocks walkway. It's crazy how rugged the southwest coastline is with very few buildings despite being so close to the capital city.
On a nice day like we had, it's plain sailing. The cafe onboard serves hot food (menu here) and plenty of snacks. The prices weren't as bad as I expected; I didn't eat anything.
WiFi is on board but when I tried connecting it wasn't working. I'm not sure if that's normal or not…my 4G Skinny data was working okay. Understandably it was patchy at times, especially once we entered the Marlborough Sounds.
Also, don't expect to be able to find lots of power outlets on board, they are minimal.
As soon as you enter the Marlborough Sounds, you'll want to make your way outside again. You'll still have over an hour sailing through the sounds.
Before I knew it (I was deep in a book) it was fast approaching 5 pm and I could see Picton a few kilometres away when I headed back outside. It's a really picturesque entrance, especially with the fading light with sunset less than an hour after we arrived.
The cabin crew will let you know when to start making your way to the lower decks again (you'll come down the stairs you came up by) and I was walking off the ship at 5.10 pm, which I think is about right on time.
The Bluebridge Ferry Terminal in Picton is a couple of kilometres away from the city, and when you get off the ferry you're directed to a bus that'll take you to the baggage claim area. You can get back on the bus with your bags if you like and it'll drive through town to drop people off, or you can walk to your accommodation as it's less than one kilometre into the city centre and you might want to stretch your legs.
BLUEBRIDGE FERRY REVIEW: LIKES AND DISLIKES
LIKES
Quick check-in process
Everythings was on time
Reasonable food prices
Minimal announcements throughout the journey
Clean facilities (including hand sanitizer dispensers)
DISLIKES
Minimal power outlets
Questionable wifi
---
I hope this help gives you an idea on what to expect on the Bluebridge Ferry!
As you can tell, my dislikes aren't exactly the end of the world 🙂