Welcome to Auckland!
In this post you'll learn about getting from Auckland Airport to the city (and getting to Auckland Airport by reversing them).
We'll use Britomart, less than 25km away from the airport as the 'city' as it's the main transport hub in the Auckland CBD. It's also where the non-private transport options go.
There are six options to get from Auckland Airport to the city that 90%+ people will use (unless you drive yourself or are getting picked up).
p.s. If you're going elsewhere and want some help with your transport options email me jub(at) churnewzealand (dot) com.
TABLE OF CONTENTS
Price Comparison | Public Bus/Train | SkyBus | Shuttle | Ridesharing Apps | Taxi
BEFORE YOU CONTINUE
I haven't considered walking as it's about 20km, and it's not a nice walk most of the time.
The information was current as of the date published at the top of the post.
Wi-Fi at Auckland Airport is easy to access and plenty fast enough.
The cheapest option for one person is via the bus and train option, though with more people other options become cheaper.
I couldn't find a Skinny sim card at Auckland Airport but that's the best sim card to travel NZ in my experience.
Looking for Wellington Airport transport options? Here you go.
AUCKLAND AIRPORT TO CITY PRICE COMPARISON
The price for one adult.
Public Bus/Train Combo: $11
SkyBus: $17
Shuttle: $25
Ridesharing App: $48-$57
Taxi: $38+
SKYBUS FROM AUCKLAND AIRPORT TO CITY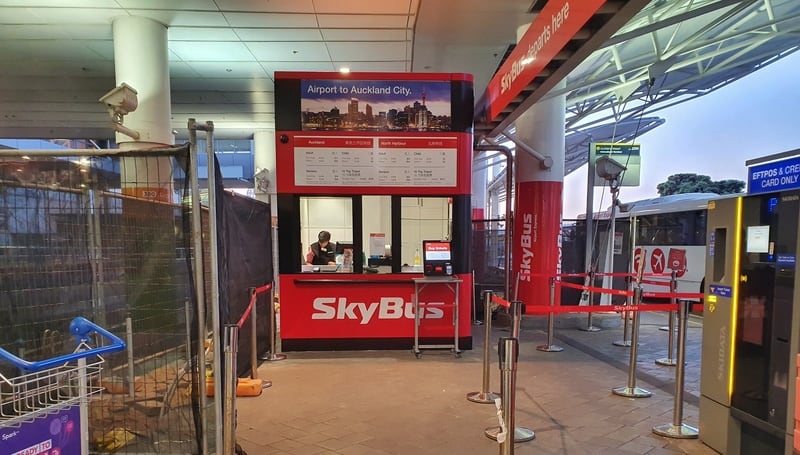 SkyBus is a company operating airport to city bus services in New Zealand and Australia. This Auckland Airport bus is a reasonable option for one or two people who want a quick and efficient service between Auckland Airport and the city.
At the international terminal, you'll find the SkyBus bus stop by following the signs inside the terminal (lots of signs mentioning buses). It's on the left-hand side after the first pedestrian crossing.
You'll need to buy your tickets at the booth which costs $17 for adults and $2 for children (16 years and under) from Auckland Airport to the city (one way). If you've got kids in tow, it becomes an excellent option.
The buses have wifi and they run around the clock which makes them an attractive option. They also go to North Harbour which some of you might be travelling too.
PUBLIC BUS/TRAIN COMBO (CHEAPEST)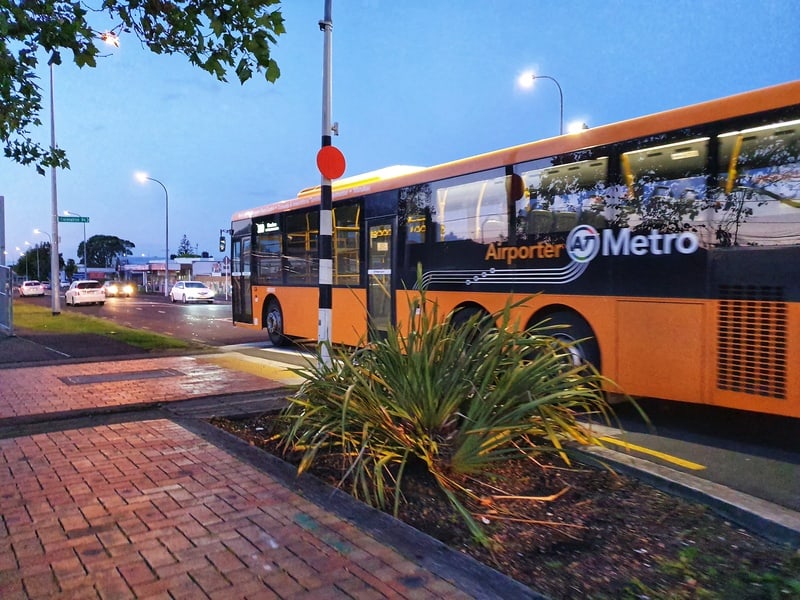 This is how I got from Auckland Airport to Britomart on my most recent arrival. It's the cheapest way to get from Auckland Airport to the city ($11 without an AT Hop card) but is likely to take the longest.
Although if the Auckland traffic is bad…it might end up quicker than the other options as they can use the dedicated bus lanes.
There are two steps to this route:
Bus from Auckland Airport to Papatoetoe Train Station ($3.50).
Train from Papatoetoe Train Station to Britomart ($7.50).
Step 1: Bus to Papatoetoe Train Station
The bus stop (bus number 380 and it's called the Airporter) at the international terminal is located about 30 metres further along from the SkyBus stop (right here).
You pay the driver on board ($3.50 in cash…they usually have some change) unless you have an AT Hop card which is the discount card for Auckland Transport. I couldn't find anyone selling AT Hop cards at the airport.
When you get onboard tell the driver you're going to Papatoetoe Station, and if need be ask them to let you off at the right stop.
You'll get off at this stop here (the bus took 14 minutes for me) and you can see the ramp to Papatoetoe Station when you get off which you should follow.
Step 2: Papatoetoe Train to Britomart.
Head up the ramp to the train station, and you'll need to buy your ticket for the machine before reaching the platform.
You can pay the $7.50 with cash or a debit/credit card at the machine.
Fingers crossed you time it well with the transfer…I waited seven minutes for the train. The train ride takes about 30 minutes to get to Britomart.
The total travel time from me exiting the Auckland Airport terminal to exiting Britomart for me was one hour, which I think is pretty good!
You can view the 380 bus time table here and the train timetable here and here (you can catch either train from Papatoetoe to Britomart).
SHUTTLE
Super Shuttle is the most popular airport shuttle service nationwide. Their fares can work great depending on how many people are in your group.
Though, unless you pay for the exclusive use of the shuttle ($125) you might end up riding all over Auckland before being dropped off.
The fare structure between Auckland International Airport and the city (Britomart)a is:
1 person: $25
2 people: $35
3 people: $45
4 people: $55 etc.
RELATED POST: 14+ THINGS TO DO IN AUCKLAND
RIDE SHARING APPS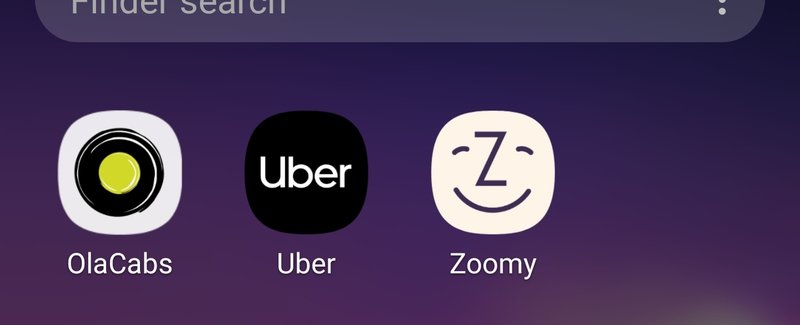 Auckland Airport is served by three ride-sharing apps: Uber, Ola, and Zoomy.
There's a rideshare zone at the airport which you can find at both the domestic terminal (behind the big car park) and international terminal (the exit at door 11).
The fee is obviously going to change based on the time you land etc, but I've done a little sample by checking the price of each app at 8:45 pm on a Wednesday evening.
From Auckland Airport to Britomart:
Zoomy: $48-$56 and a 29 minute travel time.
Ola: $51-$57 but no time estimation.
Uber: $53.03 and a 30 minute travel time.
This includes the airport pickup tariffs etc.
READ MORE: COMPARING ZOOMY, OLA, AND UBER
TAXI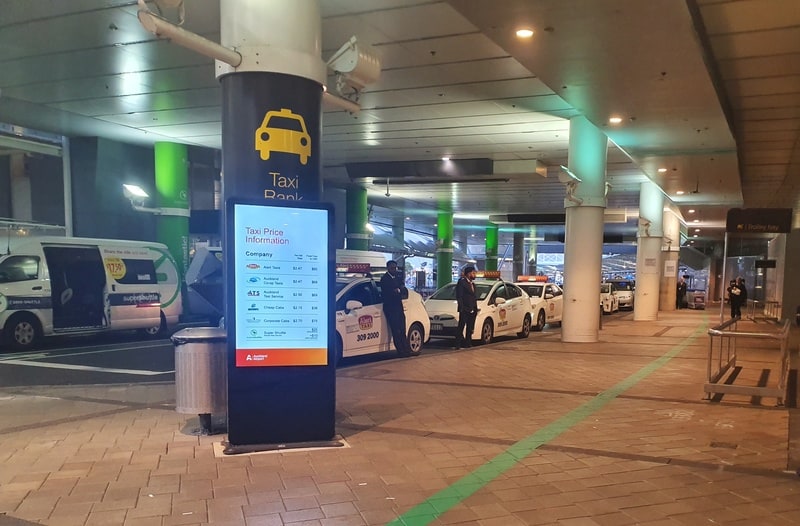 You'll see the taxis when you walk out the door on your right-hand side. Unless there's a reason you despise ride-sharing apps, I'm going to recommend you take Uber/Zoomy/Ola over the taxis every day.
If you're catching a taxi you have the option of a flat rate, or you can use the meter. Just make sure you verify what option you want in advance.
---
I hope this information helps you get from Auckland Airport to the city in the way that best suits your needs. I'll forever be one to choose the cheapest form of transport, it saves money, usually doesn't take a lot longer than other methods and gives the best chance to start getting a glimpse of local culture.
Again, if you need any help or have a question about Auckland Airport transport, leave a comment below or email jub@churnewzealand.com .
RECOMMENDED READING
Auckland is likely you're first destination, but there's just so many things to do in NZ. Check them out!
For a walk that gives you a good overview of Auckland, you can't go past this one.
This will help you decide if it's worth you doing or not.