Asking yourself "How do I get from Queenstown Airport to the city?"
Hopefully, you are. This post will give you all the options you have.
I'm like you, you hate this feeling. You've arrived at your accommodation, but the question floats in the back of your mind. Did I get ripped off? When it comes to taxis at least.
This post will get rid of that yuck feeling.
For each of the options, we're going from Queenstown Airport to the Queenstown i-Site in the middle of Queenstown (and it's close to the world-famous Fergburger).
There are at five options departing from Queenstown Airport (if you're not renting a car):


Walk | Public Bus | Shuttle | Ridesharing Apps | Taxi
And yes, for the rocket scientists out there, you can take each mode of transport from the city to Queenstown Airport.
WALKING FROM QUEENSTOWN AIRPORT TO THE CITY
As long as you have a backpack (it's not great for suitcases), there's a nice trail that runs from close to Frankton where the airport is, right to the edge of the city centre. It's called the Frankton Arm Walkway and is even part of the Te Araroa Trail 🙂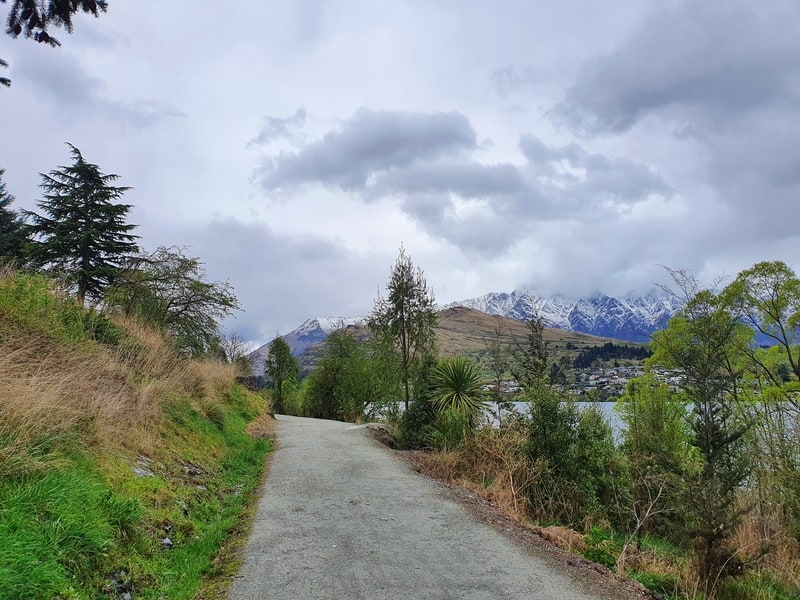 You simply follow the route above (it's on Maps.me too). At 7.8km, for the faster walkers, it'll take you 90 minutes or so, but even if it takes two hours some of you will appreciate the walk.
The wide trail along the lakefront is more or less flat. Stick left and you'll have no problems with the cyclists. This is potentially one of the most scenic walks from any airport worldwide. You've got views of The Remarkables, Frankton Peninsula, and Lake Wakitipu (you'll love the photo below that shows the surroundings). That's not to say there are any better walks in Queenstown 😉
PUBLIC BUS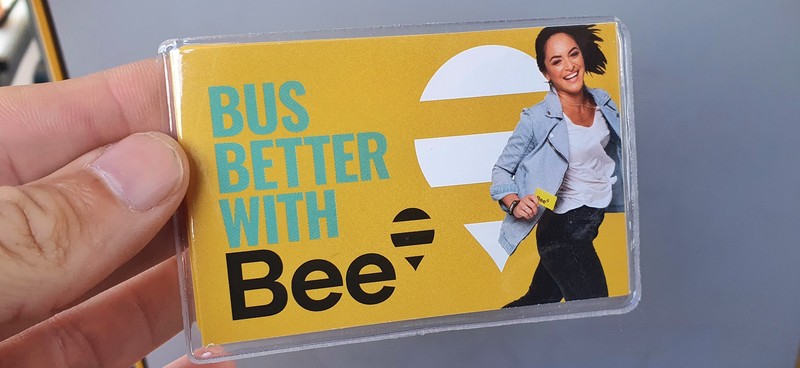 You have two options for the bus, I take the second option because I like saving money wherever possible! And charging people extra for using public transport from an airport is something I don't agree with.
Option 1: You can catch the #1 orbus directly from the airport at this stop and the closest bus stop is this one which is less than 200 metres from the iSite. The bus ride takes about 20 minutes (timetable here).
How much does it cost?
Cash: To and from the airport, costs $10.
Bee Card: If you plan on using the public buses around Queenstown a bit, you can get a Bee Card from the Paper Plus inside the airport. The card costs $5, and the minimum top-up is $10 so you'll be paying at least $15. The fare from the airport to the city with your Bee Card is $2 ($1.20 for children).
If you're not planning on catching any other bus rides in Queenstown, it's cheaper to pay cash. But if you're going to use public transport a few times buy a Bee Card.
Update: As of September 27th, you can get a Bee Card for free from the driver. The minimum top-up is $5 which is great. And any journey regardless of distance is $2 for adults.
Option 2: From Frankton Bus Hub you can catch two buses to the vcity, both #1 (Fernhill) and #2 (Arthurs Point). The walk from the airport is about 1km, which will take 10-15 minutes. And the bus journey is ~15 minutes to the city centre.
How much does it cost?
Cash: Because this is not from the airport, the cash journey is $5.
Bee Card: $2 ($1.20 for children)
SHUTTLES
There are several shuttle companies that run via Queenstown Airport, but Super Shuttles is the market leader to get to the city as they're the most frequent]y. It's true that you might get unlucky and be the last one to be dropped off (they have 11 seats) but if you're a group with lots of luggage they can make a good option.
How much does it cost?
1 person: $19
2 people: $24
3 people: $29
4 people: $34
5 people: $39
6 people: $44
7 people: $49
8 people: $54
9 people: $59
10 people: $64
11 people: $84
You can book in advance on the website, and entering your flight details will ensure they'll be ready for you when you land. Alternatively, you can just get one when you land as they come through the airport every 20 minutes or so.
Note: DO NOT book the shuttle service with Get your Guide. The pricing system as an error and for 2 people you'd pay $40+ rather than $24.
RIDE-SHARING APPS

Unfortunately Zoomy, the NZ-owned ride-sharing service doesn't serve Queenstown, so your two options are Uber and Ola.
You can get picked up by either from the airport, but for a ride under 10 km they are pricy due to the kilometre charge in Queenstown of $2.20. I've just done a quick look to see what kind of prices they charge.
Uber ~$25
Ola ~$30-34
With that pricing, Uber is a no brainer, unless you haven't used Ola yet and use one of the promo codes for signing up (I wrote about ridesharing promo codes in this post).
With no traffic, the drive will take 10-15 minutes. But with Queenstown being overtouristed, the highway between Frankton and Queenstown can be slow going in peak hour.
TAXIS
I don't like catching taxis from the airport for a host of reasons. So much so that I won't even look into how much they are.
If you're looking for a luxury transfer and money isn't an issue, Black NZ are for you.
---
I hope this helps you plan your journey from Queenstown Airport to the city. Of course, you might want to head to Te Anau, Arrowtown, Wanaka or any of the other dozen places nearby.
If that's the case, and you aren't sure what to do, feel free to get in touch with me below or on email jub@churnewzealand.com
What to read next:
Milford Sound: Yes or No
New Zealand travel tips
The cool alternative hike to Roys Peak
Things to do in New Zealand