"I'm so glad we picked you up. We would have never driven all the way to Glenorchy otherwise. It's such a beautiful drive."
That's paraphrasing the driver of the car who picked me up hitchhiking along the Queenstown to Glenorchy Scenic Drive.
They were off to Moke Lake for the day (~15km from Queenstown), but we got along well so they changed plans and took me all the way to Glenorchy. If they enjoyed the drive that much, maybe you will too.
So yes, the 46km Queenstown to Glenorchy Scenic Drive is stunning.
And there's some awesome stops along the drive to take in the views, attractions, and some of the best walks near Queenstown.
TABLE OF CONTENTS

1. Queenstown to Glenorchy Drive FAQ
2. Queenstown to Glenorchy Drive Map
3. Sunshine Bay
4. Arawhata Track
5. Little Thailand Cliff Jump
6. Moke Lake
7. Mount Crichton Loop Track
8. Wilson Bay
9. Twelve Mile Delta Campground
10. Bob's Cove
11. Bennetts Bluff Lookout
12. Lake Luna
13. Wild Dream Garden
14. Mount Judah
15. Mount McIntosh

1. QUEENSTOWN TO GLENORCHY SCENIC DRIVE FAQ
How far from Queenstown to Glenorchy?
46km (28.5 miles).
How long does the drive take?
Google Maps will tell you it takes about 40 minutes, but that's optimistic. For most people, plan for the drive to take 45-50 minutes. If you're not stopping.
The drive isn't straight, with lots of twists and turns throughout along with a couple of narrow sections. Don't feel like you need to stick to the speed limit, drive slowly if need be.
But if you are driving slowly:
pull over whenever you can
don't ever stop in the middle of the road to take photos
What are the best places to stop?
Each to their own, but my top three would be:
Moke Lake
Bob's Cove
Mount McIntosh
Is the road from Queenstown to Glenorchy sealed?
Yup 🙂
What is there to do in Glenorchy?
If you're there for a day trip from Queenstown you should at least go to the:
Glenorchy Wharf
Glenorchy Boardwalk
And of course, there are some amazing walks near Glenorchy.
Are there tours from Queenstown to Glenorchy?
There are! But not all of them stop of at all the incredible spots along the way (obviously). With that said, check out:
There are other ways to get to Glenorchy from Queenstown too.
2. A MAP OF PLACES TO VISIT ON THE QUEENSTOWN TO GLENORCHY DRIVE
Here's a map of the stops to visit on the drive from Queenstown to Glenorchy.
3. SUNSHINE BAY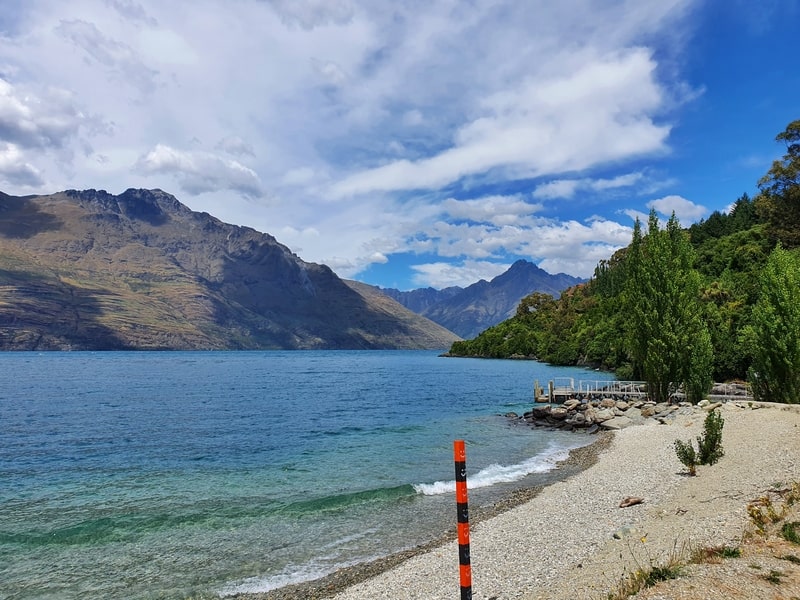 As with most places around the world, it doesn't take much effort to escape the crowds of a popular tourist destination, like Queenstown. On a nice day, crowds flock to Queenstown Beach (granted the sunset is nice), but at Sunshine Bay, the crowds are thin.
It's the perfect spot to spend a day a couple of hours on the beach getting some quiet time.
You could jump in for a swim, but I'll tell you what, Lake Wakatipu is cold. In the summer the average water temperature is still under 17 degrees…you've been warned 😉
There's a car park at the beach, but you can also park at the one-mile car park and walk ~2km via the Sunshine Bay Track where there's a hidden waterfall along the way.
4. ARAWHATA TRACK
If you're someone who loves to walk on every track, the Arawhata Track does have some nice views of Queenstown. The main Arawhata Track connects to Fernhill, but on a road trip, I recommend you can do something different.
Start from the regular Arawhata Track entrance on Queenstown-Glenorchy Road. After a few hundred metres you'll get to a junction that says to turn right. But you can go left and get some cool views after another few hundred metres on a little rocky outcrop.
There are heaps of amazing views and walks around Lake Wakatipu and this isn't an OMG where has this been all my life view, but the trail is nice and it's a unique view in that not many people turn left.
5. LITTLE THAILAND CLIFF JUMP
The first few times I went along the Glenorchy Scenic Drive I saw a couple of cars that had pulled over in a seemingly random place. It turns out there's a little cliff jump you can do.
There are a few different heights to jump from but remember the lake is cold.
If you enjoy cliff jumping, you can stop here. Otherwise, it's not really worth stopping for as you'll get views elsewhere along the track.
6. MOKE LAKE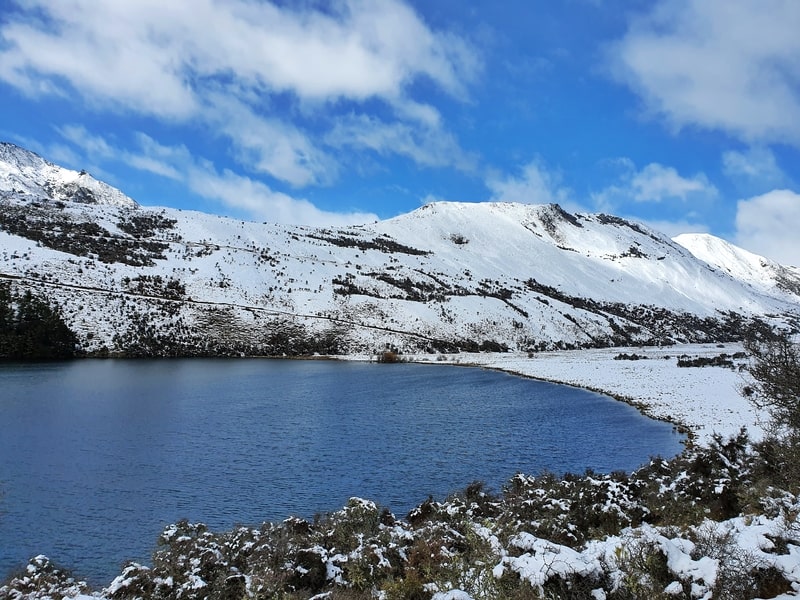 Moke Lake is a 15-20 minute drive from the Scenic Route road but is an amazing little spot.
The majority of people will go to spend a couple of hours walking around Moke Lake.
I recommend driving to the far end of Moke Lake to the larger car park as there's more space for a picnic, and if you happen to have a SUP or other floating device it's easier to start from there.
If you fall in love with Moke Lake, you can stay overnight at the DOC campsite or this amazing glamping spot.
7. MOUNT CRICHTON LOOP TRACK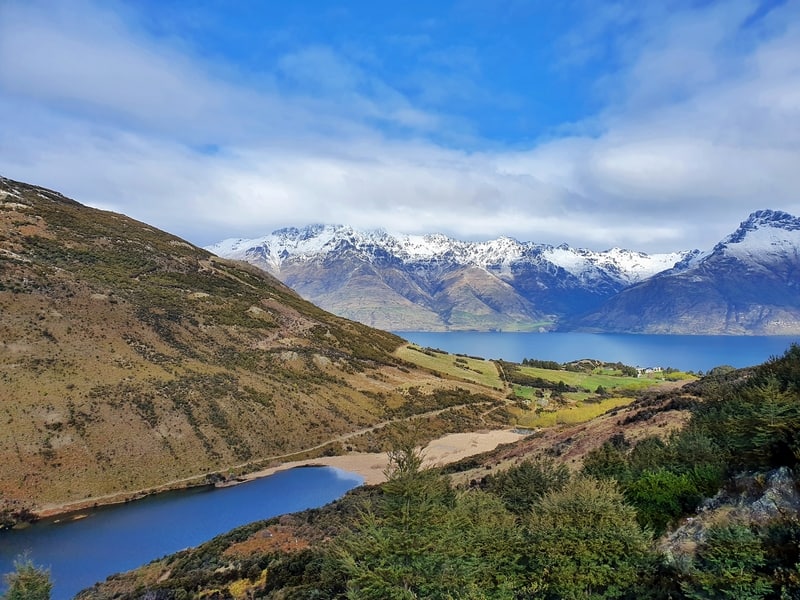 The Mount Crichton Loop Track is an amazing 8km loop track (walk in the clockwise direction) taking in epic views, rivers, historic sites, and there's a sweet canyon too.
The Sam Summers Hut is an old run down, but free to stay in hut, which is one of the dozens of fun things to do in Queenstown.
And the old mining section is crazy as you squeeze through the narrow gap in the rock (optional).
If you wanted, you can make the walk longer by making a side trip to Lake Dispute.
8. WILSON BAY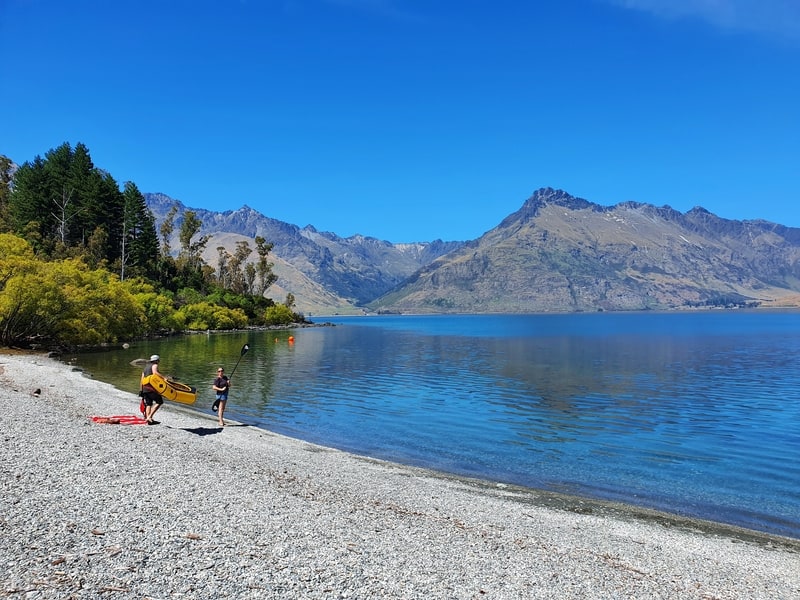 out of town with a stone filled beach.
While the stones make sunbathing slightly uncomfortable (but not really), I have seen people happily doze off in the afternoon sun while their friends and family take a dip in the lake.
It's also a great bay to learn how to use your kayak and/or stand-up paddleboard too.
And for those who enjoy mountain biking and trail running, you've got 7 Mile Scenic Reserve Mountain Bike Park right next to the bay.
9. TWELVE MILE DELTA CAMPGROUND
Many people find themselves parking up overnight at Twelve Mile Delta Campground as it's a cheap place to park up overnight (there are few freedom camping spots near Queenstown).
The main reason people will stop at the campground during the day (other than to launch their boat) is to see what the story is at Ithilien Camp, a Lord of the Rings filming location. The scene is in the video above 🙂
10. BOB'S COVE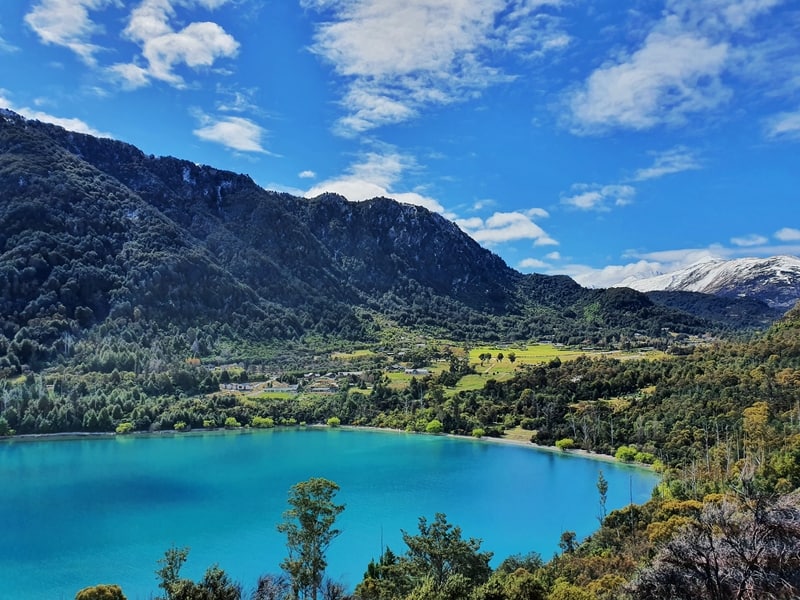 I was recommended to go here by a friend before I arrived in Queenstown and I can see why. The bay is amazingly secluded, and as you know by now, the further you get from the city the less likely it is you'll come across people.
And once again, there's a little track you can walk if need be. And this one you really should as the views from the Bob's Cove Track back down towards the cove and Queenstown is one of the best views in Queenstown.
11. BENNETTS BLUFF LOOKOUT
This is the premier photo spot on the Glenorchy Scenic Drive.
When this view first captured the imagination of tourists, everyone would pull over on the side of the road to get a chance of epic photos. But with so many people wanting to stop and admire the view things were becoming risky for those pulling over, and other traffic passing through.
In 2021 a new Bennett's Bluff Lookout viewing spot opened up a few hundred metres down the road.
There's a large parking space, a short walk to the viewpoint, and a picnic area. It's not quite the same view as around the corner, but it's a lot safer. You still get to capture photos of the road, lake, and some surrounding mountains.
And please don't be one of those people who stop in the middle of the road to take photos at the old spot (they've put a fence in so you can't pull over on the side of the road now). It's really scary for the locals who drive along the route regularly. And there's the obvious safety factor.
12. LAKE LUNA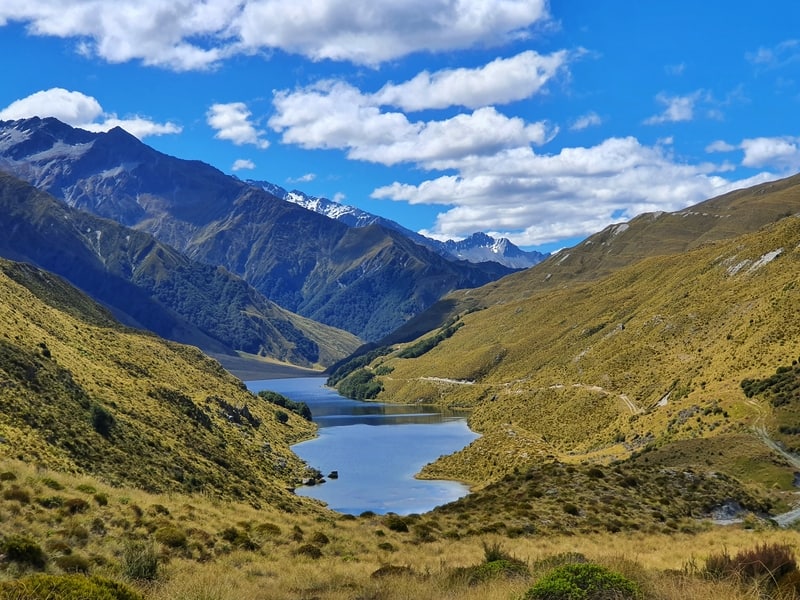 This is an off-the-beaten path hike on private land. Most of the locals I talked to weren't aware of Lake Luna, let alone knowing where it was.
You can't see this track marked on Maps.me or Google Maps, but you can see the track on a Topo Map.
Luna Lake is amazing. The car park is the same place as the Dream Garden below. But before you begin, you'll need to get permission to go on the track from the owners.
If you'd like to contact them, you can text or message me on WhatsApp +64 20 4170 2764 and I'll pass over their details.
Once on the track, be prepared for some steep hills. It's a 4WD track the whole way, so it's easy to follow for the ~9km to the lake. But as I said, there are steep sections.
But then you'll see the lake and surrounding mountains, and it's so worth it. I recommend walking all the way around the other side where you'll see a hut and a jacuzzi (you can't use them at all). But it's a nice spot to set up for your picnic.
Not convinced yet? There were proposals in 2018 to make this part of a new Great Walk. This never came to fruition as it doesn't follow the guidelines.
13. WILD DREAM GARDEN
I stumbled across the Dream Garden accidentally and walked into it briefly while we were trying to find the staff.
I haven't explored the whole garden, but a couple of people who stayed at the hostel that did were so stoked with their experience here. They also said to make sure you go up the sprial staircase.
If you love daffodils, roses and/or lilies…you probably should know there are thousands of them in the garden.
There's also accommodation available here if you're feeling enchanted by everything 🙂
14. MOUNT JUDAH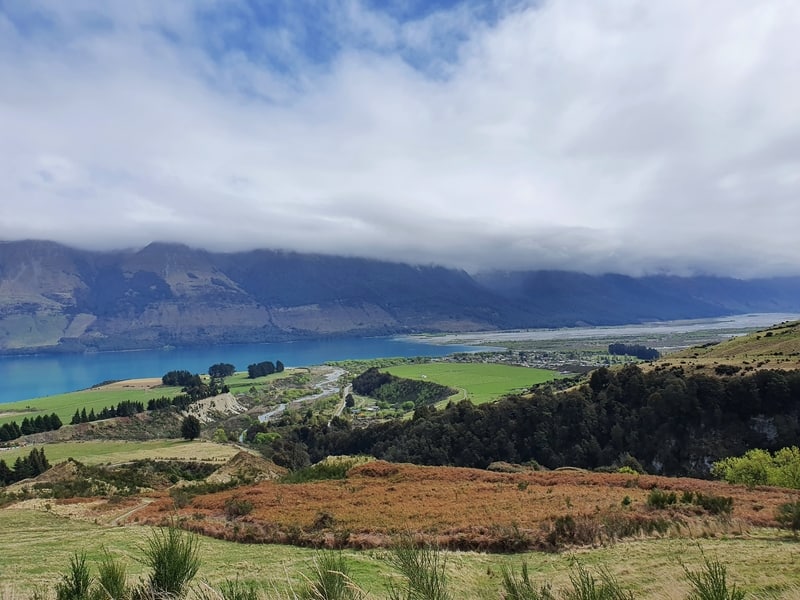 Mount Judah is an awesome day hike, though you can make it an overnight hike, that's best done on a warm sunny day so you get to take in all the epic views.
The track starts off gentle enough, before you start the climb up a 4WD track, past a couple of historic sites, towards Mount Judah.
There are two main huts you'll pass, Bonnie Jean Hut, and Heather Jock Hut. Bonnie Jean Hut is for day use only, but you can stay overnight in the Heather Jock Hut which is at the highest point of the hike.
Make sure to get there reasonably early so you can secure one of the three beds.
Tip: if you're an experienced hiker you might want to look into continuing up to Mount Larkins.
15. HIKE THE MOUNT MCINTOSH TRACK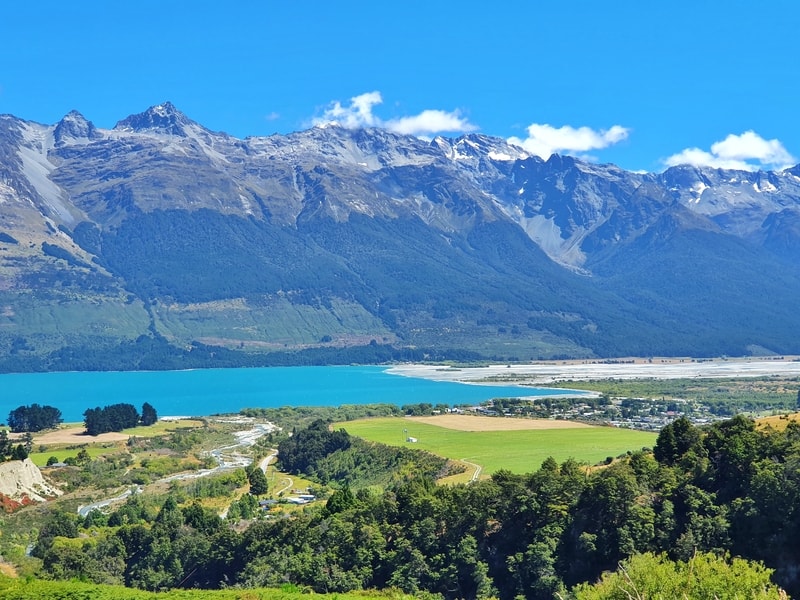 Starting from the same spot as the Mount Judah track, you'll share the same track for the first few kilometres before taking a left (it's signposted) down into the valley. If there's been heavy rain it's advised not to go through the valley.
Popping out of the valley you'll start to get amazing views over Glenorchy, Lake Wakatipu, and the surrounding mountains. They're lefit awesome. Check them out on my post with more details about the Mount McIntosh Loop Track.
The hike to McIntosh Hut is normally best completed as an overnight hike so you can go up to Black Peak in the morning. BUT you can do it as a day hike, though you'll need to cut down on other stops along the Glenorchy scenic drive (especially in winter).
I personally prefer Mount McIntosh over Mount Judah, but that might be because I had a great weather day on the former.
---
So what's your plan for driving the Queenstown Glenorchy Scenic Road?
Feel free to ask any questions, or share your best tips in the comments below or email jub@churnewzealand.com .
RECOMMENDED READING
An incredible track to get up close to a glacier.
Learn some epic things about New Zealand to impress your friends.
Some of the incredible tracks you can hike to see glaciers in NZ.