The Hooker Valley Track in Mount Cook National Park is a 10-11km out-and-back track with minimal elevation.
This is an incredibly popular South Island walk, and for good reason. The views you get of Aoraki/Mount Cook, Lake Mueller, Hooker Lake, the surrounding mountains, and glaciers.
Oh, and there are icebergs in Hooker Lake which is a thrill if you haven't seen one before.
If you're looking for a trip that's still well trodden but still frequented, the Mueller Hut Track is your best bet.
This post will give you the details about the walk, along with some useful tips which can vary based on the season, and plenty of photos.
TABLE OF CONTENTS
1. Details About The Hooker Valley Track
2. Hooker Valley Track Map
3. How To Get To The Trailhead
4. My Hooker Vally Track Experience
5. Quick Tips Before You Go
6. More Photos
DETAILS ABOUT THE HOOKER VALLEY TRACK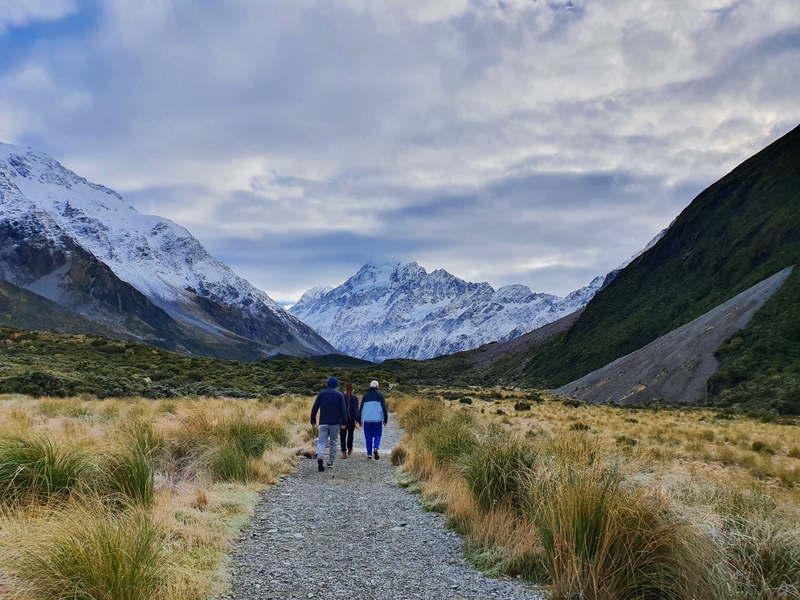 When1: April 2021
Difficulty2: Easy. There's a reason this track, despite being 10km long, is so popular. It's an easy walk/hike on a well maintained track with minimal elevation.
Hike Distance3: My Strava says that the track is 10.4km return. Most sites state 10km return, so prepare to walk 10-11km.
Incline4: My recording gave a total of 258 metres of elevation, the majority of which is on the way out. There's no extended steep sections, so the elevation isn't a factor really.
Here's the elevation profile:

Hike Duration5: It took me 2 hours and 10 minutes to complete the hike, which includes ~10 minutes at the Hooker Lake viewpoint. If you could get the hike done in under 2 hours, that's impressive.
I'd say most people will complete the hike, including breaks (and maybe a swim) in the 2.5 – 3.5 hour timeframe.
---
HOOKER VALLEY TRACK MAP
The Hooker Valley Track is super popular, and with the track well maintained, there's no need for a map. That said, the above track is the GPX file from my Strava recording overlaid on a topo map.
You can also see the track on the Maps.me app and Google Maps.


HOW TO GET TO THE TRAILHEAD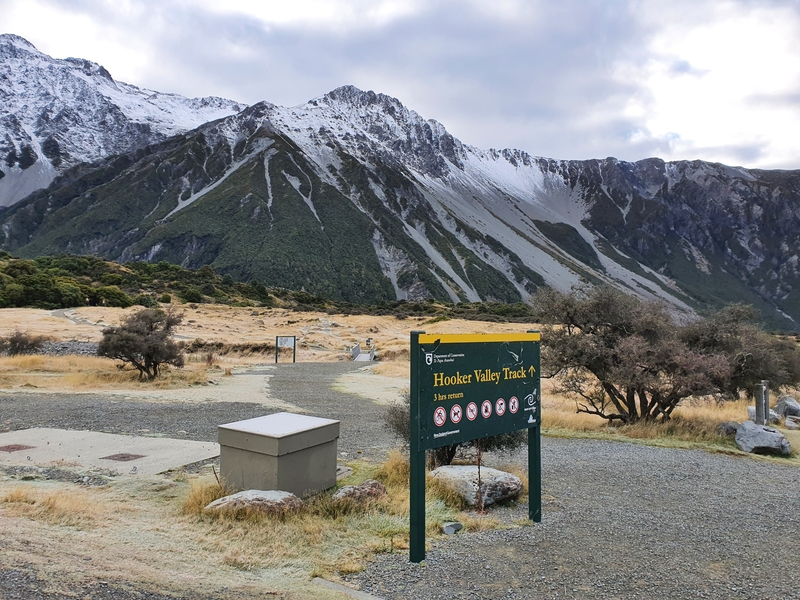 The Hooker Valley Track trailhead is at the White Horse Hill car park, about 2km from Mount Cook Village.
You'll want to either drive or walk to the trailhead from the village.
The drive is straightforward, with the turnoff to the trailhead just before you enter Mount Cook Village (you can't miss it). The car park is massive, so you shouldn't have too much trouble finding a spot, even at the busiest of times.
If there's no space, someone will be finishing the Hooker Valley Track soon enough and leave the car park.
You can walk ~2km from Mount Cook Village to the Hooker Valley Track trailhead.
Follow the path that runs close to the DOC visitors centre, and The Hermitage and then turns into a track close to this point. At the fork in the path, veer right.
MY HOOKER VALLEY TRACK EXPERIENCE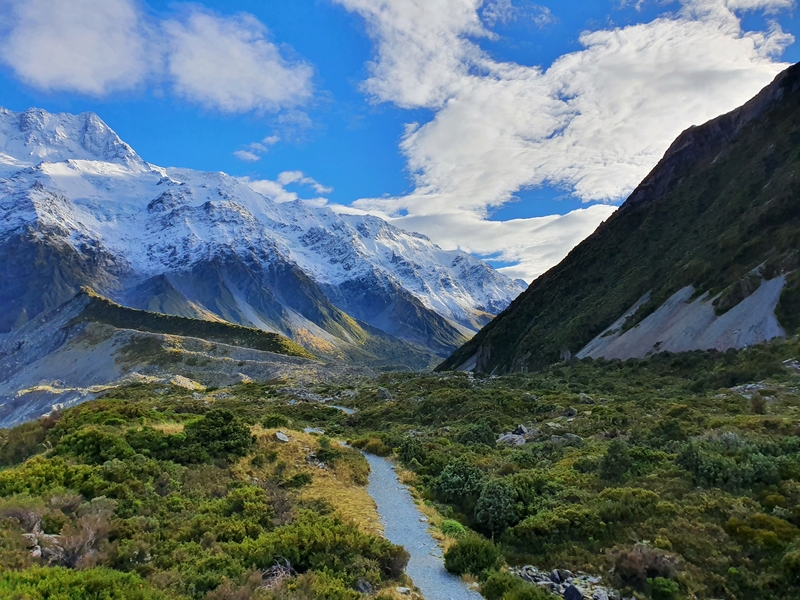 I started the Hooker Valley Track on a chilly late-April morning just after sunrise.
The track starts of super cruisey, and well it's super chill pretty much all the way in that it's on a maintained gravel track with minimal elevation most of the way. When you're not on a gravel road. you're:
walking across a beautiful boardwalk over marshlands.
You'll also cross three swingbridges that are well built. Unlike some of the swing bridges you see in the Tararua Ranges that recommend 1 person use them at a time, these have a recommendation of up to 20 people.
If you're scared of heights these will give you a rush.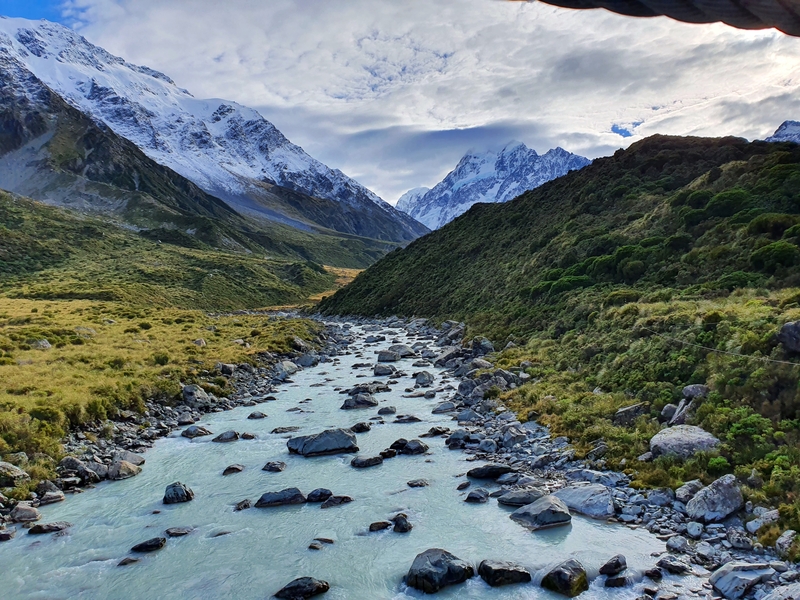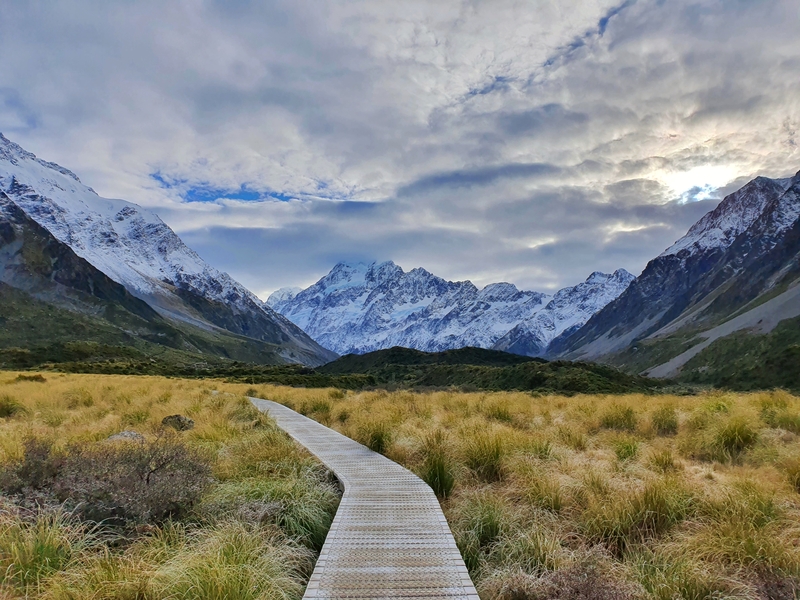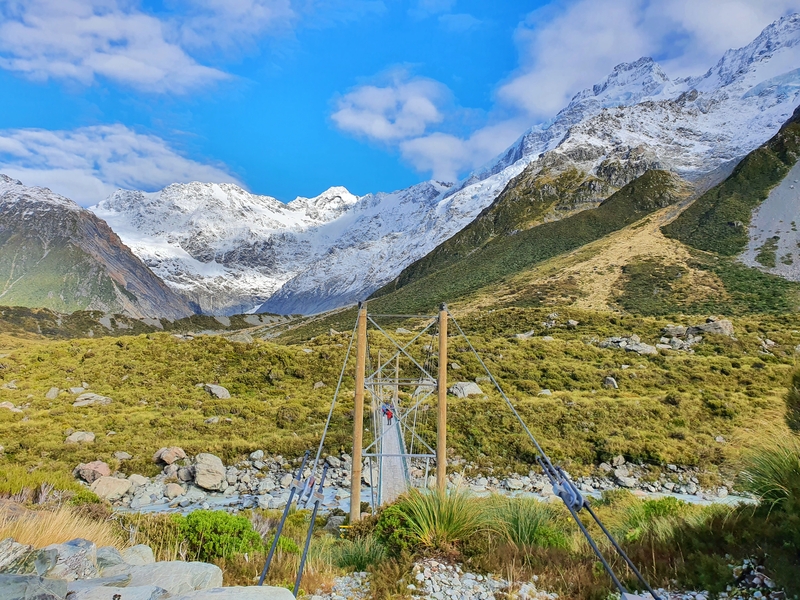 There are a few mini detours along the track that you may as well stop at:
Freda's Rock, which is a tribute to Freda Du Faur, the first woman to summit Aoraki/Mount Cook (1910). She was photographed (the photo is the profile photo in the link above) in front of the rock on her way back to Mount Cook Village.

The Alpine Memorial, a tribute to those who have lost their lives in Mount Cook National Park.

Mueller Lake Lookout, a nifty viewpoint where you'll be able to take some sweet photos of the first swing bridge.

Alpine Tarn, for those of you who appreciate a tarn, this is a small tarn that has the opportunity to make some amazing reflections of Mount Cook early in the morning.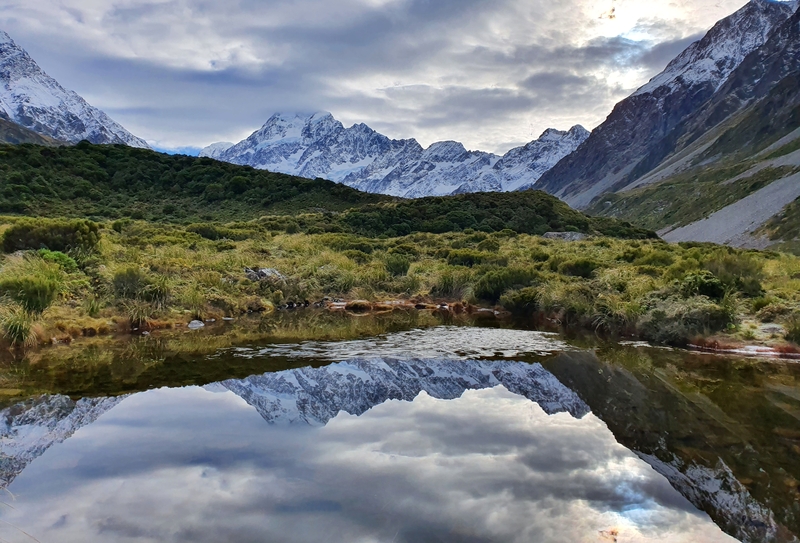 The crazy thing is you don't get to see Hooker Lake until you get right to the viewpoint at the end of track. But wow, when I got there I was stunned to discover there are icebergs in the lake!
It wasn't someting I was expecting at all, especially as we're still under 1000 metres above sea level. And it was at the end of April, winter was yet to settle in. So there must be icebergs in the lake year round (you'd be seriously unlucky not to see any).
At the Hooker Lake viewing area there's a few picnic benches and you could spend hours here having a picnic (a few friends have said they did). Or you could be like me, admire the place for a short time before heading back the way you came.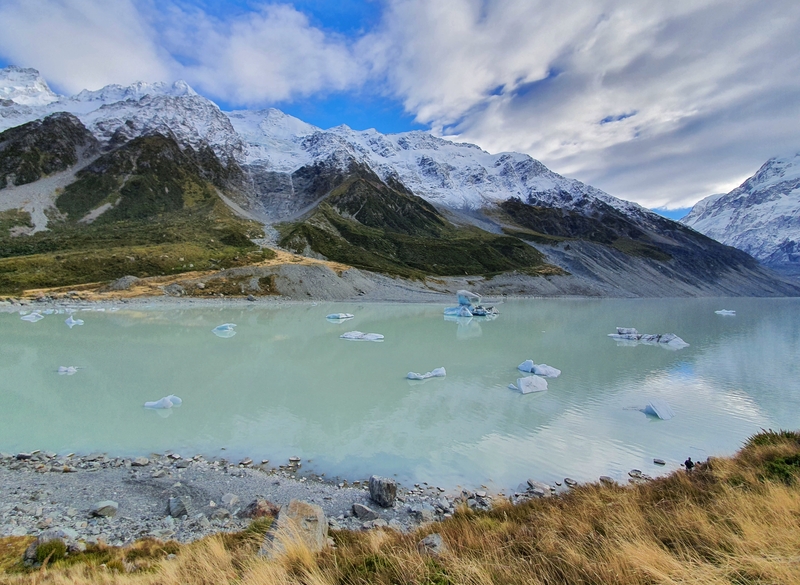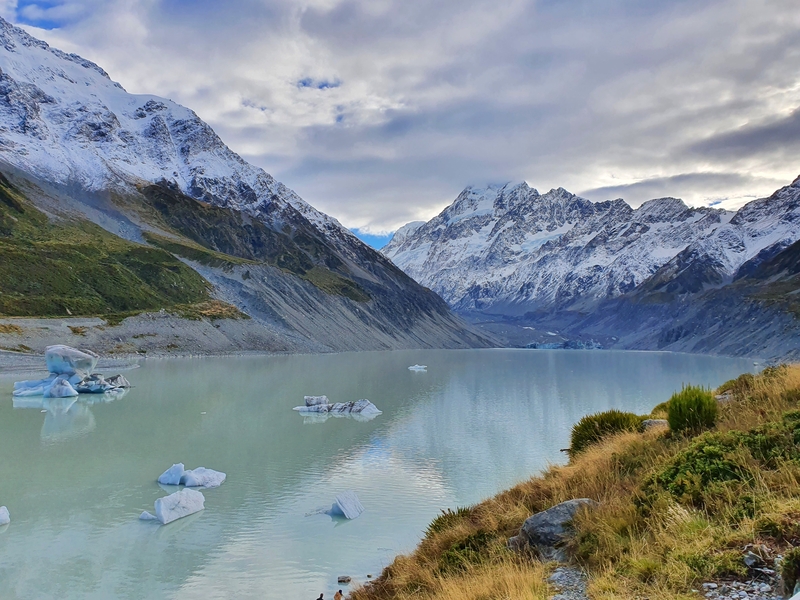 Can you swim in Hooker Lake?
Yes, you can! But with the icebergs floating, it's not for the faint-hearted. There's a sign that mentions the water temperature is about 3 degrees in the lake. If you do plan on swimming, perhaps do that after your picnic so you can get changed and start walking back to warm up.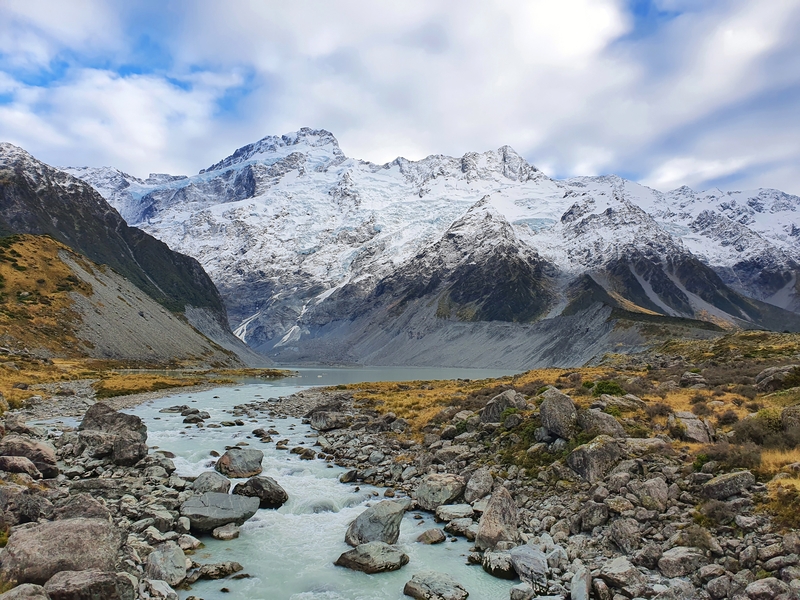 The walk back is full of amazing views again. I love the clour of the glacier water filled streams.
And the views, well…you can't get sick on them really. Soak it all in on this, which is one of the best day walks in NZ.
QUICK HOOKER VALLEY TRACK TIPS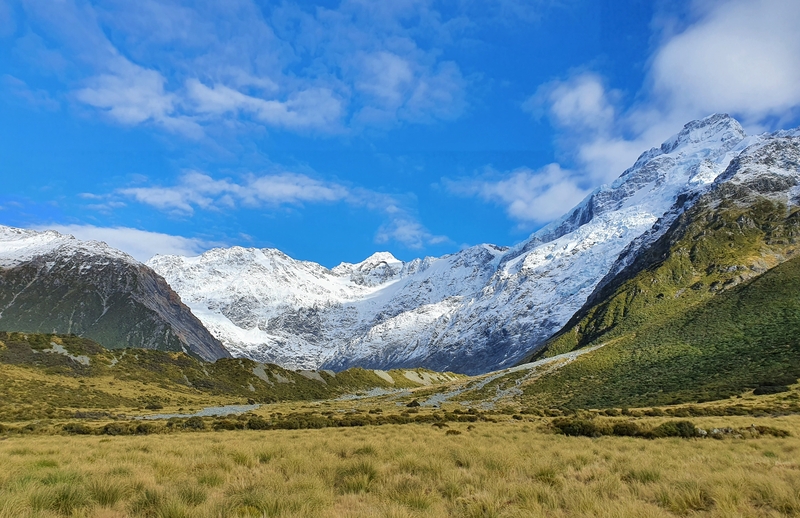 Here's a few quick tips to consider before you start walking the Hooker Valley Track:
Keep your phone warm! Phones battery will start plummeting when exposed to cold (learn more here). You want to get some photos right?
The earlier you start the better. This is an extremely popular hike, so if you can beat the crowds that's agreat. And if you're there for sunrise (I was a little late), you'll get to see the sun hiting Mount Cook which can be amazing.
The second bridge might be closed if the winds exceed 80 kph. If it's going to be windy when you're there, keep this in mind so you're not gutted when you suddenly can't walk all the way to Hooker Lake.

If you've got a few days in Mount Cook National Park, chat with the vistor centre to plan which walks you'll do on each day. The weather patterns can vary, and some walks will be better on different days.
Sunscreen! There's no shelter on the Hooker Valley Track, so if you're there in summer, be prepared to get scorched 😀
There's water available from the shelter at the car park (there's none on the way).
MORE PHOTOS
Here are a few more photos from my adventure for further inspiration 🙂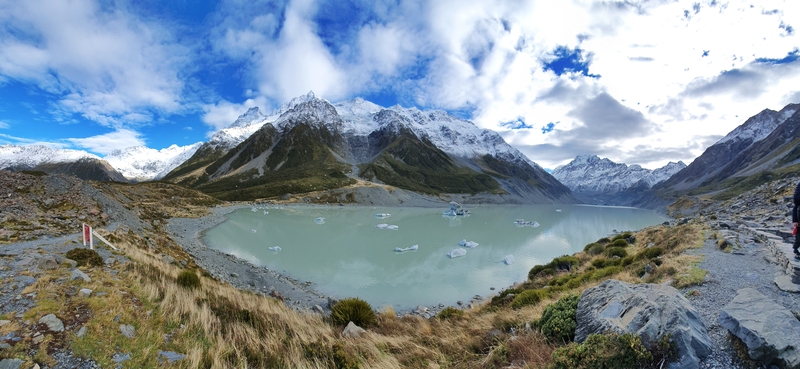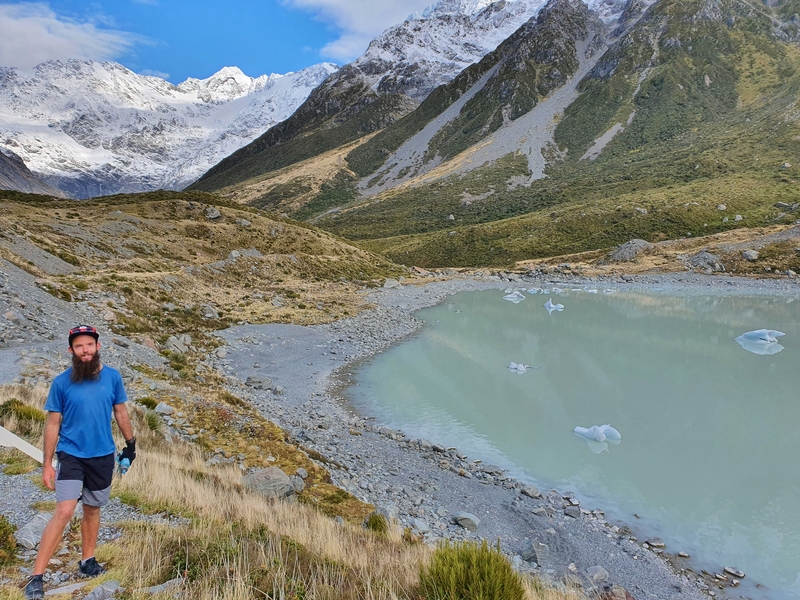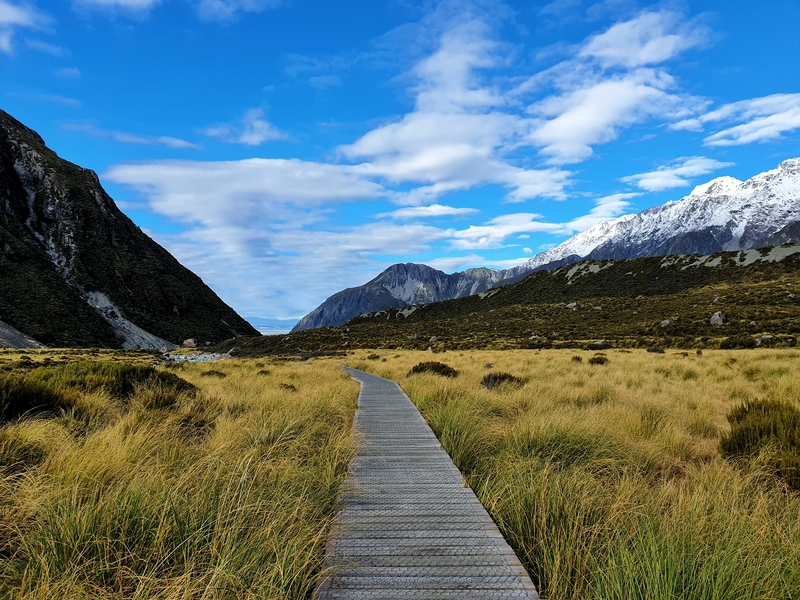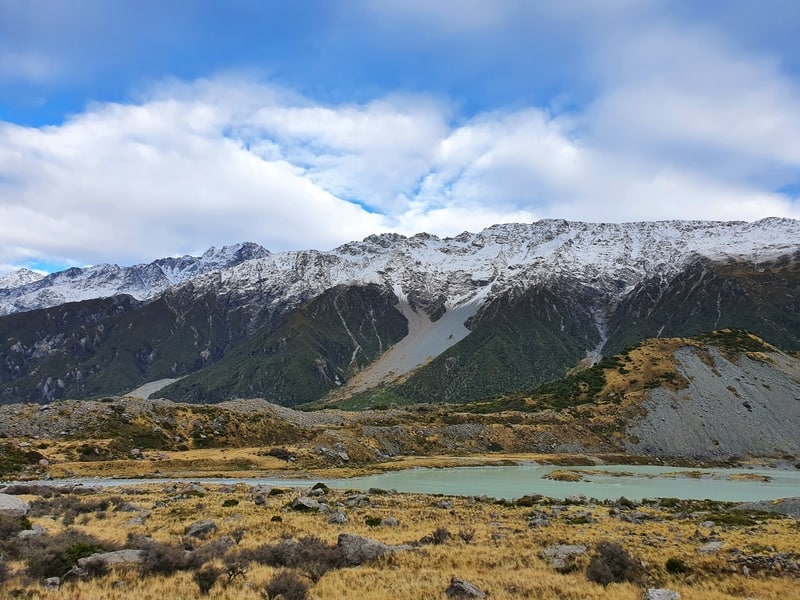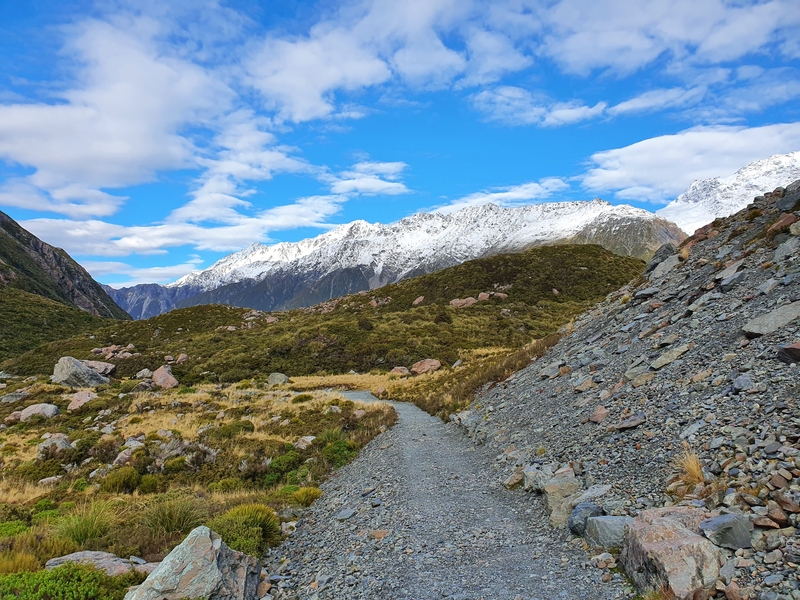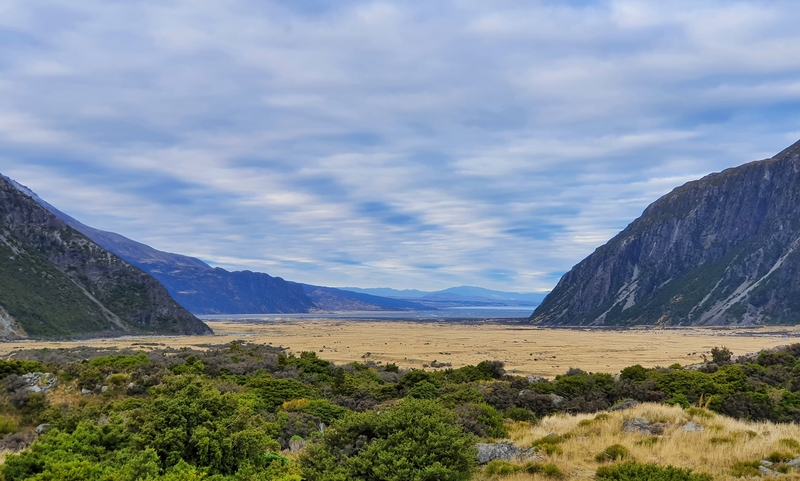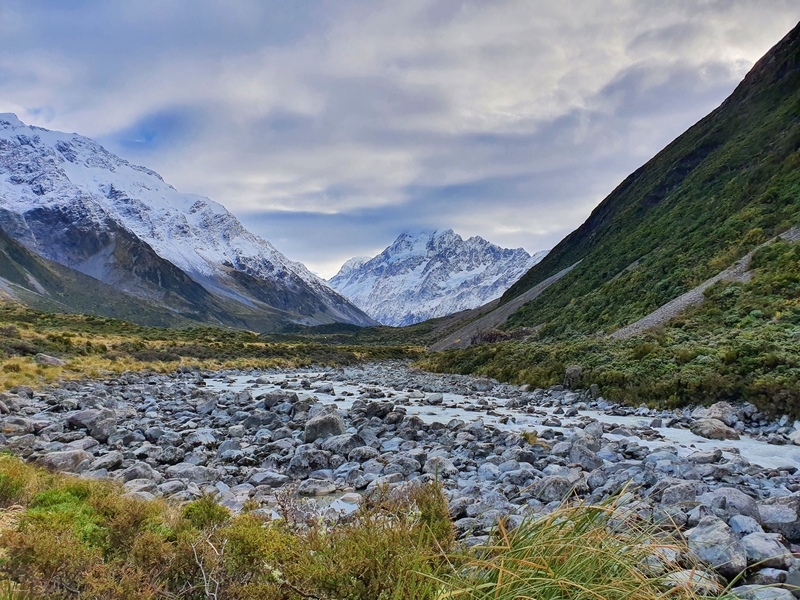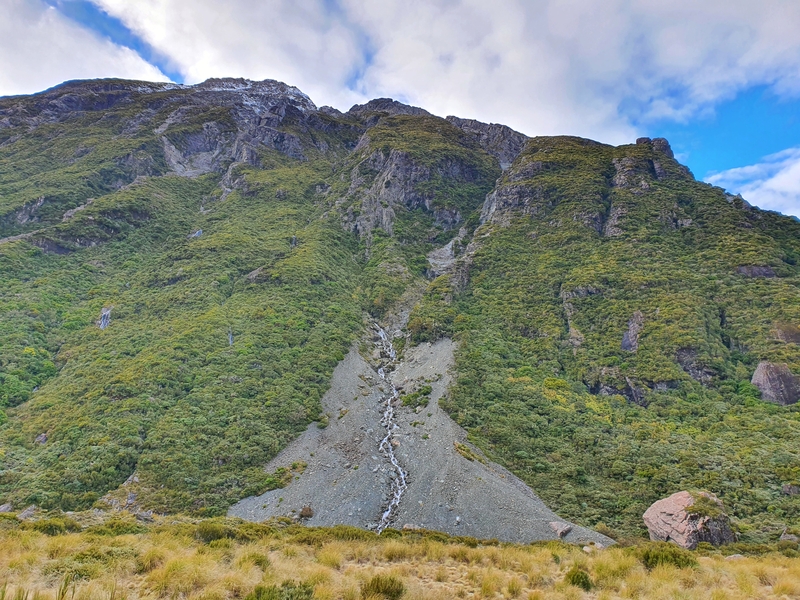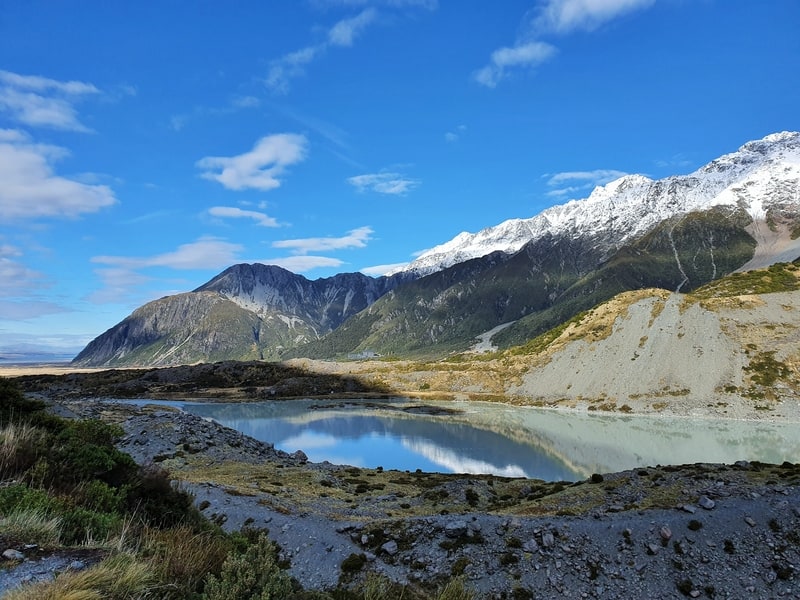 ---
So yea, I hope you have a great time on the Hooker Valley Track.
If you have any questions or want to share your experience, leave a comment below or email jub@churnewzealand.com 🙂
RECOMMENDED READING
A Few Suggestions on where to go after visiting one of the adventure capitals of the world.
They're such an amazing feature that nature has given us.