If you're looking for the best lunch Queenstown has to offer, you've got lots of choices.
But, I've chosen spots here that I view as genuine lunch spots. There are a few places like Fergburger that do lunch, but I see them somewhere you go for dinner.
So if you're trying to work out where to eat lunch in Queenstown, give these five lunch spots in Queenstown a whirl. There's a variety of places here, but they do get your food to your table in good time, in my experience.
5 OF THE BEST LUNCH SPOTS IN QUEENSTOWN
1. BALLS & BANGLES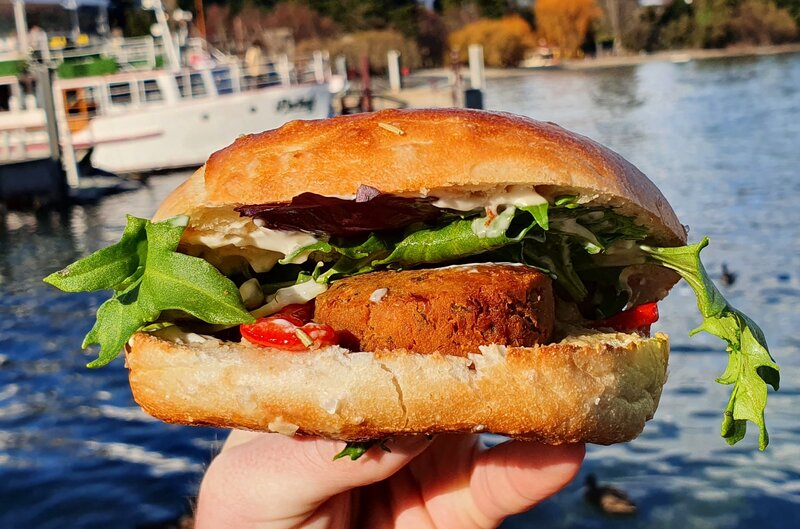 If you're looking for a healthy lunch that won't break the bank, with the option of dining in or takeaway Balls and Bangles on Shotover Street is a great option.
And you can always undo your healthy work and get one of their donuts 😉
Their standard lunch options are straightforward, you can get a bagel, bagel sandwich, or a burgel. There's a range of bagel flavours to choose from (sea salt is the best), and lots of different toppings.
It's a friendly spot that you can rely on in Queenstown. And if you find yourself feeling a little hungry after your bagel for lunch, they have the most incredible-looking donuts as well. Good luck to those with a sweet tooth.
2. WILD THYME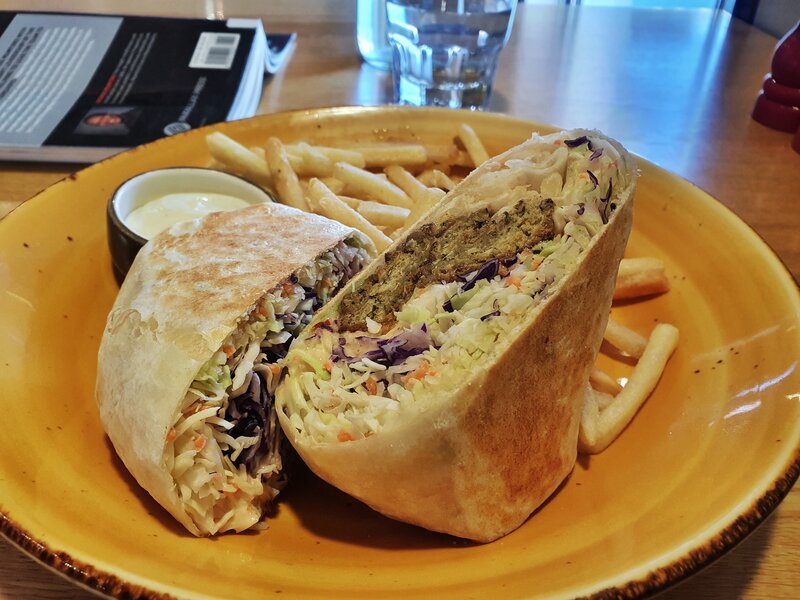 Tucked away on the same floor as the casino is Wild Thyme. It's a classy-looking establishment, but they have $10 and $12 lunch specials that are great value.
The staff are fantastic, and all seemed to have remembered my order…it's the Tandoori Chicken Wrap but made vegan (they use falafel) with shoestring fries ($12).
There are plenty of options though. And the serving size is epic, make sure you're hungry otherwise you'll struggle to finish your meal.
There's also the well-stocked bar, and there's usually sport being shown on TV throughout the day.
The service is very professional here, once you're seated they'll bring over the water (yay) and whatnot. It's not often I go to places in Queenstown with service like that.
3. CARIBE LATIN KITCHEN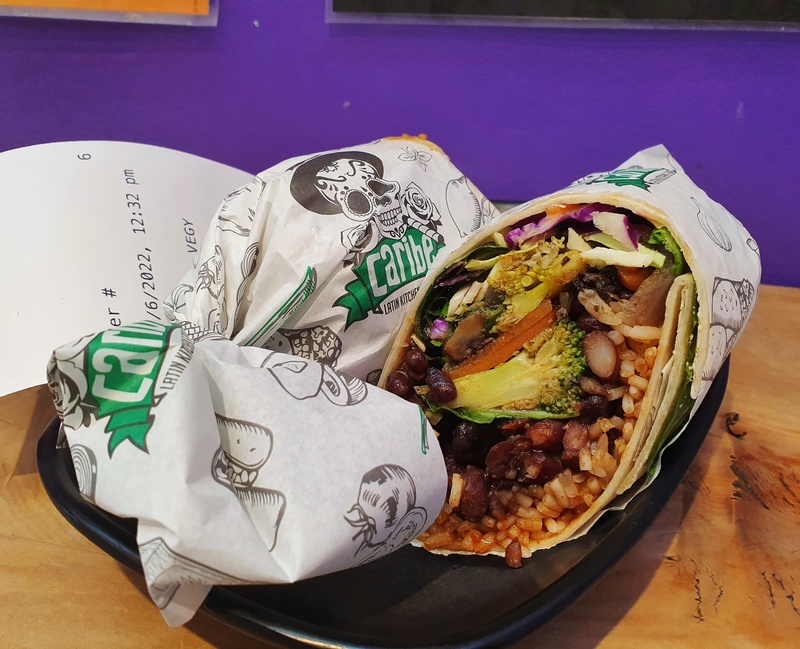 If you're looking for something spicy and fun for lunch, Caribe Latin Kitchen is for you.
This is a fun spot where the menu initially looks like you're typical Mexican menu with burritos, tacos and the like, but there's a bit of a broader Latin flair.
For those who love Latin America, just hearing the music inside here will take you places. As will all the decorations.
The menu is pretty stacked though, luckily they've got the menu outside with the best options so you don't get overwhelmed, it's a small space inside.
This is a place people will head to on a whim, and are stoked they stumbled across it. The outdoor seating is a prime people-watching spot.
4. SUSHI BOX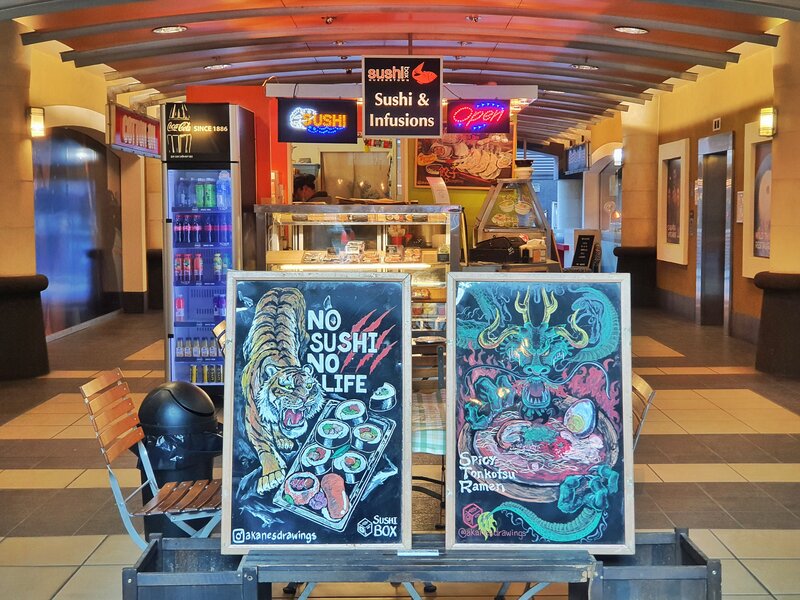 This is a low-key place on the bottom floor of the casino building by the escalators (Wild Thyme above is up the escalators). If you're a fan of curry and/or Japanese food, then this will be what you're looking for. It's also the closest you'll find to market food in Queenstown, it'd be amazing if they could get some more places in there.
Sushi Box is where people working nearby will head for lunch. The service is super quick from ordering to getting your meal only taking a few minutes.
And the food is consistent. You can debate as to whether or not the Japanese Curry is authentic or not, but regulars know exactly what they're getting and love it.
Menu options include a variety of sushi, curries, ramen, udon, and more. But people I know usually get one of the $11 curry options. And miso soup.
There's seating at the restaurant, though it's minimal so you might want to opt for takeaway.
While there are vegetarian options here, vegans are out of luck.
5. BEECH TREE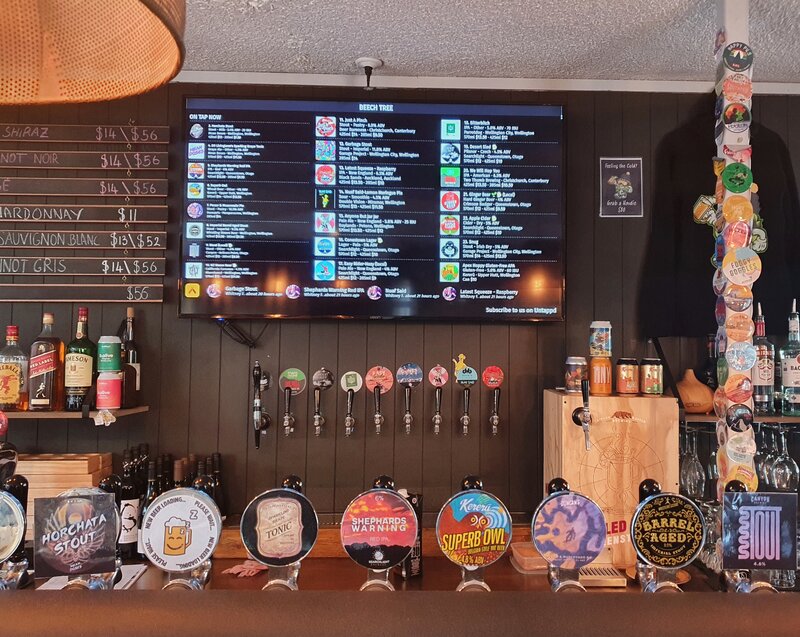 Beech Tree is one of the restaurants in Queenstown I was hesitant to include in this list, but I've eaten lunch there and never dinner so it's a Queenstown lunch spot for me!
They do have the best falafel in Queenstown after all.
If you're after a lunch in Queenstown that comes with a craft beer selection, lunch at Beech Tree is the place to be. Their menu is a classic pub like menu, consisting of things like wings, loaded fries, mac 'n' cheese, burgers, and that falafel I mentioned.
THis is a great place for lunch on a rainy day, and throughout winter…they'll usually have the fire cranking which is great.
---
And there you have it, five of the best places for lunch in Queenstown.
If you've got any comments/questions about eating lunch in Queenstown, people would love to hear from you. Leave a comment below, or email jub@churnewzealand.com.